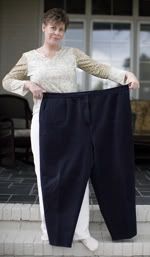 Physically, I'm half the woman I used to be, but as a result of my journey with gastric bypass surgery I've gained a lot. I'm Julia, and this blog is about the miles I've traveled in transforming my body, soul, and spirit while shedding more than 160 of the 300-plus pounds I carried before surgery.

I'll share my personal experiences of restoring my health and changing my lifestyle, and I'll offer spiritual encouragement, social and emotional tools, nutritious recipes, health information, and more. I've had a few challenges along the way, but through all the struggles I've grown stronger and regained my health and my life. I had my surgery on Easter Monday, 2006, which I call my personal resurrection day. Because of my transformation, I now look forward to many more "miles to go", and I invite you to travel with me on the road to a happier, healthier lifestyle...yes you can...I just did!

I believe that taking nutritional classes, before, during and after weight loss surgery is crucial for success.
If your bariatric surgery team provides nutritional help, I suggest taking advantage of it. If your surgeon does not include nutritional or dietary counseling, I suggest getting one on your own. Most insurance companies will pay for nutritional classes, but if not, it's worth the investment in your health and your ability to make healthier food choices based on your surgery procedure, and ultimately—it makes a difference in your long-term outcome.
When choosing a nutritionist, it will be helpful to consult someone who has experience with the bariatric surgery nutritional protocol, especially initially, during the healing and weight loss phase. Later on, having someone who can instruct you on general nutrition will suffice.
Although, knowing how to eat correctly is important during the initial healing process, the weight loss phase, and for the long term—life after weight loss surgery is not about being "on a diet". The foods you choose to eat on a regular basis will change during each phase of the journey, and it will be important to make the best nutritional choices for long-term health.
After surgery I attended nutritional classes for over 18 months. And again at 3 years out when I began having a problem with low blood sugars. These experiences gave me the dietary knowledge I needed to lose weight, maintain my weight loss, and identify any challenges that might hinder my success. I feel that it is also important to learn all you can about the value of food, recognize what a balanced and healthy diet looks like after surgery—each step of the way. It may take a little more effort, but it will be worth it in the long-run.
I also had to lose the "dieting mentality" and discover what part old eating habits, environment, and emotional hungers played in my recovery process.
Eat well and be well—for a lifetime!
Yes, you can. You have many more miles to go!

Posted
on Monday, September 29, 2014 at 07:00AM
by
Julia Holloman
in After Surgery Transitions, Health & Wellness, Nutrition
|
Post a Comment
Have you heard of the latest craze in coffee? It's "cool".
It's the process of steeping course ground coffee in room temperature or cool water. Not brewed with heat like traditional coffees, this cold "brewed" coffee soaked for about twelve hours, or overnight, results in a naturally sweeter, lower acid coffee.
This is good news for us bariatric patients because lower-acid means it's gentle on the digestion and safer for our smaller stomach "pouch".
Cold brew coffee originated in Japan when it was introduced by Dutch traders from Indonesia in 1609. For this reason it is known as Dutch coffee. This process known as cold brewing, cold pressed, or cold drip coffee produces a coffee concentrate which is growing in popularity in the U.S.
All you need to make this "cool" coffee concentrate is course ground coffee, room temperature or cool water, a fine-mesh sieve, a paper coffee filter, or a filtering cloth such as cheesecloth, and a container—which can be anything from a jar to a French press carafe.
The ratio for making cold brewed coffee is roughly 1 part coarsely ground coffee to 4.5 parts water. After the coffee has steeped for 12 hours, it can be filtered through a kitchen sieve (or French press) and then a second time through a more fine-screened cloth such as cheesecloth or a paper coffee filter. The grounds are discarded as usual.
This concoction makes a strong concentrate which can be stored in the refrigerator and used for about two weeks. For drinking, the concentrate is diluted to a ratio of 1 part concentrate to 3 parts water or milk—to taste and can be enjoyed at fridge-temp, room-temp or served over ice.
For bariatric patients, finding a lower sugar milk, such as unsweetened almond milk, would be a lighter way to enjoy this "cool" low acid coffee. It's the coolest!
Yes, you can. You have many more miles to go.
Photo credit: Kelly Moore
Posted
on Monday, September 22, 2014 at 07:00AM
by
Julia Holloman
|
Post a Comment
They are cute, aren't they? Little foxes. Like most babies, they appear innocent. But beware, things are not always what they seem.
Recently, my friend Vicki, and I were discussing a verse of scripture in the Song of Solomon or Song of Songs which says that it's "the little foxes" that ruin the vineyards.
During our conversation we were sharing that foxes have many "voices". They can make more than 40 different sounds. Foxes have become known as a symbol of cunning and trickery. In the Hebrew, the word for fox is rendered "jackal" which are more easily caught than a fox.
In a grape vineyard, foxes sneak in under the fencing and ruin the fruit on the vines, and although foxes are carnivorous animals, making their way under the fences that surround the young crops, they also devour the life giving vines of the plants and make bare the roots. Harming the young shoots of the vines as well as eating the grapes.
I liken it to my own life. I sometimes can be "tricked" by the many voices of what seems to offer logical reasoning when I am tempted to overindulge on the foods I know I should limit. Like those "little foxes" that try to sneak in "under my radar" when I'm at my weakest. They whisper such innocent sounds in my ear and then they not only cause me to overindulge, but before I know it, I realize my whole thought process as well as my fortitude has been compromised. As unwanted habit start to emerge, if I'm not careful, they can become addictive, hard to control and difficult to eliminate.
After surgery it can be much easier to let old habits work their way back into our routine, but even years later, we must still be aware of the things in our environment that seem to sneak their way back in. When we fail to ignore the warning signs of their entrance into our "vineyards" or our lives, they may not be so harmless. In the long run, it's the little temptations that open the door to the greater.
However, when we make a conscience effort to stay alert and aware of these "tricks", they allow us the opportunity to make bare our own root issues—discovering our weakness and uncover the roots of temptation. I often have to remind myself that I am the only one who can choose to keep my "fences" strong, my boundaries secure, and surrounding a safe haven in which to dwell.
Although this verse in Song of Solomon is a dialog between two lovers, it also reminds me of importance of having a support person, someone who can help you and I "catch those little foxes".
So let's not allow small temptations to spoil our new (blooms) or new lifestyle opportunities that promise us a better future.
"Catch for us the foxes,
 the little foxes 
that ruin the vineyards,
 our vineyards that are in bloom." Song of Solomon 2:15
Posted
on Monday, September 15, 2014 at 07:00AM
by
Julia Holloman
in Spiritual Encouragement
|
Post a Comment
You are one of a kind, so be your own kind of beautiful!
Sometimes we can be so hard on ourselves. It's easy to get caught up in a negative body image. Especially during these past few summer months, when I put on shorts or a bathing suit, I tend to get very critical of the reflection I see in the mirror. When I go shopping for clothes, I'm reminded I'm not quite as small as I really want to be. My body just doesn't look the same as it did when I was in my 20's.
But I have to stop and think about what's really important. I'm healthier than I was when I was in my 30's and 40's or when I weighted over 300 pounds. Yes, my body has a few flaws, but I have to remind myself that the image I see in the mirror doesn't tell the whole story. Even though I had a hand in making a few alterations, I was made in the image of God. I am an image bearer. Sometimes, I need to stop and think about what that really means.
As image bearers, you and I, bear the very image of the Lord God, Creator of the universe. The One who made the stars and planets. Time and space. Trees and flowers. The birds and bees. The mountains and the sea. The One who is the very essence of Love, Mercy, Grace, Faithfulness, Majesty and Splendor. The world has so much beauty. There is not one inch of space that does not carry the mark of His magnificent handwork. Each and every creature has a beauty and significance all it's own. Yet, it pleased Him make each and every one of us unique, one of a kind, and intricately beautiful.
When I stop and meditate on the fact that I am made in His imge—a reflection of His manifest Presence, then I don't have the same attitude about the reflection I see. We all carry a beauty that delights Him, not just on the outside, but on the inside. I am reminded that I need to recognize and appreciate the fact that in all of creation, we have the unique privilege of bearing His image.
Let's strive to be the best we can be...uniquely and wonderfully made—one of a kind beautiful.
Posted
on Monday, September 8, 2014 at 07:00AM
by
Julia Holloman
in Spiritual Encouragement
|
1 Comment
My personal weight loss story parallels the biblical story of the Israelite slaves as they made their way out of Egypt and into the Promised Land.
Having been a slave to obesity, I too, had to break free from the slavery of obesity and find my way to a new way of life in the land of freedom.
But just because someone escapes the bonds of slavery doesn't mean that the slave mentality is gone. It takes time to realize your new identity and to learn to live life free from it's rulership.
Now, in my new book, Out of Obeity and into the Promised Land, you can join me on the journey that changed my life forever—Available now on Amazon. Click here to place your order now.
Posted
on Wednesday, September 3, 2014 at 07:00AM
by
Julia Holloman
|
Post a Comment