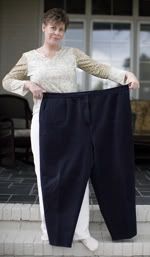 Physically, I'm half the woman I used to be, but as a result of my journey with gastric bypass surgery I've gained a lot. I'm Julia, and this blog is about the miles I've traveled in transforming my body, soul, and spirit while shedding more than 160 of the 300-plus pounds I carried before surgery.

I'll share my personal experiences of restoring my health and changing my lifestyle, and I'll offer spiritual encouragement, social and emotional tools, nutritious recipes, health information, and more. I've had a few challenges along the way, but through all the struggles I've grown stronger and regained my health and my life. I had my surgery on Easter Monday, 2006, which I call my personal resurrection day. Because of my transformation, I now look forward to many more "miles to go", and I invite you to travel with me on the road to a happier, healthier lifestyle...yes you can...I just did!

Consumption of added sugars has risen by 28 percent in the past thirty years. Reports show that Americans consume 22 teaspoons of added sugars a day, and teenagers even more—34 teaspoons.
All of us know that an excess intake of sugar can lead to diabetes, metabolic syndrome, weight gain, and an added danger after mal-absorption surgeries: dumping syndrome. Our goal, therefore, becomes reducing the amount of sugar we consume. Eliminating sugar can be done by cutting out as many processed foods from our diet as possible and consuming more whole, natural foods.
But it is also important to recognize hidden sugars in processed foods—learning to identify sugar names and their derivatives is necessary in order to eliminate them from our diet.
Here is a list of the names of hidden "sugars" listed on food labels:
amazake (fermented rice or grain sugar, closely related to sake)
barley malt
beet sugar
brown sugar
buttered syrup
cane-juice crystals
cane-juice solids
cane sugar

confectioner's sugar

caramel
carob powder
carob syrup
corn syrup
corn syrup solids
date sugar
dehydrate fruit juice
dehydrated cane juice
demerara sugar
dextran
dextrin
dextrose
diatase
diastatic malt
ethyl maltol
fructose
fruit juice
fruit juice crystals
galactose
glucose
glucose solids
golden sugar
golden syrup
grape sugar
grape juice concentrate
granulated sugar
high-fructose corn syrup
honey
invert sugar
lactose (milk sugar)
malt
malt syrup
maltdextrin
maltodextrin
maltose
mannitol
maple syrup
molasses
muscovado, barbados or raw sugar
panocha or Panela (cane or raw sugar)powdered sugar
raw sugar
refiner's syrup
rice syrup
sorbitol
sorghum syrup
sucrose
sugar
treacle (a generic word in Britain for any syrup made in the process of refining sugar cane)
turbinado sugar (raw sugar)
yellow sugar
Posted
on Monday, March 3, 2014 at 08:01AM
by
Julia Holloman
in Facts about Sugar, Food Facts , Making Choices
|
Post a Comment
If you seem to be having a few challenges getting in all that water each day—never fear. I'm here with a few tips for making it through that are as easy as 1,2,3.
Measure out the water you plan to drink for the day. This will provide you with a visual reminder as well as mark your progress throughout the day.
Have a plan. I always have a certain amount I want I plan to get in by lunch time. I set aside what is left for the afternoon so there will be a smaller amount remaining for the early evening.
As you sip your way through the day and you find you're not going to make it, add some fresh squeezed lemon to your water and a few drops of natural sweetener (such as Stevia). I find that homemade lemonade always goes down easier than plain water, especially after surgery. And lemon is a natural diuretic....so it is a win/win situation.
Just after surgery, you may find it challenging to drinking 64 ounces of water. But the key is to keep trying. Soon you will get the hang of it. It will get easier as time goes on. Remember, your protein drink will count as part of your fluid intake. And more importantly, take those vitamins. All that water will wash out nutrients as well as fat.
I'm almost eight years out from surgery and I am able to get in between 100 and 125 ounces a day—so it can be done.
So drink up....Yes, we can. We have many more miles to go!
Posted
on Monday, February 24, 2014 at 06:00AM
by
Julia Holloman
in After Surgery Transitions, Clear Liquids, Hydration, Reaching Goals , Tips for Life , Water
|
Post a Comment
Who says you can't eat foods such as pizza after weight loss surgery? Not me. We can have pizza, we just have to make a few adjustments—not only on our plate, but in our mind.
Eating foods such as pizza can be controversial after weight loss surgery, that's because most people think foods such as pizza can't possibly to on our post-surgical "diet". But weight loss surgery isn't about dieting. It's about making wiser food choices and eating smaller portions for a lifetime.
I'm almost 8 years out from surgery. I eat pizza on occasion and I've successfully maintained my weight in the process.
In the beginning, when I added pizza back into my diet, I ordered carefully. I added more protein and just ate the toppings. Later on, however, I could eat a little of the crust—a small amount, usually about 1/2 a slice or less. I usually substitute items like pepperoni and sausage for leaner proteins, such as ham, chicken or a even a meatball. But my new favorite way to have pizza is to make it at home. I use eggplant as the crust and it's awesome.
I brush slices of eggplant with a little olive oil and brown it in the oven. Then I spoon on a little tomato sauce, a few pieces of spinach, peppers, and a little chicken. With a little melted cheese on top, (that's real cheese, not processed) and it's delicious. I don't miss the bread crust at all.
On the occasion I do choose to eat the bread crust, I watch my portions and choose lots of vegetable toppings and I always add extra protein. Even though cheese has protein, the protein grams are low. I often add a salad with vinegar or lemon instead of regular dressing.
Life after weight loss surgery is NOT about deprivation and dieting...it's about making lifestyle changes: instituting smaller portions and healthier dietary choices. If we deprive ourselves, we'll just end up binge eating—falling back into the crazy mindset of "yo-yo" dieting, over-indulgence and deprivation. Now THAT is not a healthy way to live.
It's not the food that's the problem, it's what we do with it. Learning how to make healthier splurges is the answer to lifestyle changes for improved health. So go ahead - eat pizza — perhaps a healthier version. On occasion. Give yourself permission to have a treat without feeling guilty. You'll probably be more satisfied and eat less in the process.
For more bariatric friendly recipes....see the recipe section here on Miles to Go blog. Yes, you can. I just did! We have many more miles to go!
Posted
on Thursday, February 20, 2014 at 06:00AM
by
Julia Holloman
in After Surgery Transitions, Back To Basics, Food Forks, Health & Wellness, Making Choices, Menu planning, Recipes, The Bariatric Kitchen , Tips for Life
|
Post a Comment
Our transformation is a process
in which
struggle is inevitable
and
resistance is expected.
Posted
on Monday, February 17, 2014 at 07:00AM
by
Julia Holloman
|
Post a Comment
Recently I was asked to write an article for the New York Times on the importance of publicly sharing the weight loss experience. Although in certain situations it maybe wise not to share the decision to have bariatric surgery with others, public awareness can go a long way in dispelling many myths about bariatric surgery. This is why I share my story—that others may find the information they need to be successful.
There are many misconceptions about weight loss surgery. The first is that surgery is the easy way out. On the other hand, some think it too strenuous. I think it's time we understand the truth of what bariatric surgery entails.
The answer to a healthier "you" is easy, but the journey to better health and a slimmer figure may not be. We are all looking for a magic pill or an easy way out, but even though the road to freedom from obesity carries abundant rewards, those rewards come with huge risk and rigorous requirements in order to find lifetime success.
Although each one of us will have our own unique experiences as well as varying results from surgery, having weight loss surgery is not a cure that is handed to us with the raising of a scalpel or the re-routing of our physical interior. One must be ready to leave an old life behind, willing to assume personal responsibility for improved health, courageously meet the challenges ahead, and willing to embrace a new way of living.
For those who have more than 100 pounds to lose and have spent a lifetime on "yo-yo" diets, the body can become resistant to weight loss and therefore becomes almost impossible to lose weight without intervention. Weight loss surgery is a tool that helps us remain on a restrictive calorie intake temporarily until we can lose the excess weight and reach improved health. But even though it may temporarily reduce our hunger, it doesn't take away all of life's challenges. These will still be with us when we wake up in the recovery room or when we slip into our first pair of size 10 jeans.
Weight loss surgery helps when all other means have failed. It saves your lives and improves your health. But, there are no guarantees of easy or permanent. Surgery may treat the symptoms of obesity, but it doesn't cure the cause. Discovering "what is eating us" remains on our plate. Even losing weight without surgery won't cure what brought us to obesity in the first place.
We must go the extra mile. Finding answers to what triggers our compulsive eating behaviors and sugar addiction. If these issues are not something you are willing to confront—then you are not ready to have surgery or expect weight loss to remain gone forever. If you are not sick and tired of the life the way it is or willing to make mental and physical sacrifices to live a more active and healthier life—including taking a few vitamins and changing your diet and eating habits, then neither weight loss nor bariatric surgery will hold the solutions you seek. If living free from disease, or making the effort to discover what brought you to obesity in the first place is not something that you are willing to do—then surgery is not the answer.
Success after weight loss surgery, or even losing weight on your own, takes work and a lifetime commitment. It's that simple. But not easy. For those who are willing to pay the cost, there is freedom from obesity. I have experienced many challenges during my 8 year journey, but I have also experienced success beyond my wildest dreams, like countless others who have found that life after obesity is worth the effort. I advise you to do your homework and be willing to find the solution that works for you, so that you, too, can find improved health, emotional freedom and live life anew—free from obesity.
To read link to New York Times Room for Debate, click here.

Randall writes: "Hey, thanks for sharing this great post, Im in the process of losing weight my self. So far with some success." Keep up the good work Randall, you can do it.
Posted
on Monday, February 10, 2014 at 06:00AM
by
Julia Holloman
in Acceptance, After Surgery Transitions, Making Choices, Overcoming Difficult Challenges, Preparing for surgery, What you need to know
|
4 Comments