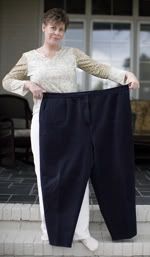 Physically, I'm half the woman I used to be, but as a result of my journey with gastric bypass surgery I've gained a lot. I'm Julia, and this blog is about the miles I've traveled in transforming my body, soul, and spirit while shedding more than 160 of the 300-plus pounds I carried before surgery.

I'll share my personal experiences of restoring my health and changing my lifestyle, and I'll offer spiritual encouragement, social and emotional tools, nutritious recipes, health information, and more. I've had a few challenges along the way, but through all the struggles I've grown stronger and regained my health and my life. I had my surgery on Easter Monday, 2006, which I call my personal resurrection day. Because of my transformation, I now look forward to many more "miles to go", and I invite you to travel with me on the road to a happier, healthier lifestyle...yes you can...I just did!

Turkey left-overs? Tired of turkey? Turn the tables with a healthy barbeque feast with an old reliable recipe that will add excitement to any protein—my scrumptious barbeque sauce.
Before weight loss surgery, I tried every diet known to man. Most of those diet recipes were hardly palatable. But I did come away with one that has become a family favorite, since 1977. So what is this wonder concoction? It's the recipe for the best homemade barbecue sauce ever—Weight Watchers.
Yep, that's right and it's that good. I've been making it for 40 years. I always have some in my fridge. My children crave it. My friends can't get enough and my husband won't eat grilled chicken without it. I've even been known to put it on tuna fish!
Weight Watchers Barbecue Sauce
3 teaspoons tomato ketchup
2 teaspoons vinegar
1 tablespoons lemon juice
2 tablespoons Worcestershire sauce
3 tablespoons brown sugar or brown sugar replacement
2 tablespoons butter
1 teaspoon mustard or dry mustard
1 teaspoon salt
1 teaspoon pepper
I have, however, made a few adjustments to the original recipe. I also add in:
minced garlic or garlic powder
onion flakes
red pepper flakes
hot sauce
replace some of the brown sugar with honey (if desired)
(All of these to taste!)
Yes, we can. We have many more miles to go!
Posted
on Monday, November 30, 2015 at 07:00AM
by
Julia Holloman
in Help in the Kitchen, Recipes, Successful Eating, The Bariatric Kitchen
| Comments Off
This holiday season why not stuff the pumpkin and the turkey instead of ourselves!
These stuffed pumpkins are something to warm up to. Here is the original recipe but below I'll give you suggestions for making it more bariatric friendly.
Stuffed Pumpkins
4 ounce(s) Sweet Italian Sausage
1/2 cup(s) Chopped Onion
1 (1 1/2-pound ) Pumpkin, peeled, seeded, and cut into 3/4-inch pieces
1/2 cup(s) Chopped Granny Smith Apples
1/4 cup(s) White Wine
1 cup(s) Israeli Couscous, cooked
1/4 cup(s) Dried Cranberries
1 tablespoon(s) Extra-Virgin Olive Oil
1 teaspoon(s) Fresh Thyme
1 teaspoon(s) Fresh Oregano, chopped
1/2 teaspoon(s) Salt
1/4 teaspoon(s) Fresh Ground Pepper
4 small (1-pound) Pumpkins, hollowed out
Directions
Make the stuffing: Preheat oven to 350 degrees F. Crumble the sausage meat and place it in a large saucepan over medium-low heat. Cook the sausage until it is almost done -- about 8 minutes. Remove the sausage from the pan, increase heat to medium, and add the onion and 2 cups of the chopped pumpkin. Sauté until the pumpkin begins to soften -- 5 to 7 minutes. Add the chopped apple and sausage and sauté for 3 minutes. Add the wine, cook for 2 minutes, remove from heat, and set aside. Combine the couscous, dried cranberries, olive oil, thyme, oregano, salt, and pepper in a large bowl. Add meat mixture to the bowl and toss to combine.
Bake the pumpkins: Evenly fill the hollowed-out pumpkins with the stuffing mixture and place the pumpkins in a shallow baking dish. Cover the dish with aluminum foil, bake for 25 minutes, remove the foil, and bake for 10 more minutes. Serve immediately.
Bariatric suggestion: I recommend using more protein and substituting regular sausage with turkey or soy sausage. You could even spice it up by adding a little fennel, sage, or thyme!
Recipe from Country Living; to read more: Baked Stuffed Pumpkin Recipe - Stuffed Pumpkins With Meat - Country Living
Posted
on Wednesday, November 25, 2015 at 08:00AM
by
Julia Holloman
in Bariatric Basics, Help in the Kitchen, Holiday Helps, Holiday Meals, Making Choices, Successful Eating, Thanksgiving, The Bariatric Kitchen
| Comments Off
T
hanksgiving is on the way and so is the over-abundance of everything food.
I think that over-abundance is more a positive than a negative. I think over-abundance is a "God" thing. If you think about it, everything God does He does in abundance. There is always more than enough.
Isn't that what the Thanksgiving season is all about, anyway? Being grateful for the blessing we have in abundance. But the sad thing is for many of us, when it comes to food, our thoughts tell us there will never be enough. So how do we approach the holidays with the mindset of thankfulness for the abundance God provides and the awareness of not having to gobble it all down in one day?
I'll share my tips on Thanksgiving dining which include a few tips from an article from "Medical Daily" written by Sabrina Bachai on how to manage thanksgiving day without feeling like an over-stuffedturkey yourself!
Don't skip meals or let yourself get too hungry. Plan a small snack or healthy appetiser, if you feel you will get too hungry before mealtime. Don't forget to get in all your water for the day, which will keep you hydrated and feeling satisfied with less food. Shift the focus from the food to your hunger level. Managing our hunger helps to manage our portions.
Survey all your food options and decide what you want to eat. Only take what you plan to eat. Don't forget the protein. And yes, feel free to include dessert. When my children were young, I would let them eat seasonal dessert such as pumpkin or sweet potato pie along with their meal. These pies are usually low in sugar and a fun treat that passed my nutritional requirement and satisfied their sweet tooth. Plan to have a small portion of something sweet, but dont' serve yourself the guilt that may come with it. Portion control is key. Enjoy a little bit of everything, but don't over-eat. On special occasions, I give myself permission to include dessert along with my meal. Often our eyes really are bigger than our stomachs.
The article from "Medical Daily" quotes Cornell University food psychologist, Dr. Brian Wansink—"When it comes to portion control, you can count on your brain not being very interested and your body not being very well calibrated," We often overeat in 100-or 200-calorie increments, which over time adds up to a weight gain that seems like a mystery to the eater." I suggest starting by only taking a small spoon-sized portion of each item. It has been my experience that when I save the dessert till the end, I find I eat none to very little anyway.
Slow down, chew more, and enjoy the taste and texture of each dish, assessing your hunger level after each bite. Remember to eat your protein first, which helps level the blood sugar and calm hunger. Chewing your food more has been found to lower the level of hunger hormone produced by the stomach.
Bringing your own dish to the Thanksgiving table is a perfect suggestion for a bariatric patient. Talk it over with your host and take a bariatric friendly dish that you will enjoy.
Remember to fill up on protein and non-starchy veggies and go "lean and green". Want to enjoy the thanksgiving abundance that fits the season—ask a take-along plate and fill up your emotional "tank" with good conversation, and the fellowship of the abundance love and fellowship of family and friends. At the end of the day, you'll be overflowing with gratitude of the season and the new you.
Look for more tips on holiday eating in the "holiday helps", "recipes", and "protein shake recipes" under the basic information section here on Miles to Go or do a search in the "search bar" to the left.
Happy Thanksgiving—yes, we can...we have many more miles to go!
Posted
on Tuesday, November 24, 2015 at 08:00AM
by
Julia Holloman
in After Surgery Transitions, Back To Basics, Bariatric Basics, Dealing with emotions , Emotional support, Food Forks, Food for Thought, Holiday Helps, Holiday Meals, Hope and Help, Lifestyle Changes, Menu planning, Successful Eating, Thanksgiving
| Comments Off
Success after weight loss surgery includes getting rid of the diet mentality and creating a balanced life. Remember weight-loss surgery is not a diet, it's a lifestyle.
Understanding how to successfully maneuver through holiday meals is important. The key is to have a plan, create a motivator, and refocus your mindset from feelings of deprivation thankfulness. Here are my basic tips for the day.
1. Have a plan. Decide ahead what items you will eat and what items you will avoid. If you decide ahead to take a bite or two of something you might not ordinarily have, don't condemn yourself—if you plan to have a bite or two (and no more) then you will have accomplished your goal of sticking to the plan and not feel deprived. Use wisdom when making your selections.
Food is not "bad", but don't choose something that you know that you will not be able to control. Planning a treat for yourself that is within your boundaries is wise, such as finding a holiday centered protein shake using pumpkin, coconut or your favorite flavorings. Plan a fun activity or time of fun with the people you enjoy. The key is to plan ahead.
2. Create a motivator . A motivator will help instill your goal and help you follow your plan. Try on an article of clothing that you wore at your heaviest weight or focus on an article of clothing that you want to be able to wear. Remember how it feels to be healthier. Focus on your health or on other benefits that losing weight affords. Refocus your mind on the rewards for sticking to your plan. The key is to find something that motivates you to stick to your plan and not leave you feeling cheated or deprived.
3. Be balanced. Don't skip meals in an effort to save calories. Deprivation and over-indulgence do not create a healthy balanced life. Eating a balanced breakfast will allow you to better control your appetite during the rest of the day. Remember lifestyle not a diet. It's not about limitations or over-indulgence, it's about balance and remaining in control. You can eat several times during the day—don't just focus on one meal. Focus on what you can have and enjoy it.
4. Be thankful. Replace self-entitlement for gratitude and the "I can't" self-talk to "I can". "I can eat a few bites of one of my favorite foods. I can enjoy the fellowship and remain on target. I can wear a smaller size than I could wear a month ago or a year ago. I can be proud of my accomplishments. I can enjoy better health and emotional freedom. I can enjoy the day and the fellowship. I can succeed."
Plan activities that offers you satisfaction that you can do. The holidays don't have to be centered around food. Reward yourself with a home spa, a family game night, or a movie at the end of the day, reconnect with an old friend, or make a new one. It's ok to pamper yourself - you're worth it.
Check in tomorrow for more holiday tips!
Posted
on Monday, November 23, 2015 at 07:50AM
by
Julia Holloman
in After Surgery Transitions, Emotional support, Food for Thought, Holiday Helps, Holiday Meals, Making Choices, Mindset Changes, Successful Eating, Thanksgiving, The Bariatric Kitchen , Tips for Life
| Comments Off
After bariatric surgery, we often face challenges with foods that we have eaten all our lives. This calls for some creative thinking and creative cooking tips.
So who's the perfect one to ask to solve bariatric challenges? None other than Chef Dave Fouts. In 2002, Chef Dave underwent bariatric surgery. In 2008, I attended a bariatric retreat in which I got to meet and cook with Chef Dave.
In his cookbook, Cook Wise, Chef Dave shares helpful tips for cooking proteins such as chicken.
Chef Dave says, "Believe it or not, the way you cook your protein has everything to do with how well you can digest protein. Your protein should be moist and tender, not moist and chewy."
This requires finding a new cooking method. Chef Dave recommends sauteing. Sauteing, rather than boiling, makes protein such as chicken more moist instead of chewy. Sauteing protein should always be 1/2 inch thick or less, so that the outside doesn't burn or dry out before the inside is cooked.
Dave also recommends rotisserie cooking, which is great for thicker cuts of meat such as pork loins, whole chickens, turkey or lamb shanks. Already prepared rotisserie meats can be purchased from most grocery chains or restaurants. He also recommends roasting or grilling, poaching and steaming for fish, shellfish, and seafood.
Posted
on Monday, November 16, 2015 at 12:00PM
by
Julia Holloman
in Bariatric Basics, Help in the Kitchen, Lifestyle Changes, Recipes, The Bariatric Kitchen , Tips for Life
| Comments Off