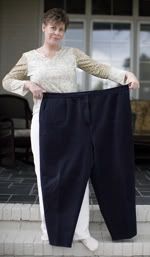 Physically, I'm half the woman I used to be, but as a result of my journey with gastric bypass surgery I've gained a lot. I'm Julia, and this blog is about the miles I've traveled in transforming my body, soul, and spirit while shedding more than 160 of the 300-plus pounds I carried before surgery.

I'll share my personal experiences of restoring my health and changing my lifestyle, and I'll offer spiritual encouragement, social and emotional tools, nutritious recipes, health information, and more. I've had a few challenges along the way, but through all the struggles I've grown stronger and regained my health and my life. I had my surgery on Easter Monday, 2006, which I call my personal resurrection day. Because of my transformation, I now look forward to many more "miles to go", and I invite you to travel with me on the road to a happier, healthier lifestyle...yes you can...I just did!

I get asked a lot about how to get motivated to lose weight when we gain, or even to keep going during slow weight loss intervals. I have experienced both over the years…and especially recently.
Over the 10 years since surgery, I accepted the normal 10% weight gain, but during the last 3 years, I had put on a few pounds I was no longer willing to live with. So, I set my mind to weight loss. Now, I must say, I am easily motivated, but I also…can just as easily become uninspired.
On April 8, I set out on my most recent weight loss experience, which I call my "get back to basics reunion". The first 12 weeks went well, I lost 25 pounds. But then came July, the dreaded standoff—I reached a marathon stand still—for the last 8 week, I've moved up and down the same four pounds. Officially known as a weight loss surgery patient plateau. Now that's discouraging! I still have more to lose.
So here's what I'm doing.
I am a firm believer in first "setting your mind" towards what you want. First, I begin the motivating process by making a list of reasons why I want to lose weight. The reasons that inspire us in the first place, can often encourage us during the process. I make a list of why I want to lose, where I want to be in the end and my plans for getting there. Although weight loss was included in my list of desires, my goal was to get back to healthier choices.
On days when I need additional inspiration, I find it helpful to try on clothes in my closet that I want to get back into. Even going to the department store to try on clothes or look through clothing catalogs, or new trends online. I especially enjoy being surprised when my clothes have a little more wiggle room than the week before!
One week led me to the outlet stores and the clearance racks to find a new and exciting summer deals. I selected a few things that I was excited to add to my wardrobe. Last week, I went to a in-home clothing event. That was inspiring. There were lots of girls trying on clothing and I wasn't too terribly embarrassed to try on some promising outfits. It was fun!
Before weight loss surgery there were particular kinds of clothing I dreamed of wearing such as a khaki pencil skirt or a sleek sweater dress. I helps me to imagine myself wearing those clothes with specific details and how it would feel to be able to wear it well. I encourage you to choose an outfit that is within reach and set your mind toward wearing it. Be specific about color, style, and every detail, and image yourself sporting it.
Among my list of reasons to lose weight are huge health motivators, reduction in knee pain, more energy, more flexibility and better blood sugar levels.
I also seek out support group friends and fellow weight loss companions. I weigh-in with someone each week - to hold myself accountable. It's harder to face someone else on weigh-in day if you haven't done your best. I have a support group of several people that share the same desire to get back on track - they don't have to be weight loss surgery patients - anyone who is struggling with weight and earnestly trying to lose. Encouraging others is a reward all it's own!
This summer, I texted with a group of friends - including my friend, Hannah. She has great ideas on recipes and is very creative in finding fresh food ideas. My sister, Ginger, wanted to lose a few pounds. It was exciting to share and connect and to see her reach her goal. One of my neighbors offers encouragement, too. She and I get together about once a week (informally) and share our ups and downs.
Another motivator for me is finding new recipes that are healthy. Even trying a new food that I haven't tasted before—something new and simple that I can add to my "go to menu". I also try a "special dinner" or "special breakfast" recipe that I would like to try. Making a list of foods that I CAN eat and a list of healthy snacks. Summers are especially hard for me as ice cold popsicles tend to call my name. I purchased a few popsicle forms and made my own flavors—inventing new recipes, challenging myself to make them as tasty and low calorie as possible.
On a food note, I find making things as simple and convenient as possible helps - I try to keep things on hand in the fridge and freezer. This summer I made a fresh storage container purchase for the fridge (FreshWorks by Rubbermaid). They work! These containers keep fruits and vegetable fresher longer so that I don't have to worry about spoilage quiet so soon. I keep food ingredients prepped, and on-hand and in sight so that it's ready when I'm hungry.
Activity wise, I recommend finding activities that are enjoyable. Exercise doesn't just have to be in the gym. Discover an activity that is rewarding and productive that you enjoy—wash the car, go for a walk up the street, down the beach, or through the mall, buy a jump rope, get a hula hoop or put together some friends for outdoor games, activities, or throw a pool party - something simple, easy and fun.
During my recent stand-still, I've had to review my goals and my progress. My goal was to get back to health and making healthier choices, not a number on the scale. I did want to get into some smaller clothes in my closet, but that was only a by-product of my effort. I must remind myself that the main thing is that this is not a diet. This is a lifestyle, a way of living I needed to get back to. I was also reminded, that in all my efforts to make plans and do my best, I must surrender my plans as well as the result to the Lord. Through it all I'm growing stronger inside and out. I've been diligent, I have had success in my endeavors and I will continue to move forward, in the right direction—and so can you. Yes, you can. You have many more miles to go!
Posted
on Monday, August 22, 2016 at 10:00AM
by
Julia Holloman
in Back To Basics, Hope and Help, Making Choices, Plateaus, Regain
| Comments Off
Are you a post-op bariatric patient struggling to incorporate healthy lifestyle & behavioral changes?
Do you want to work towards a healthier weight goal?
Do you need a refresher on the nutritional guidelines?
Do you suffer from low motivation or self-sabotage?
If so, it's time to jump start your success!
Nutritional & psychological support are imperative factors to help you maximize success after WLS. Attending this series facilitated by bariatric experts Chaundra Evans RD, LDN, CEDRD & Kelly Broadwater, LPA, LPC, CEDS will help you achieve improved compliance and better health.
Call (910) 790-9500 in advance to reserve your spot
**Limited Space Available, First Come First Serve**
Six 90 Minute Evening Classes
5:30 – 7pm pm @ Chrysalis Center
Cost of Program: $40 per session or $220 in advance
September 15th, 22nd & 29th , Oct 6th, 13th & 20st
Topics covered include:
Back to Basics - What to Eat
Normalizing your Eating Habits – How to Eat
Supplement Regimen & Signs of Deficiencies
How to stop weight gain
Getting & Staying Motivated
Overcoming Self-Sabotage
Improving Self-care and Lifestyle change
Emotional Eating
Posted
on Monday, August 8, 2016 at 01:30PM
by
Julia Holloman
in Back To Basics, Back on Track, General Support Information , Local Support Group Information
| Comments Off
Weight Loss Surgery Support Group Meeting
NHRMC
Cape Fear Site, Wrightsville, Ave
Tuesday, August 2, 2016
6:30 pm
Orthopedic Hospital (Cape Fear Site)
Classroom South
Special Guest Speaker: KellyBroadwater, MA, LPA, LPC, NCC, CEDS
Topic: Self-Care
Posted
on Monday, August 1, 2016 at 08:00AM
by
Julia Holloman
in Local Support Group Information
| Comments Off
Recently, I was browsing through some of my old cookbooks and cooking magazines when I came upon a 2003 issue of Cook's Illustrated. On the front cover I noticed an article entitled Mayonnaise Taste Test. Now, I'm all about doing taste tests—so I turned to discover who made it to the top.
Seven nationally available brands, including Miracle Whip, were selected. Results concluded that Hellmann's (full-fat) Mayonnaise was the best—taking first place. My sentiments exactly—Hellmann's is the best.
Five brands were also put to the test to find the best low-fat mayo. Included in the running was also the full-fat winner, Hellman's full fat mayonnaise—just to further test the tasters! Once again, Hellmann's Light Mayo came in first, earning the caption, "It's almost as good as it's full-fat cousin."
I haven't done a one-on-one taste test on low-fat mayonnaise on my own, but I may just have to give it a try. Most of the time I'd rather use less of the "real stuff" than to get more of the low-fat item.
Why not do your own "taste test" comparisons. But remember, no matter which brand you choose, or whether you prefer to use full-fat mayo or it's low fat cousin, with the proper bariatric portion*, the only things you're giving up are calories and fat grams. Just because you've had weight loss surgery doesn't mean you have to give up taste!
Yes, we can, we have many more miles to go!
*keeping fat grams to around 5 grams per meal is suggested to prevent dumping, encourage weight loss or maintain weight.
Posted
on Monday, July 25, 2016 at 08:00AM
by
Julia Holloman
in After Surgery Transitions, Food Facts , Food Forks, Food for Thought, Health & Wellness, Making Choices, Successful Eating, The Bariatric Kitchen
| Comments Off
One of the pros of weight loss surgery is that for a few months after surgery it takes very little food to fill you up and keep you satisfied. But you should be aware of two important facts:
1. As time goes on, it will take more food to make you feel full. (Which is a normal part of the process.)
2. Just because you are eating, doesn't mean you're eating healthy.
During the first two years after surgery, the capacity for the amount of food you can eat will go up from a few teaspoons to 1 cup to 1 1/2 cups of food. But, whether you eat a little or a lot, eating healthy is the most important element.
Everyday Health reports, "If you're trying to lose weight or maintain a healthy weight, finding the right kind of foods—healthy foods that will fill you up for the longest amount of time — is essential.
"Clients who are trying to lose weight tell me they get hungry every three to four hours," says nutritionist Beth Kitchin, RD, an assistant professor at the University of Alabama in Birmingham. "You're supposed to feel hungry that often, so eating low-energy density foods, meaning those high in nutrients, can really help." High-protein foods, high-fiber foods, and healthy fats are all on the top 10 list of most filling foods."
Especially after weight loss surgery, I have found that eating every 3 to 4 hours is necessary to keep blood sugars levels balanced. Eating healthy foods high in fiber such as fruit, veggies, beans, and nuts, are the key to feeling fuller longer and being satisfied with what we eat.
Foods such as prunes are sweet, satisfying, high in fiber and antioxidants. Fruits is a handy snack, high in fiber. Grapes, berries and apples are not only sweet but also have a high water content. Fruits pair well with a small handful of nuts: pistachios, almonds, pecans, nuts, and seeds—all offer healthy fats as well as protein.
Vegetables are filling. They are not only low-calorie, but also high in fiber. Foods such as carrots and hummus, (made from chick peas) boast fiber, flavor and fat to keep you feeling full longer. They also help us absorb nutrients like beta-carotene. And don't forget that potatoes are healthy vegetables, too. With healthy toppings, a baked potato, eaten with the skin, is a great source of potassium and fiber.
For a boost of energy, try high fiber oatmeal or a small serving of black beans.
Proteins can be a healthy snack choice as well as a meal option. Foods high in protein, such as lean chicken, ham or turkey will help satisfy hunger.
One of my favorite mid-afternoon snacks is a 1/4 of an avocado. Avocado is a healthy fat. It's also high in fiber, which is a combination that makes it filling and satisfying without making you feel too full. I eat avocado with 1 ounce of Lundberg Wheat-free, Gluten-free Organic Brown Rice Chips.
Eating healthy, feeling pleasantly full and being satified is a essential in element in being healthy, losing or maintaining weight and establishing healthy eating habits.
Yes, we can. We have many more miles to go!
Posted
on Monday, July 18, 2016 at 08:00AM
by
Julia Holloman
in After Surgery Transitions, Back To Basics, Health & Wellness, Healthy Fats, Nutrition, Satiety, Snack Attacks , Successful Eating, The Bariatric Kitchen
| Comments Off