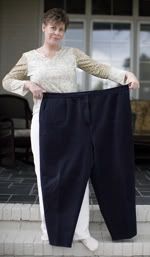 Physically, I'm half the woman I used to be, but as a result of my journey with gastric bypass surgery I've gained a lot. I'm Julia, and this blog is about the miles I've traveled in transforming my body, soul, and spirit while shedding more than 160 of the 300-plus pounds I carried before surgery.

I'll share my personal experiences of restoring my health and changing my lifestyle, and I'll offer spiritual encouragement, social and emotional tools, nutritious recipes, health information, and more. I've had a few challenges along the way, but through all the struggles I've grown stronger and regained my health and my life. I had my surgery on Easter Monday, 2006, which I call my personal resurrection day. Because of my transformation, I now look forward to many more "miles to go", and I invite you to travel with me on the road to a happier, healthier lifestyle...yes you can...I just did!

For new weight loss surgery patients, eating out at a restaurant can be a little daunting. So I'll share a few tips that will hopefully help you—eat out with ease.
For some, eating out can be challenging or offer too much temptation to go astray. Like any challenge or temptation, having a strong resolve and a plan, in advance, is a great way to insure success. Temptation is much more likely to cloud your judgment or confuse your intentions if you wait until the last minute to make decisions. So being armed with a plan of success is the best way to go.
In the beginning, I found it helpful to decide ahead of time what items I would order and avoid the temptation of the menu altogether. Once I looked at the menu, all the choices distracted me. Even after nine years, my eyes can still seem bigger than my tummy. If I'm not careful, my good intentions can go right out the window. So, in the beginning, I found other alternatives. Before leaving home, I would use the internet to check out menus and plan ahead.
One of the first things I got in the habit of doing was to remove or hide the desert menu upon arriving to the table. Out of sight —out of mind.
If I was familiar with the restaurant, I ordered without looking at the menu. If I was not familiar with the menu, I would ask my husband to order. I would offer suggestions and he would check the menu to see if it offered a protein appetizer—such as a shrimp cocktail. Ordering healthy appetizers high in protein for a meal can be a good option. Ordering protein first allowed me to rearrange the order in which the food arrived at the table. If I wanted a salad or side item, I could order it after the protein course. I would also leave the bread for last—if I still had room—which was rare.
My husband and I often decide before we arrive at the restaurant to share a meal. Making plans ahead of time, asking someone else to order, or even agreeing on a dish to share takes the stress out of eating out and allow you to enjoy the dinning out experience! Yes, you can. You have many more meals to go!
Posted
on Monday, April 27, 2015 at 07:00AM
by
Julia Holloman
in After Surgery Transitions, Food Forks, Food for Thought, Making Choices, Menu planning, Successful Eating, Tips for Life
|
Post a Comment
This past week I celebrated my 9th year after having weight loss surgery.
The decision to have weight loss surgery was not an easy one. But like most folks I talk to, I would do it again in a minute.
Nine years ago, I weighted over 300 pounds. I was taking several medications for high blood pressure, high cholesterol, diabetes, knee and joint pain, back pain, and I had sleep apnea. Today, my blood pressure and cholesterol are ormal, I no longer have diabetes, I rarely take Tylenol for joint pain and even though I do still have sleep apnea and continue to wear my CPAP machine while sleeping, my episodes are fewer and much milder.
One of the things I did that helped me make the decision to have surgery was to make a list of pros and cons. I wrote down the details of what my 300-pound life looked like. Then I made another list of what I wanted my life to look like. I did extensive research about weight loss surgery and what I could realistic expect the surgery to do for me. I attended an orientation, talked to a surgeon, and interviewed several patients who had undergone weight loss surgery, and then, I committed it to prayer.
If you are considering surgery, my advice is to do the same. Do your homework, find out everything you can about what options are available to you and what you can expect surgery to deliver. Talk with your surgeon about which procedure best fits your needs. Commit it to prayer. Then, no matter what decision you make, set your mind to be successful. Yes, you can. You have many more miles to go!
Posted
on Monday, April 20, 2015 at 07:00AM
by
Julia Holloman
in Celebrate , Inspiration, Making Choices, Success Stories
| Comments Off
Swing, sway, waddle and roll. New dance steps? I don't think so. These moves could describe the way a duck waddles, or the off-balance gait of a pregnant women, but after massive weight loss, it could also describe the gait of a weight loss surgery patient.
I'm not trying to be unkind, it's not entirely unusually for some of us to have walked this way when we were overweight, myself included. And if we haven't made any effort to change our gait after losing weight, chances are we are still walking this way.
The reason we waddled and swayed is that our center of gravity was off balance. When our center of gravity is off balance our body tries to compensate. Our muscles or our gluteus medius, are affected by our weight—they become weak, causing us to waddle.
This could not only affect the way we walk but also the way we sit or stand. If not corrected, this unbalance can contribute to falls as we grow older.
The key is to be willing to acknowledge that we waddle and to be willing to strengthen our muscles. Our muscles support our changing body weight differently. After massive weight loss, our muscles need to be strengthened. Then we will have better balance and better posture and our waddles will disappear.
After losing weight, I had a similar problem. I was having horrific pain in my tail bone. My friend, and walking partner, suggested I see a physical therapist. She related that after massive weight loss, her walking posture was out of balance and needed correction. After physical therapy, she walked normally again.
I took her advice and made an appointment with a physical therapist. I discovered I was having pain in my coccyx or tail bone because the muscles around my tail bone were weak—my gluteus maximus. This was the source of my pain. I learned my sitting posture was also out of balance. I had to strengthen my muscles and improve my sitting posture. My pain disappeared.
Posted
on Monday, April 13, 2015 at 07:00AM
by
Julia Holloman
in After Surgery Transitions, Health & Wellness, Insider Information , Muscles, Posture
| Comments Off
Wilmington, NC Area
for details and information click here.
Posted
on Monday, April 6, 2015 at 07:00AM
by
Julia Holloman
| Comments Off
Some of my posts over the last few months have been about bringing my mind into alignment with the reality of my new body image after massive weight loss. This principle not only works in the physical and mental arenas, but it also works in the spiritual.
During my journey through weight loss and beyond, I found that the spiritual transformation in my life was, and has been, far more significant than the physical transformation of losing weight and gaining my health.
Each year, I focus on "one word" that will inspire me to grow spiritually. My one word for 2014 was "open".
One verse of scripture inspired me to be more "open".
"But we all, with unveiled (or open) face beholding as in a mirror the glory of the Lord, are changed into the same image from glory to glory, even as by the Spirit of the Lord."
The word "open" in this verse in 2 Corinthians 3:18 is the same word as "unveiled".
Throughout the year, this scripture began to reveal secrets about how to bring about spiritual changes in my life. The word open or unveiled communicates the sense of being unrestricted, completely free, unhindered, without boundaries or limits. Something that is fully exposed to view, unconcealed. It brings clarity. It describes something that is uncovered—allowing complete access or passage without barriers. Accessible.
God's Word is like like that. It is like a mirror, allowing us to see God more clearly. Unhindered. As He really is. Organic. Real. Not through the lens of pre-conceived ideas or false pretense.
Likewise, it also allows us to see ourselves as we really are. It can inspire us to be transparent, knowing that we can approach God without limits or boundaries, with nothing hidden or concealed. Being open clears the past of anything that would stand in our view, allowing us to be changed or transformed into the image of God, to be more like Him, to reflect His character.
I have found that when I am focused on being transformed inwardly, I allow my attitude to see the places in my life where God is clearly moving and working. I can move, as the scripture in 2 Corinthians says, from glory to glory. Sometimes I feel as though I'm moving one mess to another, not from glory to glory.
The word glory is actually used to describe the tangible presence of God—a glory that is real, apparent, visible, noticeable, evident, obvious, clear, recognizable, magnificent, beautiful, unmistakable, grand, and majestic.
Life after weight loss surgery has given me a clearer view of what my focus in life should be—opening up another aspect of God's personal and intimate care for me, communicating His love and grace. When I focus on God's presence in my life, it changes my attitude, my outlook, my character, and my image. It is this internal change that is first necessary for lasting change to take place in the physical.
This year, I find I'm still focused on the word "open". My daily prayer request has been seasoned with the hunger to see God as He really is, to know more of His intimate presence in my life, to experience more inward change and each day to be transformed from one glorious, tangible, manifestation of His presence to another.
Do you need a new image?
Posted
on Monday, March 30, 2015 at 07:00AM
by
Julia Holloman
in Mindset Changes, Our Mind and Body Image, Our Self Image, Reflections, Spiritual Encouragement
| Comments Off