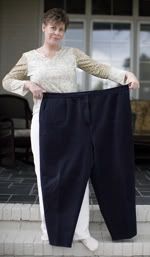 Physically, I'm half the woman I used to be, but as a result of my journey with gastric bypass surgery I've gained a lot. I'm Julia, and this blog is about the miles I've traveled in transforming my body, soul, and spirit while shedding more than 160 of the 300-plus pounds I carried before surgery.

I'll share my personal experiences of restoring my health and changing my lifestyle, and I'll offer spiritual encouragement, social and emotional tools, nutritious recipes, health information, and more. I've had a few challenges along the way, but through all the struggles I've grown stronger and regained my health and my life. I had my surgery on Easter Monday, 2006, which I call my personal resurrection day. Because of my transformation, I now look forward to many more "miles to go", and I invite you to travel with me on the road to a happier, healthier lifestyle...yes you can...I just did!

Yes, those are sardines!
My dad used to eat sardines. I remember turning up my nose as a child. I have given them a try a couple of times as an adult, mostly so that my kids would experience them for themselves as I did.
I remember having a fish tasting one year during a homeschool study on oceanography. I guess they had the same reaction as I did in my youth because, to my knowledge, none of my adult children eat them now!
Recently my neighbor suggested that she loved sardines on a salad. I must have been really hungry at the grocery store, because I decided to try them once more. And guess what? They were all bad. As a matter of fact, I liked them.
I think the fact that they were packed in water made a difference. I purchased Brunswick Sardines with no salt added, so I could control the amount.
So with a little squeeze of lemon, some homemade whole grain mustard vinaigrette, a little cucumber, tomato, and apple, I layered them a-top a spinach salad. To my surprise, I rather enjoyed it. I will definitely put them on the grocery list and my lunch menu again.
Sardines are an oily fish, like salmon, which CAN make them a bit fishy tasting, but the oil is what makes them healthier to eat. (My Brunswick Sardines weren't all that fishy.)
Eating any kind of fish is really good for you. They are loaded with important nutrients such as omega 3 fatty acids which are important for your body and your brain, fish also contain lots of protein, calcium, iron, magnesium, phosphorous, potassium, sodium, and zinc. Vitamins include thiamin, riboflavin, niacin, vitamin B6, folate, vitamin B12, A, D, E and vitamin K.
Sardines are also a very good source of phosphorus, a mineral that is important to strengthening your bones. Eating fish at least once a week will help guard against heart attack and stroke.
Sardines are rich in protein, which provides us with amino acids. They are also loaded with protein and amino acids. Amino acids are important because our body uses them to create new proteins, which serve as the basis for most of the body's cells and structures—forming the basis of muscles, connective tissues, and antibodies that keep our immune system strong. In turn proteins assist in delivering oxygen and nutrients throughout the body.
Posted
on Monday, April 25, 2016 at 08:00AM
by
Julia Holloman
in Back To Basics, Bone Health, Bone up, Calcium, Health & Wellness, Healthy Fats, Insider Information , Let's do lunch, Protein , Recipes, Successful Eating, Tips for Life , Vitamin B12, Vitamin D, Vitamins, Vitamins and Minerals, What's For Lunch?
| Comments Off
This month, I will be celebrating a significant life event.
Sunday, April 17, 2016, marks my 10-year anniversary of weight loss surgery.
This season also marks another important reminder for me, as well. A few weeks ago we celebrated a spiritual victory—Passover. A time when we remember the exodus; the release of the Israelite slaves from their captivity in Egypt. Today, we celebrate this historical landmark as Easter—remembering the death and resurrection of Christ and our freedom from spiritual slavery to sin and death.
For me, these events of victory and freedom have a lot in common. Oddly enough, I had RNY weight loss surgery on Easter Monday in 2006, which I call my personal resurrection day.
This week, I was reminded of another biblical, as well as historical, symbol of victory and freedom—the giving and receiving of a white stone, which reveals a new hidden identity.
In the bible, Revelation 2:17 tells us that those who overcome will be given a white stone with a new name on it.
"To him that overcometh, to him will I give of the hidden manna, and I will give him a white stone, and upon the stone a new name written, which no one knoweth but he that receiveth it." (ASV)
In biblical times, engraved white stones were given to someone who was accused of a wrong doing, taken to court, and acquitted. The personally engraved white stone was like an ID card—a symbol of their innocence and freedom. Engraved stones were also given to those who were released from prison.
In Roman times, having your name engraved on a white stone was also a symbol of accomplishing a victory in an athletic event.
In modern times, we might also relate to having our names engraved on stone if we have ever won a trophy. Famous stars, have their name engraved on a stone in the streets of Hollywood. If you are a military hero, you might have your name written, in honor, on a stone wall.
Having a name engraved on a stone might also remind us of a gravestone marker. That's where my name might have been if I hadn't changed my lifestyle 10 years ago. Even though I wasn't dead physically, I certainly felt as though obesity had put-to-death the quality of my life. I decided to have surgery to get my life back. As a result of losing 164 pounds, I gained my health and a new lease on life. But more importantly, I gained freedom and victory from the debilitating and deadly grip of obesity—physically, emotionally and spiritually.
Over the last 10 years—I've experienced and overcome a multitude of changes and challenges—both outwardly and inwardly. I've accomplished more than losing weight. I've had to re-discover the new me—my new self-image and my new identity. I've had to re-examine the old labels I wore. Not just my clothing size, or my outward appearance, but how I thought about who I was on the inside.
Ressurection indeed! Only those who have personally overcome trials, hardships and life-changing circumstances will ever know the sweet taste of inward victory or the profound depth and gravity of freedom.
I invite you to join me in this season—celebrating new life, victory, identity and freedom.
Yes, we can, we have many more miles to go!
Posted
on Sunday, April 17, 2016 at 04:00PM
by
Julia Holloman
in After Surgery Transitions, Celebrate , Inspiration, Overcoming Difficult Challenges, Success Stories , WOW Moments
| Comments Off
Berry Good Protein Pops
1 pint blackberries, blueberries, or raspberries (or mix)
2 cups low-fat vanilla yogurt
2 Tbsp freshly squeezed lemon juice
2 scoops of protein powder
liquid stevia sweetener to taste if needed
Place berries in a food processor until smooth. Stir in yogurt, lemon juice, and protein powder. Fill popsicle molds and place in freezer for 25 minutes. Add wooden sticks and freeze overnight. Makes approximately 12 pops.
Posted
on Monday, April 11, 2016 at 07:00AM
by
Julia Holloman
in Protein Shakes , Successful Eating, The Bariatric Kitchen
| Comments Off
Follow Miles to Go Blog on Facebook
Each entries on the home page post automatically.
Visit Miles to Go Blog
for encouragement, inspiration and information on
weght loss surgery
All post archived just for you.
Posted
on Monday, April 4, 2016 at 08:00AM
by
Julia Holloman
| Comments Off
My husband, Richard, and I have been married for over 40 years. We began our family a few years after we were married.
As a busy wife, homemaker, and mom of three kids (born 2 1/2 years apart), one of the biggest challenges in my day was mealtime....or the lack thereof.
I loved to cook, but with three small children, time management was crucial. I was often in a rut or caught off-guard when my day didn't go as planned. Whenever I would ask my husband what he wanted for dinner, it was the same dish over and over again. Sometimes, I just didn't have grocery items in the pantry or fridge when I needed them. I needed a solution.
I decided to make a menu plan. I began by printing a few menu sheets from my computer. I sat down with my recipe file, a few cookbooks, and a notebook. I made lists of all the food my family would eat, from each catagory—breakfast, lunch, and dinner. Then I mixed and matched food items to create menus for every day of the week—one week at a time. By the end of the year, I had a good stack of seasonal menus. With just a little tweaking, I was ready for the year ahead.
This method also helped through the eleven years I home schooled my children, when I found that planning ahead was a must. I occasionally shared my menu planning ideas with friends. We had brainstorming sessions, sharing recipes and menu suggestions.
I am also glad I had this skill under my belt when I was faced with planning bariatric meals as well. Creating menus made life a little more stress free, helps me keep my best meals choices on hand, and takes the guess work out of grocery shopping. I'm now passing these menu planning ideas to my daughter as she raises her growing family.
So, how does it work? I'm so glad you asked. I have all the details spelled out for you in the "menu planning" section in the basic information category on the left hand tool bar.
Posted
on Monday, March 28, 2016 at 07:00AM
by
Julia Holloman
in Back To Basics, Help in the Kitchen, Menu planning, Overcoming Difficult Challenges, Tips for Life
| Comments Off