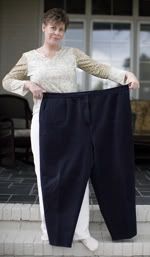 Physically, I'm half the woman I used to be, but as a result of my journey with gastric bypass surgery I've gained a lot. I'm Julia, and this blog is about the miles I've traveled in transforming my body, soul, and spirit while shedding more than 160 of the 300-plus pounds I carried before surgery.

I'll share my personal experiences of restoring my health and changing my lifestyle, and I'll offer spiritual encouragement, social and emotional tools, nutritious recipes, health information, and more. I've had a few challenges along the way, but through all the struggles I've grown stronger and regained my health and my life. I had my surgery on Easter Monday, 2006, which I call my personal resurrection day. Because of my transformation, I now look forward to many more "miles to go", and I invite you to travel with me on the road to a happier, healthier lifestyle...yes you can...I just did!

No matter where you're going, it all starts by making the first few steps. Even before your feet make the first move, you most likely had a plan in your mind about where you were going and how you would get there. And so it is with success. Preparing for weight loss surgery is no different. You need a plan to help you know where you are headed and when you reach your destination.
First, it's important to know why you're making the journey. I suggest you start by writing a list of reasons why you are having weight loss surgery in the first place. This will bring clarity and help you set your goals. You can do this even if you have already undergone surgery. You can start by asking yourself questions such as: "What does my life look like right now?" (before surgery)
Next, define how you want your life to look after surgery. What are your goals? What are you willing to do to reach them? What do you expect from surgery? Are your goals realistic?
A goal is something that we can achieve by our own efforts. Although we need support, information, and encouragement from others, we should be able to accomplish our goals without depending on the uncertain cooperation of others. Learning to distinguish the difference between what is within our abilty to change and what is not, is important. We must know what we want and be willing and equipped, both physically and mentally, to change our lives accordingly.
In my book, Out of Obesity and into the Promised Land, I outline how to plan for success—from making decision about surgery, to planning and carry it through to the end—I'll also offer you inspiration that will allow you to start your journey with confidence and end with success!
Yes, you can. You have many more miles to go!
Posted
on Monday, May 23, 2016 at 08:00AM
by
Julia Holloman
in Basic Information, Before Surgery, Book: Out of Obesity and into the Promised Land, Goal Setting , Inspiration, Preparing for surgery, Tips for Life
| Comments Off
I have a lot of people who write in asking about weight regain. Either they have gained weight or they have a fear of gaining back weight. This fear is common. But it doesn't need to rule us—regain is something that we need to understand and allow ourselves to put into perspective.
A certain percentage of regain is expected after weight loss. Re-gain may occur when our weight drops past the point that we can maintain. As we grow older, we experience a lower metabolic rate or reduced activity levels. Or we just may experience a gradual falling away from our healthier choices.
I jokingly say that when I reached my lowest weight, ten years ago, I only stayed there for 30 minutes, because I wasn't able to maintain it long enough to make any difference. The initial exuberance I experienced losing weight, being 138 pounds and wearing a size 4—although wonderfully exciting—was not realistic for me in the long run.
I lost the majority of my weight in 18 months but it took several years before I actually found a weight that I was conformable maintaining.
In the process had to accept that my lowest number on the scale was not a bench-mark for my success. At my lowest I lost 30 pounds more than the goal weight my surgeon had set for me. I did gain a few pounds back—about 10 percent—which is an average re-gain amount. Even so, I maintained my health and improved quality of life during my 10 year journey. I call that success. But over the years, things change. I've changed. My lifestyle has changed. I'm 10 years older than I was when I had surgery, so over time, my weight goals have changed as well.
Maintaining weight loss is about adapting to a new lifestyle. We have had a lifetime of losing weight, but we are not as experienced in keeping it off. That's not to say we won't ever gain weight—it's just part of the process. I reached a weight I could maintain, and despite fighting severe hypoglycemia, I managed to keep my weight in the "maintaining category" for several years.
With that said, the last 3 years of my life have been exceptionally and emotionally stressful—involving moving three times, dealing with the emotional loss of my mother, as well as learning how to control my low blood sugar levels without medication. I got off track with my eating, and even though my surgeon says I'm within 10 pounds of his goal weight, I wasn't comfortable with the additional added pounds.
This spring I made a commitment to get back to the basics and lose a few pounds. I'll be honest, I'm not sure I had the confidence that those pounds would leave. After 30 previous years of weight battles, before weight loss surgery, I not only had weight to lose, but I found I still had some old mindset to shed as well.
I needed to re-new my bariatric lifestyle habits. I also needed additional support and accountability until I could lose weight and re-establish better eating habits again. So I joined Weight Watchers. Yes, Weight Watchers. Just because you have weight loss surgery doesn't mean the weight battles are over, it's a lifetime journey. For me, joining Weight Watchers, isn't "going on a diet". I joined because I needed to re-establish my boundaries, establish accountability, and find encouragement to return to a disciplined lifestyle. I am also thankful for a support team of close friends and family members (who also follow Weight Watchers) who offer daily support, encouragement and motivation.
So for all of you who have had weight loss surgery—surgery is not a "diet". We need to accept the fact that weight loss surgery isn't the "quick fix" or the "end all, be all". It's about having boundaries in place to lose weight and keep it off. Old habits and weight can come back. But in the process, we need to adapt a "NO MORE DIETING" mindset. It's not about making temporary changes until you get the weight off and go back to the old way of eating. Weight loss surgery is not about never having to watch what you eat. It demands constant attention to healthier choices and when we realize that we are no longer making those healthier food choices we must find the courage to turn back to the right path. Plans like Weight Watchers can be used as a vehicle to make healthier choices—it certainly doesn't ensure we WILL make them.
Was it hard to go back? Absolutely. It had to admit I had strayed from my commitment. It was hard to walk through those doors and weight in. I had to be willing to admit I needed a helping hand. It was the best move for me! My goal is not about a number on the scale, it's about making healthier choices, as well as successfully getting back into my summer clothes.
Now, hear me...I'm not suggesting you join Weight Watchers, I'm suggesting the need to be accountable, have a supportive team to cheer you on, and a desire and a plan to return to healthier lifestyle choices. Whatever that looks like for you, it involves getting back to the basics—making a plan, committing to the plan and working the plan until you reach your goal—hopefully one that includes being as health as we can.
Weight loss after surgery—doable.
Weight re-gain after surgery—probable.
Losing the re-gained weight again—absolutely.
Yes, we can. We have many more miles to go!
Posted
on Monday, May 16, 2016 at 08:00AM
by
Julia Holloman
in After Surgery Transitions, Back To Basics, Back on Track, Bariatric Basics, Inspiration, Letting Go of the Past, Lifestyle Changes, Long-term Maintenance , Making Choices, Mindset Changes, Overcoming Difficult Challenges, Regain, Weight Gain
| Comments Off
Weight loss surgery is a life-changing event, but our body, weight and clothing size aren't the only things that change—as we experience changes in the mirror such as our skin, we can expect physical changes in our hormones, sleep, sex drive and overall health. We also need to be prepared to experience in our mental and emotional self image.
Most of the changes we experience are positive, but some maybe unexpected and even negative. In any case, the most important thing to consider is that we need to be informed and prepared for these changes to happen.
To read more about the physical and emotional changes that take place after surgery, check out these articles on Miles to Go blog as well as this article from Angeles Health International.
For more posts on physical and emotional changes after surgery search "changes after surgery" in the search bar to the left.
Yes, you can. You have many more miles to go!
Posted
on Monday, May 9, 2016 at 08:01AM
by
Julia Holloman
in After Surgery Transitions, Bariatric Basics, Emotional support, Insider Information , Lifestyle Changes, Mind Body Connection, Our Mind and Body Image, Preparing for surgery, Reflections, Skin Health, What to expect after surgery , What you need to know
| Comments Off
Posted
on Wednesday, May 4, 2016 at 08:00AM
by
Julia Holloman
| Comments Off
May Support Group Meeting
Tuesday, May 3, 2016
6:30 p.m.
NHRMC Cape Fear Campus
3rd Floor Classroom
Topic: What's On Your Mind?
Spring, it's that time of year when all around us starts to stir. As the flowers and trees unfurl their leaves, there seems to be an abundant flurry of wildlife around every corner and in every nook and cranny.
Among the most obvious, are birds pecking for insects or scurrying around with a mouthful of pine needles and string. It's their announcement to the world that it's time to prepare for new beginnings.
When you think of bird nests, you most likely think of a simple cup made of twigs and branches, snuggled precariously in the crook of a tree—each holding a few little baby blue eggs. While many birds do craft nests like this to hold their hidden treasures, others create elaborate and spectacular homes for their young. Large or small, red or speckled, they all hold a promise of hope for new beginnings—grand opportunities to build a chapter of hope for the future.
So it is with our lives, we each have a story. One that is intricately and uniquely woven. No matter how insignificant our stories may seem to us....we all hold within us experiences that are meant to be shared—giving those who hear them, hope and inspiration to take their next step, spread their wings, and take flight into a brand new adventure of their own.
Join us on May 3rd and share your story with others.
Posted
on Monday, May 2, 2016 at 08:00AM
by
Julia Holloman
in Educational Event, Inspiration, Local Support Group Information
| Comments Off