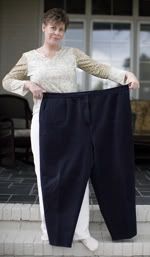 Physically, I'm half the woman I used to be, but as a result of my journey with gastric bypass surgery I've gained a lot. I'm Julia, and this blog is about the miles I've traveled in transforming my body, soul, and spirit while shedding more than 160 of the 300-plus pounds I carried before surgery.

I'll share my personal experiences of restoring my health and changing my lifestyle, and I'll offer spiritual encouragement, social and emotional tools, nutritious recipes, health information, and more. I had my surgery on Easter Monday, 2006, which I call my personal resurrection day. Because of my transformation, I now look forward to many more "miles to go", and I invite you to travel with me on the road to a happier, healthier lifestyle...yes you can...I just did!


Don't miss out on the post for Miles to Go blog...just follow the links here and get connected.

To follow miles to go blog click here.

To follow Miles to go facebook page click here.
Posted
on Wednesday, December 4, 2013 at 06:00AM
by
Julia Holloman
|
Post a Comment
December Support Meeting
Tuesday, December 3, 2013
6:30 p.m.
NHRMC Cape Fear Site
3rd Floor Education Room
Topic: Holiday Sabotage—Strategies and Recipes for Overcoming
Posted
on Monday, December 2, 2013 at 06:00AM
by
Julia Holloman
|
Post a Comment
I have tip for shedding those "after the holiday pounds." Unless you went absolutely crazy wild, overloading your plate with thousands of calories and numerous desserts, those few pounds on the scale the next day were most likely water retention. And water weight can be eliminated by—drinking water. Lots of water.
Give it a try! What have you got to lose?
Posted
on Sunday, December 1, 2013 at 10:18AM
by
Julia Holloman
|
Post a Comment
Gained a few pounds over the holidays - no worries. Here's a big piece of information that will help motivate you to lose those few pounds in no time. By having bariatric surgery you have reduced your risk of death by 50 to 100 percent.
New research from the Cleveland Clinic shows most patients with diabetes and obesity who undergo gastric bypass not only experience remission of their diabetes and lose significant weight, but they also reduce their risk of having a heart attack by 40 percent and their risk for suffering a stroke by 42 percent, over a 10-year time horizon.
According to the Centers of Disease Control and Prevention (CDC), more than 78 million adults were obese in 2011–2012.[1] The ASMBS estimates about 24 million people have severe or morbid obesity. Individuals with a BMI greater than 30 have a 50 to 100 percent increased risk of premature death compared to healthy weight individuals as well as an increased risk of developing more than 40 obesity-related diseases and conditions including type 2 diabetes, heart disease and cancer. [2],[3]
[1]Prevalence of Obesity Among Adults: United States, 2011–2012. (2013). Center for Disease Control and Prevention. Access October 2013 from http://www.cdc.gov/nchs/data/databriefs/db131.htm
[2]Office of the Surgeon General – U.S. Department of Health and Human Services. (2004). Overweight and obesity: health consequences. Accessed October 2013 from http://www.surgeongeneral.gov/topics/obesity/calltoaction/fact_consequences.html
[3]Kaplan, L. M. (2003). Body weight regulation and obesity. Journal of Gastrointestinal Surgery. 7(4) pp. 443-51. Doi:10.1016/S1091-255X(03)00047-7. Accessed October 2013.
Posted
on Friday, November 29, 2013 at 09:00AM
by
Julia Holloman
in Health & Wellness, In the News
|
Post a Comment
It's a time of year speficially set aside to reflect and celebrate—giving thanks to God for the abundant blessings He has provided.
Most folks are looking forward to the thanksgiving holiday—stuffed with its lavish display of foods and fixings. But to new weight-loss surgery patients, holidays can make one more anxious than grateful.
So can WE celebrate holidays such as Thanksgiving with all its food and fanfare with the same excitement as we used to—even after weight-loss surgery?
Absolutely we can! And even more so....But if we are having trouble finding things to be thankful for, we will have to make a few changes. But we don't just need a change of menu. And we might find we need to prepare more than a turkey or a fancy dish to take to a holiday dinner.
We need to prepare our mind and our heart. Preparing mentally for the season will allow us to return to the table and the holiday festivities with excitement and anticipation—giving thanks with a grateful heart. So let's take a deep breathe. Relax. And remember why we are celebrating the holiday in the first place.
When we think of Thanksgiving, we often think of the Pilgrims and the Puritans who first settled in America. Even though William Bradford—who became the first Pilgrim governor, proclaimed the first official Thanksgiving celebration—Thanksgiving goes even further back than our American roots. It is widely believed that the Puritan settlers, who were great students of the Hebrew Scriptures, modeled the first American Thanksgiving after a biblical festival in the Old Testament. This Old Testament fall feast celebrated by ancient Israel was called Sukkot, which commemorated the gathering in of the latter harvest and it is still celebrated by observant Jews today.
Giving thanks was more than just being thankful for food. According to scholars, for the children of Israel, this was a rich celebration—a time of feasting, fasting, singing songs and praising God.
Actually, the harvest season is a time when we reap what we have sown. But, the word harvest also carries more than just the idea of gathering in crops. Harvest, was also a time when seeds were gathered. The harvest of seeds ensured continual provisions for the years to come.
Consistent with their single-minded faith, the Pilgrims also gave God the credit for more than food, even in the worst of times, they thanked God for their survival—and so can we. In order to reap a harvest of blessings we need to remember the benefits and privileges that have been sown into our lives.
Whether we are waiting for surgery or have already reached our goal, we can also sow seeds that will take us into the years to come—seeds of thankfulness and gratitude. Weight loss has given us a second chance at life. We can reflect on the benefits that weight loss or weight loss surgery will provide or has already provided us. We can be thankful for health, family, and an extended life in which to enjoy them.
So this thanksgiving, let us turn our hearts away from focusing on what we don't have, and turn it towards being thankful for what we do have. Even after weight-loss surgery, we can be thankful for the abundance of food we CAN eat—with all of its array of colors, textures, and taste. And let us also sow seeds of gratitude for so many other blessings that God has bestowed on us. And with this, let us remember to praise Him for ALL the abundant harvest of blessings which are YET to be—which will continue to satisfy our life with good things and bring us even brighter hope for tomorrow.
Posted
on Monday, November 25, 2013 at 06:00AM
by
Julia Holloman
in Avoiding Sabotage, Celebrate , Dealing with emotions , Emotional support, Food for Thought, Hope and Help, Inspiration, Making Choices, Mindset Changes, Planning for the Holidays, Successful Eating, Tips for Life , family fun
|
Post a Comment