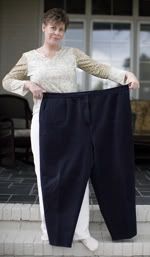 Physically, I'm half the woman I used to be, but as a result of my journey with gastric bypass surgery I've gained a lot. I'm Julia, and this blog is about the miles I've traveled in transforming my body, soul, and spirit while shedding more than 160 of the 300-plus pounds I carried before surgery.

I'll share my personal experiences of restoring my health and changing my lifestyle, and I'll offer spiritual encouragement, social and emotional tools, nutritious recipes, health information, and more. I've had a few challenges along the way, but through all the struggles I've grown stronger and regained my health and my life. I had my surgery on Easter Monday, 2006, which I call my personal resurrection day. Because of my transformation, I now look forward to many more "miles to go", and I invite you to travel with me on the road to a happier, healthier lifestyle...yes you can...I just did!

"He is no fool who gives what he cannot keep
to gain what he cannot lose."
Jim Elliot
(1927-1956)
Jim Elliot was a missionary.
He knew what it meant to sacrifice the things that are temporary
for rewards that are
lasting and eternal.
Posted
on Monday, July 21, 2014 at 07:00AM
by
Julia Holloman
in Food for Thought, Words and Wisdom
|
Post a Comment
When it comes to snacks—I've found a colorful new snack time treat that makes me do a "happy dance" —it's salsa time.
When it comes to salsa, I'm really picky. I've learned to make my own, but I also enjoy Chipotle's salsa in addition to the store brand—Herdez Salsa.
I skip the chips, I've found that using other scoopers such as Melba Rounds or cucumbers make salsa eating nutritious, fun, and delicious. As the weather heats up - so can the snacks! Chi- Chi - Chi-
Yes, you can. You have many more miles to go!
Posted
on Monday, July 14, 2014 at 07:00AM
by
Julia Holloman
in Food Fun, Successful Eating
|
Post a Comment
I've been reading the book, The Sacred Echo, by Margaret Feinberg. It's about hearing and recognizing the repetitive voice of God when He speaks. God is always speaking—actively working in our lives, even when we don't see Him. Even if all seems silence, He is, all the while, relentlessly sending out sacred echoes to get our attention.
One of these moments happened for me a few weeks ago during a Sunday morning worship service. I noticed that standing in front of the first row of seats, there was a person interpreting the words of the songs and message through sign language. It occurred to me as I watched, that God can speak to us in different ways. Even if we sometimes question His voice, He sends echoes of His Word—"signing" each ripple with the same message again and again until we notice.
One of the repetitive words God seems to be speaking to me during this season of my life is that He is always actively working in my life—putting people and circumstances in my path, meticulously arranging divine encounters. Proverbs 16:9 says that we may plan our course, but the Lord establishes our steps. Always a step ahead, He directs, plans and prepares the path before us. Taking our intended course and redirecting it with divine intent, even if we are unaware.
Another one of these sacred echoes occurred just the other day. I was reading the story of Rahab who lived in the city of Jericho. Jericho was a well-fortified and seemingly unconquerable city located at the entrance of the Promised Land. Jericho had to be conquered before the Israelite could assume possession of the land. Two spies were sent into Jericho to scout out the city. Welcoming the spies, she hid and protected them. But it wasn't just a happenstance or an accidental meeting. It was a divine appointment, well planned and orchestrated by God. Arranged before the beginning of time, He chose Rahab as a means of salvation. In return, Rahab's life was spared when Israel conquered the city. She later married an Israelite, and her ancestral line includes Christ, the Savior.
These scriptures remind me that even when I least expect it, God is working in my life. And even though all the events don't seem to go as I planned, He orders my steps so that I don't miss my intended destiny. God has a way of taking my encounters and reworking them for the better. Even when things look useless, He can refashion them into tremendous life-giving events. He takes even the worst circumstances in my life and redeems them. Buying them back, He recycles them. Returning them to me once again—reworked into greater purpose. Just as in the story of Jericho, God often hides the seeds of my salvation in the strongholds of my Jericho moments.
He goes to great lengths to unveil His hidden plan. For years I struggled with my weight, but God recalled my circumstances. Racked with obesity, sickness and disease, God reached out and took my life. He redeemed my plight. Teaching and guiding me through each season of my life, He reworked the events. Turning them into something worthwhile, He sends them out again to accomplish their intended purpose. Not just for my benefit, but for many others who will read my story and find hope and encouragement.
Consider for a moment your sacred echo. Is there a thread that seems to repeat the same message day after day, season after season? Don't give up. Your salvation awaits. It may be hidden from view, but you can rest assured that planted within the hard shell of seeming disaster, God has placed the seeds of hope and renewal. He will take the clouds of doom and recycle them—sending them out again to refresh and renew those in your path who need them. Jericho moments, released for greater purpose.
Listen. Can you hear the sacred echoes? Echoes of God's love and grace ripple on.
Posted
on Monday, July 7, 2014 at 07:00AM
by
Julia Holloman
in Spiritual Encouragement
|
Post a Comment
For decades I was held captive in the unhealthy lifestyle of obesity. Like the Pharaohs of Egypt, obesity is a cruel and merciless ruler.
One day in 2005, when the scales sailed over the 300 pound mark, I came to the realization that I had had enough. It was a turning point. A place in which I was willing to risk whatever it took to be free.
I had to ask myself some very hard questions.
How long was I willing to endure the plagues of debilitating disease and humiliation that obesity had heaped upon me?
How long would I allow food to rule over me? How long would I allow it to hold me captive?
How long would I allow it to be a perpetual snare—keeping me from finding my ultimate freedom?
How long would I wait to be healed?
Following the story of the Hebrew slaves in Egypt, I realized there was a way of escape. In the Old Testament book of Exodus as God's calls the Pharaohs actions into questions, His concern about the length of their captivity is revealed, and He emphatically demands their release. "How long will you refuse to humble yourself before Me? Let My people go that they may serve Me." Exodus 10:3
God heard the cries of the slaves. He sent a Deliverer to rescue them. Even today, God still demands the freedom of those held in captivity. Even today, He still comes to set the captives free. He stands ready to deliver. There is redemption and restoration for us. When our captors, whether physical, emotional, mental or spiritual, refuse to let us go, the Lord steps in to intervene on our behalf. The Lord is our Liberator, freeing us from chronic pain, sin, death and disease.
Isn't it time to be healed? How long will you wait? How long will you carry the heavy weights that burden your soul? You can be free, once and for all. Yes, you can. You have many more miles to go!
Posted
on Tuesday, July 1, 2014 at 10:00PM
by
Julia Holloman
in Spiritual Encouragement
|
Post a Comment
We don't just "flip-flop"
around all summer
there will be local support groups meeting for weight loss surgery patients in
JULY
(as well as throughout the summer months)
Come and join us!
Posted
on Monday, June 30, 2014 at 07:00AM
by
Julia Holloman
in Local Event
|
Post a Comment