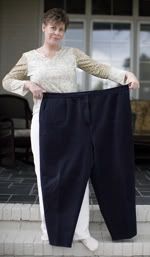 Physically, I'm half the woman I used to be, but as a result of my journey with gastric bypass surgery I've gained a lot. I'm Julia, and this blog is about the miles I've traveled in transforming my body, soul, and spirit while shedding more than 160 of the 300-plus pounds I carried before surgery.

I'll share my personal experiences of restoring my health and changing my lifestyle, and I'll offer spiritual encouragement, social and emotional tools, nutritious recipes, health information, and more. I've had a few challenges along the way, but through all the struggles I've grown stronger and regained my health and my life. I had my surgery on Easter Monday, 2006, which I call my personal resurrection day. Because of my transformation, I now look forward to many more "miles to go", and I invite you to travel with me on the road to a happier, healthier lifestyle...yes you can...I just did!

Everyone has hiccups, but after having weight loss surgery, it's not unusual for hiccups to occur more often.
So why do we get the hiccups?
How do we stop them?
or better yet...
How do we avoid getting them in the first place?
Hiccups can occur for many different reasons. They can occur from sudden temperature changes inside a room to sudden temperature changes inside our stomach. They can also occur from a bloated stomach as well as excessive drinking or smoking. There are spices that irritate the stomach leading to extra acidity within the esophagus—which could lead to hiccups. Hiccups can also occur when we are under stress, in shock or even excited.
But the reasons most of us, especially us RNY weight loss surgery patients, get hiccups are because we eat too fast or we eat too much! Ut oh....guilty as charged!
That's right. Hiccups could also be a sign that we have overeaten or have eaten too fast.
Okay — how do you cure hiccups? Some say eat sugar, putt your finger in your ears, hold your breath, stick out your tongue, have someone surprise you, scare you, or tickle you. But there is no guarantee that any of these things help get rid of the hiccups. But there might be something you can do to lower your chances of getting hiccups to begin with.
Eat slowly. Hiccups can be prevented by slowing down while we eat. Eating and drinking slowly helps avoid gulping air—resulting in the amount of air that is trapped inside the digestive tract. Not drinking from a straw can also help reduce the amount of air in our tummy. Ingesting a lot of air could irritate the vagus nerve.
Avoid overeating. The amounts of food that you eat are equally important. Experts suggest that hiccups could be a sign of overworking our digestive system. By reducing the amount of food we eat, by a bite or two could make a big difference—adjusting our portion size until we find just the right amount for our pouch size.
Posted
on Monday, August 3, 2015 at 08:00AM
by
Julia Holloman
in After Surgery Transitions, Back To Basics, Insider Information , Making Choices, Successful Eating, Tips for Life
| Comments Off
Don't worry about the
how
if you know your
why.
Millie Holloman
Posted
on Monday, July 27, 2015 at 08:06AM
by
Julia Holloman
in Words and Wisdom
| Comments Off
Sometime ago I was interviewed and asked to write an article for the New York Times on the importance of publicly sharing the weight loss experience. For those of you who are seeking answers about weight loss surgery—you can read the article here, as well as this companion article in which I explain my reasons for sharing my story.
Although in certain situations it maybe wise not to share the decision to have bariatric surgery with others, however, public awareness can go a long way in dispelling many myths about bariatric surgery. This is why I share my story—that others may find the truth about surgery and the information they need to be successful.
There are many misconceptions about weight loss surgery. The first is that surgery is the easy way out. On the other hand, some think it too strenuous. I think it's time we understand the truth of what bariatric surgery entails.
The answer to a healthier "you" is easy, but the journey to better health and a slimmer figure may not be. We are all looking for a magic pill or an easy way out, but even though the road to freedom from obesity carries abundant rewards, those rewards come with huge risk and rigorous requirements in order to find lifetime success.
Although each one of us will have our own unique experiences as well as varying results from surgery, having weight loss surgery is not a cure that is handed to us with the raising of a scalpel or the re-routing of our physical interior. One must be ready to leave an old life behind, willing to assume personal responsibility for improved health, courageously meet the challenges ahead, and willing to embrace a new way of living.
For those who have more than 100 pounds to lose and have spent a lifetime on "yo-yo" diets, the body can become resistant to weight loss and therefore become almost impossible to lose weight without intervention.
Therefore, weight loss surgery is a tool that helps us remain on a restrictive calorie intake temporarily until we can lose the excess weight, institute new habits, and reach improved health. But even though it may temporarily reduce our hunger, it doesn't take away all of life's challenges. These will still be with us when we wake up in the recovery room or when we slip into our first pair of size 10 jeans.
Weight loss surgery helps when all other means have failed. It saves your life and improves your health. But, there are no guarantees of easy or permanent. Surgery may treat the symptoms of obesity, but it doesn't cure the cause. Discovering "what is eating us" remains on our plate. Even losing weight without surgery won't cure what brought us to obesity in the first place.
We must go the extra mile. Finding answers to what triggers our compulsive eating behaviors and sugar addiction. If these issues are not something you are willing to confront—then you are not ready to have surgery or expect weight loss to remain gone forever.
If you are not sick and tired of the life the way it is or willing to make mental and physical sacrifices to live a more active and healthier life—including taking a few vitamins and changing your diet and eating habits, then neither weight loss nor bariatric surgery will hold the solutions you seek. If living free from disease, or making the effort to discover what brought you to obesity in the first place is not something that you are willing to do—then surgery is not the answer.
Success after weight loss surgery, or even losing weight on your own, takes work and a lifetime commitment. It's that simple. But not easy. For those who are willing to pay the cost, there is freedom from obesity. I have experienced many challenges during my 9 year journey, but I have also experienced success beyond my wildest dreams. I have found a better quality of life I never thought possible.
Like countless others, I have found that life after obesity is worth the effort. I advise you to do your homework and be willing to find the solution that works for you, so that you, too, can find improved health, emotional freedom and live life anew—free from obesity. Easy - no, but so very worth it.
To read link to New York Times Room for Debate, click here.
....or see the article reprinted on Miles to go blog by going to "featured articles and interviews" under the "navigation section" on the top left-hand sidebar.
Posted
on Monday, July 20, 2015 at 08:00AM
by
Julia Holloman
in Bariatric Surgery, In the News, Making Decisions About Surgery
| Comments Off
As I think about this process of transformation, I am inspired, as I reflect on the journey each one of us experiences as we emerge into a brand new life. "Easy", some say. No. Not by a long shot. For unseen by most of the world, is the enormous struggle it takes to be—reborn.
Imagine the butterfly. As it prepares to enter it's transformation cycle, it hangs suspended in mid air on a tiny hair-like thread, upside down, no less. As it squirms to sheds it's outer shell, it is about to embark on one of the most awe-inspiring journeys imaginable.
In this state, it could be mistaken for an empty, lifeless shell—but it isn't. For inside it's self-encased shell, it is undergoing the change of a lifetime. It doesn't just slightly adjust itself from a caterpillar and grow wings. It actually turns into mush and reforms as an entirely new creature.
As the butterfly emerges in it's new state, it doesn't just come out flying, either. As a matter of fact it can't fly right away, not until it's wings are unfolded and dry. During the process of squeezing from a tiny hole in the chrysalis, life giving blood is forced into it's wings, during which time it is extremely vulnerable to predators. It can take up to three hours for the wings to become strong enough for flight.
Likewise, the weight loss journey is not an easy one. We, too, go through tremendous struggles as we transform ourselves from one image to another. During these months and even years after our weight loss experience, we, too, can feel vulnerable and unsure of ourselves. It takes time before we can "take flight".
There are struggles every day, every meal, every hour, sometimes it feels like every minute. Our whole world has been turned upside down. Everything we knew, our security and our comfort, are gone. We can feel exposed and alone. Sometimes the fight is overwhelming and we can feel like no one understands or sees our struggle and pain. In the beginning, I felt like I had been dropped out of a fast moving vehicle onto another planet. An alien of sorts, living in a strange world. I didn't know how to maneuver, and I found adaptability almost impossible. There were the fears of fitting into a normal world, fear of weight gain, and then the dreaded weight gain itself.
But butterflies are reborn to exist in a whole other dimension. Its transformation has now provided it with the ability to fulfill its purpose in life, it now possesses the ability to reproduce, to bring forth new life. Now instead of inching around in it's limited environment, it has the unlimited potential to ride the wind, to see the world from a new perspective. Instead of bitter herbs it now drinks the sweet nectar of each aromatic flower it encounters. Now that is transformation!
And so it is with us. No, lifestyle changes are not easy. However, as huge and impossible as it may seem, the good news is...it is possible. For inside each one of us is the promise of a new life filled with unspeakable joy as we emerge into a new world of possibilities. It is so worth the effort. As the momentary pain gives way to immeasurable delight—we can take flight on the wings of a new life—full of potential and purpose. I encourage you to be inspired by the awesome wonder and beauty—the inspiring transformation of ... yourself …
There is more of life to come - just hang on....
Yes you can, you have many more miles to go!
Posted
on Tuesday, July 14, 2015 at 08:00AM
by
Julia Holloman
in After Surgery Transitions, Emotional support, Lifestyle Changes
| Comments Off
July Support Group
Monday, July 13, 2015 — 6:00 p.m.
Guest Speaker: Margery Ellis
Topic: Fitness Guidance - Exercising YourChanging Body
Facilitator: Kim Joyner, RN, CNOR
Directions: Pull into the main driveway at NHRMC and turn left into the Betty Cameron Women's and Children's Hospital. Park in lot and enter via the main entrance. Take elevators (they are at the left) to the FIRST floor. Exit, walk through waiting area and take hallway until you reach the Auditorium, located on the left. If you go to the SEAHEC library, you have gone too far.
Posted
on Monday, July 13, 2015 at 07:00AM
by
Julia Holloman
in Local Support Group Information
| Comments Off