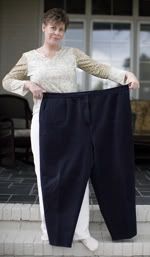 Physically, I'm half the woman I used to be, but as a result of my journey with gastric bypass surgery I've gained a lot. I'm Julia, and this blog is about the miles I've traveled in transforming my body, soul, and spirit while shedding more than 160 of the 300-plus pounds I carried before surgery.

I'll share my personal experiences of restoring my health and changing my lifestyle, and I'll offer spiritual encouragement, social and emotional tools, nutritious recipes, health information, and more. I've had a few challenges along the way, but through all the struggles I've grown stronger and regained my health and my life. I had my surgery on Easter Monday, 2006, which I call my personal resurrection day. Because of my transformation, I now look forward to many more "miles to go", and I invite you to travel with me on the road to a happier, healthier lifestyle...yes you can...I just did!

Chocked full of crab, cabbage and fresh vegetables, this soup is perfect as the weather gets cooler.
1 cup cabbage
1 cup asparagus tips (or broccoli)
2 - 4 ounces crab meat (or other seafood)
chicken broth
salt
pepper
herb seasoning
Mix all ingredients and cook until vegetables are done. Yumm.....
This makes a lot of soup - you'll have some to share or for leftovers!
Posted
on Monday, September 28, 2015 at 08:00AM
by
Julia Holloman
in Recipes, The Bariatric Kitchen
| Comments Off
I hear ya - you're probably thinking, "When planning bariatric menus I can eat, what do I do for the rest of the family?"
When it comes to menu planning, the key is to have a plan for preparing healthy, bariatric-friendly foods, both you and your family can enjoy while keeping plan-ahead meals simple and easy. Creating easy fuss-free, plan-ahead, menus that make shopping, cooking and clean up fast and efficient.
In the beginning, when considering gastric bypass surgery, I had a heart-to-heart talk with my husband. He was supportive of my efforts and we made the decision that our meals would be focused on what I could eat and he would adapt. With that said, he is a very picky eater, and even though he's been a real trooper, my goal is to keep him happy while we both lose or maintain our goal weight.
At the Holloman home, usually breakfast is "on your own". Richard usually heads out early to exercise. Because he is on the go, he usually grabs a bowl of cereal. But sometimes, I cook simple, easy to prepare breakfast for me, such as an egg on toast or an omelet.
Three days a week, I prepare lunch for my two pre-school grandchildren, so my lunchtime menu is also kid-friendly. But my menu goal is still the same: healthy meals that are quick, simple and easy.
Our lunch and dinner meals are usually varied. Consisting of seafood or chicken, with occasional pork or red meat. We both like baked chicken, so I bake one almost every week. Or we barbecue at least two chickens on the grill on the weekends. We cook them without the BBQ sauce so Richard can add his own (which I don't eat). We make chicken salad with some of the chicken for lunches or a quick dinner option.
I usually fix one veggie we both like, such as broccoli. Sometimes a simple second veggie like corn is added. That way Richard and the kids have one they like and I get one I like. Roasting a variety of veggies in the oven is a great way to add to the mix without using too many pots and pans. I can add white potatoes (which Richard prefers), sweet potatoes for the kids, and squash (which I prefer). I can also cook them separate on the same sheet pan. Clean up is a breeze and we all get what we want without a lot of fuss. Leftovers serve for an additional meal later in the week.
I like meatloaf, but Richard doesn't. So when I prepare meatloaf for myself, I usually fix a hamburger patty for him. My meatloaf recipe has oatmeal in it, so the oatmeal counts as my carbohydrate. I wrap the hamburger patty in foil, layer on a few sliced potatoes and place it in the oven together with the meatloaf. I cook the meatloaf in cupcake tins, so I have individual serving—as well as some for the freezer.
There are always leftover option in the fridge or freezer, which are quick and easy to defrost, for those times when someone wants something different, or our schedules require that we eat at different times.
This is a way of life. I encourage you take some time to consider how to make mealtime, simple, creative and pleasant for the whole family. Planning menu's ahead and gathering recipes both new and old can be a time saver both at meal time and in the grocery store. I'm consistently on the lookout for new, simple recipes that are healthy, bariatric friendly and family friendly. So get out those menu pages and let those creative juices flow.
For more on menu planning how-to's click here.
Yes, you can. You have many more miles to go.
Posted
on Monday, September 21, 2015 at 08:00AM
by
Julia Holloman
in Menu planning, The Bariatric Kitchen
| Comments Off
Life after weight loss surgery is a whole new experience. Miles to Go has been offering education, support and helps for weight loss surgery recipients for over 7 years now and you'll find every article that has ever posted still available here on site.
So whether weight loss surgery is brand-new or old-hat, you'll find loads of sections to help you live life to the fullest. This week, we are highlighting our food sections. For instance, if you are looking for menu ideas, we got a section just for you. You can find just what you need in the section, "What Can I Eat?" . (The "What Can I Eat?" offers menu ideas for the regular food phase.)
There is also a section on how to plan menus for the week, month, or even for an entire year. You'll find this section under the title, "Menu Planning—How To". If you are looking for bariatric food items available in the grocery aisles, the "Grocery Items and Great Food Finds" section is where you want to go.
And if you need help finding a great recipe, you'll find that too, in the sections called, simply—Recipes!
For other related topics, see the "Basic Information" section, just to your left, in the side-bar or just search for it in the search bar.
Happy Eating! Yes, you can! You have many more Miles to Go.
Posted
on Monday, September 14, 2015 at 08:00AM
by
Julia Holloman
in Bariatric Basics, Breakfast, Help in the Kitchen, Making Choices, Menu planning, On the Blog, Successful Eating, The Bariatric Kitchen , Tips for Life , What's For Lunch?, dinner delites
| Comments Off
During your weight loss journey you will go through several food phases from clear liquids immediately following surgery to regular foods for maintaining weight loss. You can find a description of each of these food phases listed here on Miles to Go as well as recipes for each phase.
This is a great soup for the full liquid second stage of your journey...(Phase 2)
Jan's Save The Day Soup
1 can cream of Tomato Soup
1 can Beef Consume
1 3/4 cups water
1 teaspoon Worcestershire sauce
1 Tablespoon lemon juice
Heat and serve. Great with mashed potatoes, thinly stirred in.
More recipes, eating tips, restaurant tips, menu planning and more, can be found on Miles to Go. Or search in the search bar to the left of the screen. Enjoy!
Posted
on Monday, September 7, 2015 at 09:01AM
by
Julia Holloman
in After Surgery Transitions, Bariatric Basics, Basic Information, Clear Liquids, Full Liquid Phase, Full Liquid Phase Recipe, Help in the Kitchen, Long-term Maintenance , Maintenance Phase Foods, Recipes, Soft / Puree / Phase 3 , The Bariatric Kitchen
| Comments Off
We all know getting enough water is necessary to avoid dehydration—and especially during the summer heat.
Getting enough fluids is also a concern after weight-loss surgery.
New weight-loss surgery patients sometimes find it challenging to get in all the fluids needed because of limited stomach capacity. As a new weight-loss surgery patient, it seems all I did those first few days was sleep, walk, and sip.
Even though you may not get it all in at first, it is important to keep at it. The amount you can drink at one time will increase the further out from surgery you go. So hang in there, soon you'll get the hang of it and you'll be feeling better and looking cheerier in no time at all.
We have all heard that you should get in 8—8 ounce glasses of water a day. That's 64 ounces! But that's only if you weigh 128 pounds. Actually, you should get in half your body weight in ounces each day. So the less you weigh, the less water you need. But it is possible to drink too much water. So, in order to replenish the body with enough water without overwhelming the cells, the Institute of Medicine determined the ideal amount is approximately 16 8-ounce cups (3.7 liters) for men and 11 8-ounce cups (2.7 liters) for women.
So why is it so important to drink (or sip, in our case) so much fluid? Drinking water helps you lose weight and have healthier skin. Your liver plays a huge role in detoxification and burning fat. Your kidneys flush out the fat and toxins from your body. But when you don't drink enough fluids your liver has to work harder to detoxify your system, so your liver can't burn as much fat as it could.
Drinking water also helps your skin stay healthy and after all that weight loss, healthy and supple skin is important, too. So when you drink enough fluids you are helping your body help you lose weight, get healthy, and look great.
Remember, carbonated beverages do not offer sufficient hydration and can cause dehydration. They are very acidic and can negatively affect your new pouch. Carbonation cause gas bubbles which can stretch your pouch, causing pain and comprising your new weight-loss tool. These are best eliminated from your diet.
The good new is: protein shakes CAN be included into your liquid count. You may find adding lemon is a refreshing additions to water.
Tea is also a good alternative, which offers as much hydration as water, and it also has antioxidants to help you return to health. Use artificial sweetners with caution, they can slow weight loss. Just a little, tiny bit of sugar, honey, or agave is better than too much artificial stuff.
The food we eat also provides about 20 percent of our water intake. Foods such as watermelon and spinach, are 90 percent or more water by weight.
Lap-band patients may find drinking warm liquids (especially in the morning) relaxes those tight tummy muscles.
So drink for your health...Yes, you can. You have many more miles to go!
Posted
on Monday, August 31, 2015 at 07:00AM
by
Julia Holloman
in Back To Basics, Balance, Clear Liquids, Health & Wellness, Hydration, Water
| Comments Off