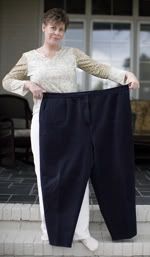 Physically, I'm half the woman I used to be, but as a result of my journey with gastric bypass surgery I've gained a lot. I'm Julia, and this blog is about the miles I've traveled in transforming my body, soul, and spirit while shedding more than 160 of the 300-plus pounds I carried before surgery.

I'll share my personal experiences of restoring my health and changing my lifestyle, and I'll offer spiritual encouragement, social and emotional tools, nutritious recipes, health information, and more. I had my surgery on Easter Monday, 2006, which I call my personal resurrection day. Because of my transformation, I now look forward to many more "miles to go", and I invite you to travel with me on the road to a happier, healthier lifestyle...yes you can...I just did!


Progress report....the book writing is done. I have several readers reading away as we speak. Some are reading for grammar and some for flow and content. There are several weight-loss surgery patients reading as well—and it won't be long before you will be among them.
I'm getting some great and exciting feedback. You can stay informed and updated on the progress on the "Book News" section on the left side bar. Check in often!
Posted
on Tuesday, May 21, 2013 at 04:37PM
by
Julia Holloman
|
Post a Comment
This weeks word for greater impact is concentration.
Pilates requires concentration—which means bringing my full attention to the exercise and putting forth my full commitment.
In Pilates, the way you "do" the exercise is more important than the exercises themselves. Concentration is required for smooth movements and proper use of each muscle. This is also true when it comes to making lifestyle changes after weight-loss surgery.
In establishing new lifestyle habits after surgery, concentration remains a key element to success. This was especially true when it came to eating. I find it best to concentrate by eliminating distractions—becoming aware of each movement of my fork and my level of fullness.
In Pilates, concentrating on each movement allows me to do the exercise with intention and do it correctly. This Pilates form is called "swan." It may look simple, but it requires concentration on upper and lower body for correct alignment, from head height, shoulder position, stomach tension, body alignment, leg height, and toe points.
In order to eliminate mindless eating, concentration involves measuring the amount of food I plan to eat, using a smaller plate, being aware of my fullness level, slowing down, putting my fork down between bites, and chewing slowly.
Concentration allows me to establish new lifestyle habits which are helpful in maintaining weight-loss surgery success.
Posted
on Monday, May 20, 2013 at 06:00AM
by
Julia Holloman
in After Surgery Transitions, Exercise, Greater Impact
|
Post a Comment
Exercise after surgery is important. But many of us, including myself, don't like the idea of exercising. Our exercising routine can consists of just going through the motions, just to get it over with, (or maybe not doing it at all).
But no matter how disinteresting it is, exercising is for the long-term, and it's important for maintaining health as we grow older. That means it's here to stay, so why just go through the motions when you can reap the maximum benefit physically and mentally.
I have found that Pilates offers me that enjoyment as well as the benefits of exercise. Pilates is not just about going through the motions. Actually its quite the opposite. Pilates is not just arbitrary movement for no reason, each movement has an intended purpose.
It's purpose is to strengthen the core muscles that support the spine. People who do pilates report that they become stronger, longer, leaner, and more able to move with ease.
Learning the movements of Pilates reminds me of the principals I had to learn after weight-loss surgery. I had to intentionally develop new habits and practice them with concentration and precision until they become a fluid response that would take me through to success.
Doing each exercise with intent offers the greatest impact for the entire body. Another way to achieve greater impact is to do each movement correctly. When first beginning Pilates, I hired a personal trainer (Emily Hudson) so that I could learn the correct movement and position of each exercise. This allows me to focus so that I can get the most from each session. It creates awareness, helping me to know when and how each muscle is being used.
Both Pilates and weight-loss surgery require principles for success. These principals include concentration, centering, control, precision, fluidity, and breath. People who put the same intentional effort into developing healthier lifestyle habits after weight-loss surgery, better their chances for life-long success.
During this series, we'll take a look at each step so that we might better understand it's value and importance for success.
Emily works at Port City Pilates in Wilmington, NC.
Posted
on Friday, May 10, 2013 at 06:01AM
by
Julia Holloman
in Back To Basics, Exercise, Greater Impact, Mind Body Connection, Mindset Changes
|
Post a Comment
When considering weight-loss surgery, we must also consider our gall-bladder. Our gallbladder is affected by our diet, weight loss, and also by weight-loss surgery. During pre-surgery testing, our gallbladder is examined to determine its health and function.
Gallstones form when there is an imbalance in bile, which occurs when people are on very restrictive diets. This can occur prior to, or after having weight-loss surgery.
Studies have shown that 30 percent of gastric bypass patients will develop gallstones, 10 percent of patients develop symptoms requiring surgical gall bladder removal, and 11% of Lab Band patients require gall bladder removal post-op.
The decision whether or not to remove the gallbladder should be discussed with your surgeon. If your gallbladder needs to be removed it can be done during the weight-loss surgery procedure.
After bariatric surgery, Actigall, a medication to prevent gallstones, may be prescribed. Even though Actigall has a few side effects, (such as diarrhea or other symptoms), taking medication helps prevent gallstone formation 98% of the time.
A few years after bariatric surgery, I had to have my gallbladder removed (Due to severe side effects, I could not take Actigall.)
You can read more about the gallbladder and how it is affected by weight-loss surgery at Thinner Times by Charles D. Callery, M.D., F.A.C.S.
Posted
on Tuesday, May 7, 2013 at 08:00AM
by
Julia Holloman
in Health & Wellness, Important Medical Information, Insider Information , Making Choices, Preparing for surgery, What to expect after surgery
|
Post a Comment
MILES SUPPORT GROUP
Tuesday May 7, 2013
6:30
Cape Fear Education Room
3rd Floor
Topic: Share -a-thon
Come and listen to others share their weight loss journey!
Also, Kim Joyner will share somenew information on supplements.
Posted
on Sunday, May 5, 2013 at 03:56PM
by
Julia Holloman
|
Post a Comment