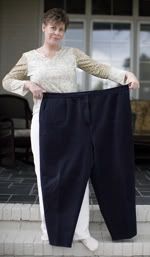 Physically, I'm half the woman I used to be, but as a result of my journey with gastric bypass surgery I've gained a lot. I'm Julia, and this blog is about the miles I've traveled in transforming my body, soul, and spirit while shedding more than 160 of the 300-plus pounds I carried before surgery.

I'll share my personal experiences of restoring my health and changing my lifestyle, and I'll offer spiritual encouragement, social and emotional tools, nutritious recipes, health information, and more. I've had a few challenges along the way, but through all the struggles I've grown stronger and regained my health and my life. I had my surgery on Easter Monday, 2006, which I call my personal resurrection day. Because of my transformation, I now look forward to many more "miles to go", and I invite you to travel with me on the road to a happier, healthier lifestyle...yes you can...I just did!

Weight loss may not always be fast and easy, but here is something that can be—mealtime.
At home or on-the-go, here are some fast and easy breakfast ideas.
No matter how you slice it, breakfast, for me, is often puzzling.
Even though meals are best eaten slow, sometimes on-the-go meals are a must. But these fast and easy meals don't have to be eaten fast....just prepared ahead for those days that don't seem to leave enough time for breakfast at all, let alone healthy.
I have found that the best way to stay on-track is to prepare ahead.
These 1/4-cup size, snap-top containers are great for measure-ahead, on-the-go meals. Perfect for sides or salad dressing–it also holds exactly 2 Tablespoons.
Package and measure ahead and it's breakfast in the bag.
Try one of these breakfast ideas:
1/4 cup of egg salad and 1/4 of a bagel. Homemade or purchased already made, egg salad is a great go-to food
2 ounces roast beef, a little cream cheese, and 1/4 of a bagel
1 sliced boiled egg on 1/2 slice Pepperidge Farm light bread
1 snack-size container of cottage cheese and 1/2 a banana
1 rotisserie chicken drumstick and a dinner roll
1/2 ham sandwich with light mayo and shredded cucumber

(assemble cucumber just before eating or the bread will be soggy)
2 ounces of deli turkey wrapped around a "real" cheese stick, and a sliced apple
1 slice of "real" cheese toast, a few carrot sticks. Caution: just a few raw carrots can be sweet and satisfying, but be careful, I learned the hard way that too many raw veggies don't go well with a tiny stomach.
1 sliced apple and a low-sugar, high protein yogurt
Think out-side the box. Breakfast doesn't always have to be sausage or bacon—think chicken, ham, turkey or roast beef.
The key to fast and easy meals includes planning and measuring ahead for quick grab-and-go meals.
Posted
on Monday, February 13, 2017 at 07:00AM
by
Julia Holloman
in Breakfast, Help in the Kitchen, Recipes
| Comments Off
I hope you are enjoying that chicken recipe I posted earlier. Slow cooking recipes ensure that we have moist and tender meals. The key is that slow cooking may take longer but it's a no-worries process that turns out dishes that are infused with great flavor.
Just like life after weight loss surgery - true transformation takes time. As we lower our calorie intake, we start to lose weight consistantly—but the reality is: there is no promise of speedy. Slow and steady wins the race.
The realities of life after weight loss surgery are not always what we expect. It may not be as fast as think or as easy as we imagine, but I can tell you it is worth going through the process.
After surgery, weight loss seems to go fast—at first, then weight loss will slow. The more we lose, and the smaller we get, our weight loss tends to slow. But "slow" doesn't mean weight loss has to "stop". Staying true to a healthier eating lifestyle will allow you to lose the weight and keep it off.
Not only is the weight not going to come off fast enough but the mental and emotional transformations take considerably longer. Weight loss surgery helps us lose unwanted physical weight but we must learn how to drop the emotional weight that we carry. It also means we must consider other possible health issues that could also account for weight gain, such as sleep apnea, thyroid disorders, hormone or vitamin imbalances, among other possible causes for weight gain. These require us to do our research and diligently fight to win back our health.
The reality of weight loss surgery is that it's not a quick fix. It's a lifestyle. Its not a race to lose weight fast and keep it off permanently, but a journey - slow and sure. Weight loss will happen, and it can last a lifetime, but it does require life-long changes.
It's been almost eleven years since my surgery, and I still have to watch what I eat and stay on top of my game. The most important thing is that the journey to greater health, is not just physical, but emotional, mental, and spiritual. Slowing down and enjoying the process, learning and growing along the way - that's the best part of the process. So don't hurry you're way through it. Little by little, one step at a time - it's an incredible journey that can last a lifetime.
Posted
on Monday, February 6, 2017 at 08:00AM
by
Julia Holloman
in After Surgery Transitions, Health & Wellness, Lifestyle Changes, Long-term Maintenance , Overcoming Difficult Challenges, Preparing for Success, Tips for Life
| Comments Off
One of my favorite recipes these days is shredded chicken on a flour tortilla.
This slow and tender cooked chicken is easily done at home in a slow cooker. It's simple, easy to prepare and wonderfully tender, moist and delicious. A perfect meal for weight loss surgery patients to add to a recipe collection.
Slow and Easy Shredded Chicken
Chicken breast or thighs (skinned)
a jar of your favorite salsa
1/4 cup Chicken broth
salt
lime juice (optional)
Place in slow cooker about 4 hours until tender
Shred with a fork
Posted
on Saturday, January 28, 2017 at 10:24AM
by
Julia Holloman
in Cookbooks and Recipes, Recipes
| Comments Off
Because of the Lord's great love we are not consumed,
for his compassions never fail.
They are new every morning;
great is your faithfulness.
Lamentations 3:22 (NIV)
No matter what circumstances we find ourselves, God's Word promises us that each new day He gives us a fresh supply of grace for today.
No need to worry about tomorrow or yesterday or whether we can get through next week or next month. Each day He supplies us with the grace we need for that day. His grace is sufficient for today's needs. Great is His faithfulness.
Posted
on Monday, January 9, 2017 at 09:44AM
by
Julia Holloman
in Spiritual Encouragement
| Comments Off
Miles Support Group Meeting
Tuesday, January 3, 2016
6:30 pm
Orthopedic Hospital
(formerly Cape Fear Campus)
3rd Floor Classroom North
Topic: What Are We Taking with Us into 2017 and
What Are We Leaving Behind?
Facilitator: Kim F. Joyner, RN, CNOR
Come and share your journey with other bariatric patients. It makes a difference!
Posted
on Sunday, January 1, 2017 at 11:31AM
by
Julia Holloman
in Local Support Group Information
| Comments Off