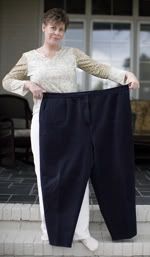 Physically, I'm half the woman I used to be, but as a result of my journey with gastric bypass surgery I've gained a lot. I'm Julia, and this blog is about the miles I've traveled in transforming my body, soul, and spirit while shedding more than 160 of the 300-plus pounds I carried before surgery.

I'll share my personal experiences of restoring my health and changing my lifestyle, and I'll offer spiritual encouragement, social and emotional tools, nutritious recipes, health information, and more. I've had a few challenges along the way, but through all the struggles I've grown stronger and regained my health and my life. I had my surgery on Easter Monday, 2006, which I call my personal resurrection day. Because of my transformation, I now look forward to many more "miles to go", and I invite you to travel with me on the road to a happier, healthier lifestyle...yes you can...I just did!

When solving problems,
dig at the roots
instead of just hacking at the leaves.
Anthony J. D'Angelo
Posted
on Thursday, May 28, 2015 at 07:00AM
by
Julia Holloman
| Comments Off
Our progress is measured by
direction
not
speed.
Posted
on Tuesday, May 19, 2015 at 07:00AM
by
Julia Holloman
in Words and Wisdom
| Comments Off
For new weight loss surgery patients, ordering at a restaurant can be daunting. But it doesn't have to be. Here are a few tips for ordering.
I usually survey the menu for options that fit my requirements. I ask the server how the dish is usually prepared. If I need to make adjustments, I request changes be made.
When asking for adjustments, I find it best not to pose my request in the form of a question. It's not "if" they can serve my needs. but "how" they can serve my needs. I specifically "request" how I need them prepared. For example, if I want my veggies steamed with no butter, I will say, "I would like the broccoli with no butter, please." or "Please steam the vegetables without butter, but you may put it on the side." Instead of, "Can you steam those without butter? In other words, there is no options. I may want to control the amount of butter I add to my veggies. Sometimes, when they eliminate the butter, it makes the vegetables dry. I also ask for them to be steamed with water.
I'm not suggesting you be rude, I'm suggesting you standing up for what you need, politely. I make sure I'm courteous while making my needs known in a decisive manner. They may not have everything I want, but most places will try to meet the request if they have it available. Kindness goes a long way. So be kind, but firm.
I also request that my vegetables be cooked more thoroughly. If they are not, I send them back to the kitchen for further cooking time. If it doesn't go well, I have several options. I do not order it again, I can ask to speak with a manager, or I can find another restaurant that takes my request more seriously.
Some restaurants have pre-made meals so it is impossible to remove a certain food item from certain food selections, such as an ingredient or perhaps a sauce. Usually, the server will let you know if your request can't be honored. That's understandable. If your request is not doable, there is usually another option, but sometimes it calls for a little creativity. Search the menu for other ingredients that you can eat. You may have to ask for a special order to be prepared. In this case, I sometimes have to ask to speak to a manager and explain my reason for asking.
For example: one of my favorite "special occasion" restaurants doesn't have green beans on the menu, but I know that one of their appetizer selections is served with green beans, so I make a request for the green beans. I inform the server that I have talked with the manager previously, and my request is usually honored. Again, I'm not rude or but assertive in my request.
Once, at a local restaurant, I requested fruit with my meal for dinner. I knew the fruit was on the lunch menu, but it wasn't listed on the dinner menu. The server wasn't sure my request could be filled. I kindly asked to speak with the manager on duty. After explaining my circumstances, he was more than happy to serve me the fruit. The server was happy with the extra "tip" we added for his accommodating spirit.
Having it "your way" isn't just for Burger King. So, when ordering, be assertive, kind, and creative. Yes you can, you have many more miles to go!
Posted
on Tuesday, May 12, 2015 at 10:35AM
by
Julia Holloman
in After Surgery Transitions, Bariatric Basics, Food Forks, Out and About, Successful Eating, Tips for Life
| Comments Off
Sometimes the storms of life are more like passing showers, there's not much to them and we find ourselves none-the-worse after they pass. Sure, they may rain on our parade, but we are quickly able to dry ourselves off and get back to happily living our life.
Then there are the larger storms. The clouds on the horizon are dark and ominous. Even from a distance, the cracks of thunder are definitely loud enough to stir us from our deepest dreams.
This past year, here in eastern North Carolina, we have had more than our share of rain storms as well as ice storms. I, and several of my neighbors, have been struggling to keep our newly planted yards above water. One neighbor says she's praying for a drought for the next few months. It is tempting after so much rain. But being an avid gardner, I think deep down, she knows that without rain her yard won't grow at all. I suggested that she tweak her request to simple praying for an ample amount of gentle showers instead of the torrential non-stop deluge.
Such is life. There will be always be storms. Storms that threaten our stability, weaken our fortitude and seek to undermine our hard earned accomplishments. We often spend most of of time trying to figure out "why" we experience stormy times and wishing our rainy days away. We sometimes feel we have had enough. As the rain begins to fall at a pace far beyond our ability to recover, it stirs feeling of panic, anxiety, and even depression. As the winds and rain obscure our view, we begin to lose our perspective and focus only on the turmoil and not on the benefits the storm provides.
Storms signal coming changes in our environment. They provide a tremendously essential and life-saving function by equalizing and balancing extreme temperatures on our planet. Winds serve to eliminate weak, diseased, and dead trees—giving the prospect for new growth. Together with the rain, they replenish, support, revitalize and refresh the earth.
Just like the storms that water our lawns and gardens, the storms of life have a specific purpose to fulfill and offer us a much needed opportunity to experience maturity and growth in our lifes, as well.
The storms in our life serve as an indicator of whether or not we are strong and resistant. Sometimes we need the rain to wash away the old and useless things from our lives and grant us the opportunity to experience the new.
This past year, I have also experienced a deluge of emotional storms. Though it all, I've had to accept the reality of "what is" and put away the pains of what "was" and "what could have been." I've realized the importance of a time to grieve but then also the importance to recover. To choose to put the past in the past and look with hope to what the future holds. Just like the fragrance after the rain—life after the storms can be sweeter than ever.
Yes, we can. We have many more miles to go.
Posted
on Wednesday, May 6, 2015 at 07:00AM
by
Julia Holloman
in Acceptance, Food for Thought, Inspiration
| Comments Off
NHRMC Support Group
TUESDAY, May 5, 2015
6:30 p.m.
NHRMC Cape Fear Site
Cape Fear Education Room South 3rd Floor
Topic: What's on Your Mind?
and Unjury Protein Powder Tasting
(This was such a hit last month we will do it again!)
Facilitator: Kim Joyner, RN, CNOR
Posted
on Monday, May 4, 2015 at 07:00AM
by
Julia Holloman
| Comments Off