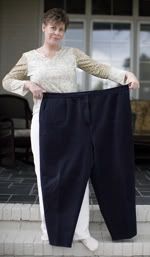 Physically, I'm half the woman I used to be, but as a result of my journey with gastric bypass surgery I've gained a lot. I'm Julia, and this blog is about the miles I've traveled in transforming my body, soul, and spirit while shedding more than 160 of the 300-plus pounds I carried before surgery.

I'll share my personal experiences of restoring my health and changing my lifestyle, and I'll offer spiritual encouragement, social and emotional tools, nutritious recipes, health information, and more. I've had a few challenges along the way, but through all the struggles I've grown stronger and regained my health and my life. I had my surgery on Easter Monday, 2006, which I call my personal resurrection day. Because of my transformation, I now look forward to many more "miles to go", and I invite you to travel with me on the road to a happier, healthier lifestyle...yes you can...I just did!

Fall is a great time for steamed cauliflower. Actually, any time is a great time for cauliflower and this recipe is quick, easy and delicious.
Steamed Cauliflower
cauliflower (cut and steamed)
salt
pepper
butter
and blend...
That's it. It's just that simple!
I have found that those Ziploc Steaming Bags I mentioned in an earlier post come in handy for steaming vegetables such as this cauliflower. I add in a few teaspoons of water and put them in the microwave for 3 to 4 minutes.
I place the steamed cauliflower in the blender with butter, salt and pepper and seasoned to taste, and serve. What could be easier than that?
Other recipes can be found of Miles to Go Blog in the "recipes" section or just click here.
Posted
on Monday, October 20, 2014 at 07:00AM
by
Julia Holloman
|
Post a Comment
Over the last several months my husband and I have been reading the book, "Draw the Circle", which is a 40-day prayer challenge by Mark Batterson. One of the daily entries is based on Proverbs 16:9. "In their hearts humans plan their course, but the Lord establishes their steps."
In this entry the author focuses in on the word "establishes" and defines it's original meaning in the Hebrew language. Now, If you've been reading my blog long, you know that I love to study and define words. I have found that when I actually take the time to look up words and define their meaning, it brings clarity and in context, it gives me a chance to really hone in on the true message of the passage.
This word "establishes" in this Proverb text tells us that God determines, directs, prepares, and provides, as He sets each step in it's perfect place. It involves careful planning down to the smallest detail. It celebrates God's ability to redeem the past and orchestrate the future. This word can calm our fears, knowing that God is ever present—aware of our every move—He has everything under control. Nothing is too great or too small to escape His attention. He never sleeps or slumbers, always keeping an attentive watch on our every move. With each step we take, we can put our faith in the certainty that He has already established and choreographed each one and we can rest in the knowledge that in His ultimate wisdom, He has already prepared our next God-ordained opportunity.
So no matter what decision you are facing, I encourage you to dedicate your next step to God's promise.
In their hearts humans plan their course,
but the Lord establishes their steps. Proverbs 16:9
Posted
on Monday, October 13, 2014 at 07:00AM
by
Julia Holloman
in Spiritual Encouragement, Words and Wisdom
|
Post a Comment
One of the things I was told after surgery was not to eat chicken skin. So let's talk about why.
Cooking chicken with the skin on provides moisture, flavor and eye appeal. Although chicken skin contains more fat, I have read that there is not much difference in fat content or nutritional content on the thin-skinned baked chicken breast. However, wisdom should be used in deciding whether chicken has too much additional fat or added breading, especially on fried foods. Skin and breading take up room in your tiny pouch, leaving you no room for foods that offer more nutritional benefit.
Try this experiment:
Remove the skin from fried chicken along with the batter or breading to see how much there is.
Notice the differences between the skin of dark meat and white meat.
Consider the better choice—being able to eat more meat which offers protein, keeping you full longer, or the skin—which contains higher amounts of fat, oils or flour—making you feel too full then hungry later on.
Try the same experiment with baked or grilled chicken.
After bariatric surgery, our tiny pouch can't hold very much food, therefore, getting the proper nutrition is crucial for success, gaining a better quality of life and attaining improved health, (especially after mal-absorptive surgeries). Fat causes digestion to slow and it can make you feel sick and it can also make you feel like you swallowed a brick.
Chicken breast tend to be drier, so sautéing skinless chicken breast is a great option for adding moisture. When baking, try leaving the skin on during the cooking process which provides moisture and flavor, or choose to remove it before eating. This is especially helpful during the first few years after surgery (while your pouch is smaller and nutrition is critical) and especially if the chicken has been fried, breaded or battered. As your pouch matures and stretches, your portions will increase, allowing you to eat more food. But, remember, weight loss surgery is not about dieting —it's about making wiser food choices, establishing healthier eating habits, maintaining your weight loss and retaining your health for a lifetime. Enjoy!
Posted
on Wednesday, October 8, 2014 at 07:00AM
by
Julia Holloman
in After Surgery Transitions, Bariatric Basics, Help in the Kitchen, Making Choices, Nutrition, Successful Eating, Tips for Life
|
Post a Comment
Miles Support Group
Tuesday, October 7, 2014
NHRMC Cape Fear Site / 3rd Floor Education Room
6:30 p.m.
Topic: The Personality Profile
Facilitator: Kim Joyner, RN
What is your motivation? Are you RED, YELLOW, BLUE, or WHITE?
Come join us and discover what "makes you tick".
Posted
on Monday, October 6, 2014 at 07:00AM
by
Julia Holloman
|
Post a Comment
I believe that taking nutritional classes, before, during and after weight loss surgery is crucial for success.
If your bariatric surgery team provides nutritional help, I suggest taking advantage of it. If your surgeon does not include nutritional or dietary counseling, I suggest getting one on your own. Most insurance companies will pay for nutritional classes, but if not, it's worth the investment in your health and your ability to make healthier food choices based on your surgery procedure, and ultimately—it makes a difference in your long-term outcome.
When choosing a nutritionist, it will be helpful to consult someone who has experience with the bariatric surgery nutritional protocol, especially initially, during the healing and weight loss phase. Later on, having someone who can instruct you on general nutrition will suffice.
Although, knowing how to eat correctly is important during the initial healing process, the weight loss phase, and for the long term—life after weight loss surgery is not about being "on a diet". The foods you choose to eat on a regular basis will change during each phase of the journey, and it will be important to make the best nutritional choices for long-term health.
After surgery I attended nutritional classes for over 18 months. And again at 3 years out when I began having a problem with low blood sugars. These experiences gave me the dietary knowledge I needed to lose weight, maintain my weight loss, and identify any challenges that might hinder my success. I feel that it is also important to learn all you can about the value of food, recognize what a balanced and healthy diet looks like after surgery—each step of the way. It may take a little more effort, but it will be worth it in the long-run.
I also had to lose the "dieting mentality" and discover what part old eating habits, environment, and emotional hungers played in my recovery process.
Eat well and be well—for a lifetime!
Yes, you can. You have many more miles to go!

Posted
on Monday, September 29, 2014 at 07:00AM
by
Julia Holloman
in After Surgery Transitions, Health & Wellness, Nutrition
|
Post a Comment