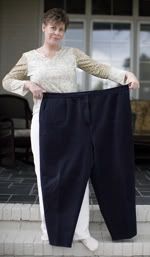 Physically, I'm half the woman I used to be, but as a result of my journey with gastric bypass surgery I've gained a lot. I'm Julia, and this blog is about the miles I've traveled in transforming my body, soul, and spirit while shedding more than 160 of the 300-plus pounds I carried before surgery.

I'll share my personal experiences of restoring my health and changing my lifestyle, and I'll offer spiritual encouragement, social and emotional tools, nutritious recipes, health information, and more. I've had a few challenges along the way, but through all the struggles I've grown stronger and regained my health and my life. I had my surgery on Easter Monday, 2006, which I call my personal resurrection day. Because of my transformation, I now look forward to many more "miles to go", and I invite you to travel with me on the road to a happier, healthier lifestyle...yes you can...I just did!

Life after weight loss surgery does require some significant changes in our lifestyle, but it doesn't mean we have to give up all of our favorite foods, we just have to be willing to tweak them a little.
This week, I tried a new recipe from the April 2017 issue of Clean Eating Magazine—Spiced Catfish with Cheesy Polenta and Mushrooms Ragu.
Here's my bariatric friendly tweak:
Mushroom Ragu:
I didn't cut out all the butter, I just used less butter and oil. The mushroom ragu also called for onions, black pepper, mushrooms, garlic, white wine vinegar, vegetable broth, lemon juice and sea salt. I made the ragu ahead, chilled it and skimmed off the fat that rose to the top. This process made it easy to cut the fat without eliminating all the flavor. It also made the dinnertime process move a little more quickly.
Fish:
I used Cod instead of Catfish. (Any white fish would have been a good choice) I dusted the fish with a little chili powder, a sprinkle of salt and a tiny drizzle of olive oil. (Next time, I may eliminate the oil on the fish, since most of it ran off anyway. And I may play around with a few more spices) I baked the fish on parchment paper, at 500 degrees for about 6 minutes, on the top rack. As long as the parchment paper doesn't stay in a long time, it won't catch on fire.
Polenta:
Although the recipe called for polenta, I used grits. DO NOT OVERLOOK THIS FACT: Beware of portion size with grits, a little goes a long way — especially early on after surgery. Grits as well as pastas tend to swell after eating. A more mature pouch, (several years out) may be able to tolerate a few more spoonfuls, but please go light on the portion size when it comes to foods that tend to swell. I would start with a few teaspoons full to see how you respond. The recipe called for white cheddar cheese, onions, (which I omitted) and sea salt. Next time I may try using polenta!
A very small portion, served on a small plate, (with a little green veggie) made this dish delicious, beautiful, satisfying and bariatric friendly.
For the full recipe, see the current issue of CLEAN EATING, April 2017.
Posted
on Tuesday, March 21, 2017 at 07:00AM
by
Julia Holloman
in After Surgery Transitions, Bariatric Basics, Help in the Kitchen, Hope and Help, Recipes, Successful Eating
| Comments Off
Yesterday,
we welcomed
another grandchild
into our family
...
Vera Wren Holloman
See or Facebook pages for more details....Julia Holloman, Millie Holloman
Posted
on Wednesday, March 8, 2017 at 10:22AM
by
Julia Holloman
| Comments Off
Next month, I will celebrate my 11-year weight loss surgery anniversary. After losing weight, it was hard to "see" the real me in the mirror.
The vision of myself in the mirror still reflected the 300 pound version of myself. It was a while before my head and my body came into alignment. (You can read the full story on this blog in other post.)
Weight loss or not, what we often see in the mirror is a critically distorted version of what is really there. Most of us tend to focus on our imperfections rather than on our positive features.
Okay, so let's get real—we all have imperfections. Sure, no matter what age we are, or what our weight is, there are always things we can find to be critical of about our appearance. But I have come to realize, that no matter what—I need to see myself for who I really am. I realize that I must stay connected with my profound accomplishment and to express my new-found confidence in the real me—the one I was created to be.
I must continue to look beyond the exterior—one shaped by environment and circumstance and find the one that was formed and designed by The Master Architect.
This Designer, who created the most amazing things in the universe, took the time to create me. One who suspends the planets in their places. One who is intimately acquainted with the most minute creatures in the deepest sea. He created each star in the heavens. The bible tells us that He calls them each by name. Considering each day of their lives from the first day of time to the last, he painstakingly painted each detail of a butterfly wing. He made a universe so vast and unique that there are no two snowflakes that are identical. Each creature from the desert to the jungle, He unique equipped to survive and thrive in it's own personal dwelling place. He made the world so big that we will never know or know it in all it's vastness. Then before He was done, He created something that He felt was his most spectacular work, one that reflected His very own Splendor and Glory—me—and you.
Have you ever stopped to think:
That we are made up of a little bit of a many generations. Sometimes I think I look like my mother, and with the next glance, I look like my dad's sister. If I cut my hair a certain way, I might see a glimpse of my first cousin, I never thought we looked alike when my hair was longer. From our nose to our toes, we are a mix of all who came before us.
Did you ever stop to think about our physical features in detail. Something as simple as our teeth. They are really not just enamel post stuck randomely in our jaw. We are born with two perfect sets of teeth. One that fits our baby lifestyle and one that serves us through our adult life. No randomness, here. Each side is placed in mirror -like unison, the perfect number, each in the right order, perfectly fitted to do it's job efficiently.
Is it not strange that each of us have a hairline that starts and stops in just the right place? A little further to the front and it would cover our eyes. Too far on the back and it would be very uncomfortable. It may not be as curly as we would like or maybe as straight as we like, or maybe we would prefer a different color. But did you ever just stop and think about all the miracles we display, in our face alone? Did you ever think of all the amazing ways it effects our appearance? We ARE awesomely, thoughtfully, wonderfully, specifically, and purposefully made to function at our highest potential. Everything about us is designed with a specific function and purpose.
I encourage you to stop and see the awesomeness of who you are—not just in the mirror, but inside and out. I encourage you to be awed by the miracle we are designed to be. Step outside of your self-criticism just long enough to appreciate yourself for who you are. What do you see?
Posted
on Monday, March 6, 2017 at 02:00PM
by
Julia Holloman
in Body Image, Emotional Health, Emotional support, Insider Information , Inspiration, Lifestyle Changes, Mindset Changes, Our Mind and Body Image, Our Self Image, Reflections, Spiritual Encouragement
| Comments Off
During the first few years, especially during the weight loss phase after surgery, getting enough protein is extremely important for healing, good health, proper weight loss, and preventing too much muscle loss, among other benefits.
Not all protein or protein bars are created equal—and neither are our taste bud. So, it's important to try all your options, such as powders, bars, and other high protein foods. Even if some go straight to the trash, getting enough protein is so important that it's worth discarding a few in an effort to find the ones that you really enjoy—especially since it's for the long-haul.
Being almost 11 years out from surgery, I don't eat too many protein bars anymore, but I do like to keep a few of my favorites around for an occasional mid-afternoon snack. Bars are great for stashing in your purse. I usually keep on-the-lookout for anything new that comes on the market.
Recently, I found Fit Joy bars—wonderfully delicious, high protein, low fat and a balance of carbohydrates - this one is a keeper.
To find out more about protein including bars, powders and recipes check the sidebar for several protein categories.
Posted
on Monday, February 20, 2017 at 01:00PM
by
Julia Holloman
in Back To Basics, Bariatric Basics, Health & Wellness, Know Your Protein, Making Choices, Protein , Successful Eating, Supplements, Tips for Life
| Comments Off
Weight loss may not always be fast and easy, but here is something that can be—mealtime.
At home or on-the-go, here are some fast and easy breakfast ideas.
No matter how you slice it, breakfast, for me, is often puzzling.
Even though meals are best eaten slow, sometimes on-the-go meals are a must. But these fast and easy meals don't have to be eaten fast....just prepared ahead for those days that don't seem to leave enough time for breakfast at all, let alone healthy.
I have found that the best way to stay on-track is to prepare ahead.
These 1/4-cup size, snap-top containers are great for measure-ahead, on-the-go meals. Perfect for sides or salad dressing–it also holds exactly 2 Tablespoons.
Package and measure ahead and it's breakfast in the bag.
Try one of these breakfast ideas:
1/4 cup of egg salad and 1/4 of a bagel. Homemade or purchased already made, egg salad is a great go-to food
2 ounces roast beef, a little cream cheese, and 1/4 of a bagel
1 sliced boiled egg on 1/2 slice Pepperidge Farm light bread
1 snack-size container of cottage cheese and 1/2 a banana
1 rotisserie chicken drumstick and a dinner roll
1/2 ham sandwich with light mayo and shredded cucumber

(assemble cucumber just before eating or the bread will be soggy)
2 ounces of deli turkey wrapped around a "real" cheese stick, and a sliced apple
1 slice of "real" cheese toast, a few carrot sticks. Caution: just a few raw carrots can be sweet and satisfying, but be careful, I learned the hard way that too many raw veggies don't go well with a tiny stomach.
1 sliced apple and a low-sugar, high protein yogurt
Think out-side the box. Breakfast doesn't always have to be sausage or bacon—think chicken, ham, turkey or roast beef.
The key to fast and easy meals includes planning and measuring ahead for quick grab-and-go meals.
Posted
on Monday, February 13, 2017 at 07:00AM
by
Julia Holloman
in Breakfast, Help in the Kitchen, Recipes
| Comments Off