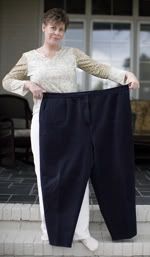 Physically, I'm half the woman I used to be, but as a result of my journey with gastric bypass surgery I've gained a lot. I'm Julia, and this blog is about the miles I've traveled in transforming my body, soul, and spirit while shedding more than 160 of the 300-plus pounds I carried before surgery.

I'll share my personal experiences of restoring my health and changing my lifestyle, and I'll offer spiritual encouragement, social and emotional tools, nutritious recipes, health information, and more. I've had a few challenges along the way, but through all the struggles I've grown stronger and regained my health and my life. I had my surgery on Easter Monday, 2006, which I call my personal resurrection day. Because of my transformation, I now look forward to many more "miles to go", and I invite you to travel with me on the road to a happier, healthier lifestyle...yes you can...I just did!

They are cute, aren't they? Little foxes. Like most babies, they appear innocent. But beware, things are not always what they seem.
Recently, my friend Vicki, and I were discussing a verse of scripture in the Song of Solomon or Song of Songs which says that it's "the little foxes" that ruin the vineyards.
During our conversation we were sharing that foxes have many "voices". They can make more than 40 different sounds. Foxes have become known as a symbol of cunning and trickery. In the Hebrew, the word for fox is rendered "jackal" which are more easily caught than a fox.
In a grape vineyard, foxes sneak in under the fencing and ruin the fruit on the vines, and although foxes are carnivorous animals, making their way under the fences that surround the young crops, they also devour the life giving vines of the plants and make bare the roots. Harming the young shoots of the vines as well as eating the grapes.
I liken it to my own life. I sometimes can be "tricked" by the many voices of what seems to offer logical reasoning when I am tempted to overindulge on the foods I know I should limit. Like those "little foxes" that try to sneak in "under my radar" when I'm at my weakest. They whisper such innocent sounds in my ear and then they not only cause me to overindulge, but before I know it, I realize my whole thought process as well as my fortitude has been compromised. As unwanted habit start to emerge, if I'm not careful, they can become addictive, hard to control and difficult to eliminate.
After surgery it can be much easier to let old habits work their way back into our routine, but even years later, we must still be aware of the things in our environment that seem to sneak their way back in. When we fail to ignore the warning signs of their entrance into our "vineyards" or our lives, they may not be so harmless. In the long run, it's the little temptations that open the door to the greater.
However, when we make a conscience effort to stay alert and aware of these "tricks", they allow us the opportunity to make bare our own root issues—discovering our weakness and uncover the roots of temptation. I often have to remind myself that I am the only one who can choose to keep my "fences" strong, my boundaries secure, and surrounding a safe haven in which to dwell.
Although this verse in Song of Solomon is a dialog between two lovers, it also reminds me of importance of having a support person, someone who can help you and I "catch those little foxes".
So let's not allow small temptations to spoil our new (blooms) or new lifestyle opportunities that promise us a better future.
"Catch for us the foxes,
 the little foxes 
that ruin the vineyards,
 our vineyards that are in bloom." Song of Solomon 2:15
Posted
on Monday, September 15, 2014 at 07:00AM
by
Julia Holloman
in Spiritual Encouragement
|
Post a Comment
You are one of a kind, so be your own kind of beautiful!
Sometimes we can be so hard on ourselves. It's easy to get caught up in a negative body image. Especially during these past few summer months, when I put on shorts or a bathing suit, I tend to get very critical of the reflection I see in the mirror. When I go shopping for clothes, I'm reminded I'm not quite as small as I really want to be. My body just doesn't look the same as it did when I was in my 20's.
But I have to stop and think about what's really important. I'm healthier than I was when I was in my 30's and 40's or when I weighted over 300 pounds. Yes, my body has a few flaws, but I have to remind myself that the image I see in the mirror doesn't tell the whole story. Even though I had a hand in making a few alterations, I was made in the image of God. I am an image bearer. Sometimes, I need to stop and think about what that really means.
As image bearers, you and I, bear the very image of the Lord God, Creator of the universe. The One who made the stars and planets. Time and space. Trees and flowers. The birds and bees. The mountains and the sea. The One who is the very essence of Love, Mercy, Grace, Faithfulness, Majesty and Splendor. The world has so much beauty. There is not one inch of space that does not carry the mark of His magnificent handwork. Each and every creature has a beauty and significance all it's own. Yet, it pleased Him make each and every one of us unique, one of a kind, and intricately beautiful.
When I stop and meditate on the fact that I am made in His imge—a reflection of His manifest Presence, then I don't have the same attitude about the reflection I see. We all carry a beauty that delights Him, not just on the outside, but on the inside. I am reminded that I need to recognize and appreciate the fact that in all of creation, we have the unique privilege of bearing His image.
Let's strive to be the best we can be...uniquely and wonderfully made—one of a kind beautiful.
Posted
on Monday, September 8, 2014 at 07:00AM
by
Julia Holloman
in Spiritual Encouragement
|
1 Comment
My personal weight loss story parallels the biblical story of the Israelite slaves as they made their way out of Egypt and into the Promised Land.
Having been a slave to obesity, I too, had to break free from the slavery of obesity and find my way to a new way of life in the land of freedom.
But just because someone escapes the bonds of slavery doesn't mean that the slave mentality is gone. It takes time to realize your new identity and to learn to live life free from it's rulership.
Now, in my new book, Out of Obeity and into the Promised Land, you can join me on the journey that changed my life forever—Available now on Amazon. Click here to place your order now.
Posted
on Wednesday, September 3, 2014 at 07:00AM
by
Julia Holloman
|
Post a Comment
September Support Meeting
Tuesday, September 2, 2014
6:30 pm
Cape Fear Site 3rd Floor Education Room
Topic: Testimonies & Introduction to Bariatric Eating Products
Facilitator: Kim Joyner, RN, CNOR NHRMC Bariatric Outcomes Manager
Posted
on Monday, September 1, 2014 at 07:02AM
by
Julia Holloman
in Local Event, Local Support Group Information
|
Post a Comment
I frequently receive emails from those who are struggling with whether or not to undergo weight loss surgery, wondering if it is the right choice for them. There are so many questions to be answered?
What will life look like after surgery?
How do I know if surgery is the right choice for me?
How can I enjoy life without my favorite foods?
Will I always be hungry?
I remember asking the same questions when I was considering surgery. If you are asking yourself these questions, you need answers. You need to know how to make these decisions. You need to understand the truth about weight loss surgery.
The reasons to have surgery will vary from person to person, however, the reasons one chooses to undergo such a life-altering surgery are extremely important.
Bariatric surgery does have risk, but living with obesity carries risk too. My advice is to:
Learn all the facts you can about bariatric surgery procedures.
Make a list of your personal goals and reasons to have surgery.
List the pros and cons of surgery and ask yourself if you are willing to make permanent lifestyle changes.
Find a reputable, qualified, bariatric surgeon and discuss your current health and your weight loss options. Your surgeon determine if you qualify for surgery and also assist in choosing the surgery that best fits your health needs.
Surgery isn't just about how much you weigh, it's also about improving your overall health and gaining a better quality of life. It's based on your personal health and quality of life.
Weight loss surgery creates a smaller stomach and curbs your appetite—allowing you to make changes in your eating habits. It physically helps you eat less food, further mal-absorptive surgeries assist and weight loss occurs as a result. But you must also take an active role in choosing healthier food options, eating smaller portions, and getting more physically activity and exercise for a lifetime. In turn, you lose weight, change your quality of life and discover how to maintain a healthy lifestyle. Making healthier food choices for a lifetime must become, not only a priority but a focus. Appetites do return. But that doesn't mean you have to give up all your favorite foods, forever. During the weight loss phase, you can learn to assume a "normal" well-balanced and healthy diet—and still control your weight.
Personally, I found that gaining long-term success requires a change of mindset, learning how to overcome challenges, and refocusing my attention to attaining health. I had to change the way I viewed food and I had to discover why food was controlling me. I had to be willing to learn how to control my emotional eating and how to make the choices that would result in maintaining my weight and my health—enjoying my new-found health and food at the same time. I do have to give up certain indulgences to maintain my health, I still enjoy food more than ever, without "dieting" or feeling deprived or "cheated".
No matter why you decide to have surgery, your strong motivating factors and personal convictions will lead you into better health so that you can enjoy life to the fullest. Much success in your journey. Yes, you can. You have many more miles to go!
Posted
on Monday, August 25, 2014 at 07:00AM
by
Julia Holloman
in Bariatric Basics, Health & Wellness, Making Decisions About Surgery, Mindset Changes
|
Post a Comment