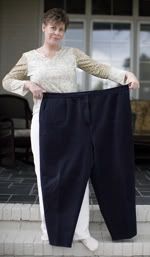 Physically, I'm half the woman I used to be, but as a result of my journey with gastric bypass surgery I've gained a lot. I'm Julia, and this blog is about the miles I've traveled in transforming my body, soul, and spirit while shedding more than 160 of the 300-plus pounds I carried before surgery.

I'll share my personal experiences of restoring my health and changing my lifestyle, and I'll offer spiritual encouragement, social and emotional tools, nutritious recipes, health information, and more. I've had a few challenges along the way, but through all the struggles I've grown stronger and regained my health and my life. I had my surgery on Easter Monday, 2006, which I call my personal resurrection day. Because of my transformation, I now look forward to many more "miles to go", and I invite you to travel with me on the road to a happier, healthier lifestyle...yes you can...I just did!


Every frustration and difficulty
has the opportunity
to form you
in the deepest places
of your heart.
Posted
on Monday, April 21, 2014 at 06:00AM
by
Julia Holloman
in Food for Thought, Words and Wisdom
|
Post a Comment
The proof is here -
it's a real book.
Actually, this the proof—bound and ready for
the last edit.
Get ready!
Out of Obesity, and into the Promised Land,
will be ready for purchase in a matter of
days!
Posted
on Tuesday, April 15, 2014 at 08:34PM
by
Julia Holloman
|
Post a Comment
Everything in your body is made with protein. There's nothing in your body you can make with just carbohydrate and fat. Your hair, skin, muscles, brain, heart, organs, blood, bones...every cell is made with protein.

What happens when you don't get enough?
An obstetrician we know works with patients who haven't gotten enough protein in their diet for years. She said that after surgery on those patients and she is putting in the stitches,

"It's like trying to sew wet tissue paper".

What are the symptoms of insufficient protein?
1. Fatigue and/or weakness. Not just the feeling that we didn't get enough sleep last night, but deep fatigue...or weakness where it's hard to get through the day.
2. Weight loss plateau. When we don't get enough protein, medical research indicates that the body tries to store calories rather than burning them.
3. Hair loss. We believe it is often preventable with enough protein.
4. Surgical complications. Is there surgery in your future? For many, the answer is yes. The best single numerical predictor of how well a surgery will go is your protein status. And, your body will heal slowly, sometimes very slowly, if your protein status is low.
5. Muscle Loss. When you don't get enough protein for weeks, you body starts taking protein from your muscles. So your body is actually taking muscle -- to help maintain other cells, and organs, and hormone levels. So it's possible you might be more easily injured if you regularly don't get enough protein.
These symptoms can also be caused by other things, so it is always good to ask your doctor.
Article reprinted with permission (in it's entirety) from Unjury Medical Quality Protein
Posted
on Monday, April 14, 2014 at 06:00AM
by
Julia Holloman
in After Surgery Transitions, Health & Wellness, Nutrition, Protein , Protein Shakes , Supplements, The Bariatric Kitchen
|
Post a Comment
I hope you are enjoying Amazing Grass Green Superfood in your protein shakes. Another great recipe ingredient product I have found is powdered peanut butter.
There are several brands on the market and you can find more recipes for including both of these fabulous items to your protein shakes under the protein recipe section here on Miles to Go blog.
The blogger of Vegan Eats and Treats did a taste test—click here to read more.
Enjoy... Yes, you can. You have many more miles to go!
Posted
on Thursday, April 10, 2014 at 06:00AM
by
Julia Holloman
in Healthy Fats, Recipes, Successful Eating, The Bariatric Kitchen
|
Post a Comment
From cover to cover, Out of Obesity and into the Promised Land is done and awaiting a proof copy from the publisher. Copies should be available by the end of April 2014.
Posted
on Wednesday, April 9, 2014 at 02:08PM
by
Julia Holloman
|
Post a Comment