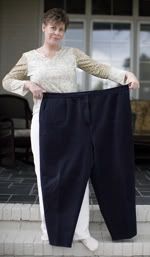 Physically, I'm half the woman I used to be, but as a result of my journey with gastric bypass surgery I've gained a lot. I'm Julia, and this blog is about the miles I've traveled in transforming my body, soul, and spirit while shedding more than 160 of the 300-plus pounds I carried before surgery.

I'll share my personal experiences of restoring my health and changing my lifestyle, and I'll offer spiritual encouragement, social and emotional tools, nutritious recipes, health information, and more. I've had a few challenges along the way, but through all the struggles I've grown stronger and regained my health and my life. I had my surgery on Easter Monday, 2006, which I call my personal resurrection day. Because of my transformation, I now look forward to many more "miles to go", and I invite you to travel with me on the road to a happier, healthier lifestyle...yes you can...I just did!

UNJURY's Protein Pumpkin Cheesecake
2 Packages (8 oz) Fat Free Cream Cheese
1/2 cup Fat Free Sour Cream
1 tbsp Butter
¾ cup Splenda
3 scoops Vanilla UNJURY®
1 1/2 cup canned pumpkin (not pumpkin pie mix)
4 Eggs
2 tsp Vanilla Extract
1 1/2 tsp Cinnamon
1 tsp Ground Ginger
1/2 tsp Nutmeg
¼ tsp Ground Cloves
Preheat oven to 300 degrees
Grease cheesecake pan with butter
Mix cream cheese, Splenda and vanilla extract in medium bowl until smooth (an electric -- mixer works best)
Add sour cream and pumpkin blend until distributed
Add eggs mixing after each one
Add Cinnamon, Ginger, Nutmeg and Cloves mix until distributed
Measure 3 scoops of Vanilla UNJURY (be sure to mix thoroughly after each scoop)
Pour batter into greased cheesecake pan
Bake for 1 hour
Makes 12 servings Nutrition Facts per serving: 116 calories, 8 g carbohydrate, 3 g sugar, 3 g fat, 14 g protein *For higher calorie diets substitute Reduced fat or Regular Cream Cheese and Reduced Fat or Regular Sour Cream Reduced Fat Nutrition Facts per serving: 128 calories, 8 g carbohydrates, 4 g sugar, 9 g fat, 11 g protein Regular Nutrition Facts per serving: 230 calories, 7 g carbohydrates, 3 g sugar, 18 grams fat, 11 g protein Comments: Because this is a high-protein low-carbohydrate recipe, it isn't comparable in texture and taste to a classic pumpkin cheesecake, but we think you will enjoy it!
Posted
on Friday, November 21, 2014 at 07:00AM
by
Julia Holloman
in Holiday Helps, Holiday Meals, Recipes, Successful Eating, The Bariatric Kitchen
| Comments Off
There are certain foods we have "grown" to love, but did you ever stop to think about the foods that love to "grow" on us—or "in" us?
Foods such as instant mashed potatoes, rice, pasta, oatmeal, grits, hominy, and bread may start out small but they continue to "grow" after we eat them, as they continue to absorb more and more water, they grow bigger and bigger. Unleashed in our tiny altered stomach pouches, they can quickly and inconspicuously become over-grown monsters for gastric bypass or lap band patients. Causing stretching and tremendous pain, they out-grow our small stomach capacity without warning and the only thing we can do is wait it out.
I first learned of the challenges, (well, more like horror stories) weight loss surgery patients had with foods that expand (such as grits) while attending support group early in my surgery process. I was horrified. But really there is nothing to be afraid of as long as we follow a few precautions.
Our first step in avoiding disaster is by making sure that expansion occurs on our plate and not in our tiny pouch. This starts by thoroughly cooking foods, (such as pasta) and allowing it to rest after cooking to absorb as much water as possible before eating.
When eating foods that swell, it is important to keep our portions extremely small. We can also slow down and chew well. This allows us to think about our fullness level so that we can stop eating "before" we feel full. Waiting until we feel full could be too late.
Because these foods tend to absorb water, it's best to wait a longer period of time before drinking again after the meal. Start with small, slow sips, making sure foods have cleared our small stomach pouch.
A good idea is to be aware of how much the foods we eat tend to enlarge when water is added. Experiment before eating and use caution. However, to avoid unpleasant incidences, I recommend avoiding these foods early after surgery—adding them back when we are experienced with our pouch, have learned how certain foods react, have grown accustomed to our new bariatric lifestyle, and after our pouch has had time to mature (usually about the second year.) Stretching our stomach pouch can have dangerous consequences.
Instead, we can add foods that keep us feeling fuller longer—such as lentils, sweet potato, broccoli, cauliflower, and cherries. These foods are low glycemic index (GI) which are "slow release". Slow release foods keep our blood surgar more level and keep us feeling full with less expansion in our tiny pouch.
Posted
on Monday, November 17, 2014 at 07:00AM
by
Julia Holloman
in After Surgery Transitions, Bariatric Basics, Carbohydrate Facts, Food Facts , Successful Eating, The Bariatric Kitchen , What you need to know
|
Post a Comment
Thanksgiving is on the way and so is the over-abundance of everything food.
I think that over-abundance is more a positive than a negative. I think over-abundance is a "God" thing. If you think about it, everything God does He does in abundance. There is always more than enough.
Isn't that what the Thanksgiving season is all about, anyway? Being grateful for the blessing we have in abundance. But the sad thing is for many of us, when it comes to food, our thoughts tell us there will never be enough. So how do we approach the holidays with the mindset of thankfulness for the abundance God provides and the awareness of not having to gobble it all down in one day?
I'll share my tips on Thanksgiving dining which include a few tips from an article from "Medical Daily" written by Sabrina Bachai on how to manage thanksgiving day without feeling like an over-stuffed turkey.
Don't skip meals or let yourself get too hungry. Plan a small snack if you feel you will get too hungry before mealtime. Don't forget to get in all your water for the day, which will keep you hydrated and feeling satisfied with less food. Shift the focus from the food to your hunger level. Managing our hunger helps to manage our portions.
Survey all your food options and decide what you want to eat. Only take what you plan to eat. Don't forget the protein. And yes, feel free to include dessert. When my children were young, I would let them eat seasonal dessert such as pumpkin or sweet potato pie along with their meal. These pies are usually low in sugar and a fun treat that passed my nutritional requirement and satisfied their sweet tooth. Plan to have a small portion of something sweet, but dont' serve yourself the guilt that may come with it. Portion control is key. Enjoy a little bit of everything, but don't over-eat. On special occasions, I give myself permission to include dessert along with my meal. Often our eyes really are bigger than our stomachs.
The article from "Medical Daily" quotes Cornell University food psychologist, Dr. Brian Wansink—"When it comes to portion control, you can count on your brain not being very interested and your body not being very well calibrated," We often overeat in 100-or 200-calorie increments, which over time adds up to a weight gain that seems like a mystery to the eater." I suggest starting by only taking a small spoon-sized portion of each item. It has been my experience that when I save the dessert till the end, I find I eat none to very little anyway.
Slow down, chew more, and enjoy the taste and texture of each dish, assessing your hunger level after each bite. Remember to eat your protein first, which helps level the blood sugar and calm hunger. Chewing your food more has been found to lower the level of hunger hormone produced by the stomach.
Bringing your own dish to the Thanksgiving table is a perfect suggestion for a bariatric patient. Talk it over with your host and take a bariatric friendly dish that you will enjoy.
Remember to fill up on protein and non-starchy veggies and go "lean and green". Want to enjoy the thanksgiving abundance that fits the season—ask a take-along plate and fill up your emotional "tank" with good conversation, and the fellowship of the abundance love and fellowship of family and friends. At the end of the day, you'll be overflowing with gratitude of the season and the new you.
Look for more tips on holiday eating in the "holiday helps", "recipes", and "protein shake recipes" under the basic information section here on Miles to Go or do a search in the "search bar" to the left. Happy Thanksgiving—yes, we can...we have many more miles to go!
Photo by: Tim Simos/NWTF
Posted
on Monday, November 10, 2014 at 07:00AM
by
Julia Holloman
in After Surgery Transitions, Bariatric Basics, Holiday Helps, Holiday Meals, Lifestyle Changes, Making Choices, Planning for the Holidays, Successful Eating, Tips for Life
|
Post a Comment
In case you didn't know, animals like cattle, giraffes, bison, yaks, water buffalo, deer, camels, alpacas, llamas, deer, goats, and sheep are ruminant animals. That means they chew their cud.
The process of chewing cud means a portion of food returns from the stomach to the mouth to be chewed for the second time.
What does that have to do with weight loss surgery? Actually, not much! But we are told to slow down when we eat and chew our food well. We don't get a second chance to chew it like ruminant animals—that would be unpleasant. But, spiritually speaking we do get a second change to digest what we read. It's call meditating.
The word meditate means to think about, recall or rehearse. When the word meditate is used in the bible, it gives us a "word picture" of "chewing the cud".
So whether you are chewing your food or meditating on God's Word, the benefits are the same.
Chewing food breaks it down into smaller more digestible bites so that it's easier to extract and absorb the parts that you need. So is meditating on God's Word. Meditating on scripture helps us to understand and apply what we read.
Chewing your food properly also breaks down bacteria which can cause potentially painful symptoms and other digestive problems. So it is with reading the Bible. Meditating on the Word means prayerfully hearing from God. It helps us to get to know who God is and who He's not. It helps us discern truth.
Chewing helps us to slow down and enjoy our food. Just like meditating on God's Word, it also allows us to develop a relationship with our Creator.
Chewing our food breaks down nutrients so that our bodies can grow, just as meditating causes our brain, memories and thoughts to grow, along with our spiritual growth.
Dr. Carolyn Leaf says, "...Scientifically the deeper you think the more thoughts and memories you will grow inside your brain. This means we are not designed to skim the surface of things, but rather to think things through, to read deeply, to understand and build strong memories."
So the next time you feel empty, I encourage you to grab a Bible and read a passage or two, then take a few minutes throughout the day to quietly chew or reflect on what you read—that meditating.
Photo by: Luke and Cat Neumayr Photography, Houston, TX
Posted
on Wednesday, November 5, 2014 at 07:00AM
by
Julia Holloman
in Spiritual Encouragement, Words and Wisdom
|
Post a Comment
NHRMC Support Group
Tuesday, November 4, 2014
6:30 p.m.
NHRMC Cape Fear Site
3rd Floor Education Room
Facilitator: Kim Joyner, RN, NHRMC Bariatric Outcomes Manager
Topic: Holiday Rescue: Tips for Maintaining Balance During the Holidays
Posted
on Monday, November 3, 2014 at 07:00AM
by
Julia Holloman
|
Post a Comment