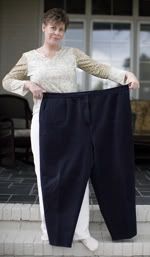 Physically, I'm half the woman I used to be, but as a result of my journey with gastric bypass surgery I've gained a lot. I'm Julia, and this blog is about the miles I've traveled in transforming my body, soul, and spirit while shedding more than 160 of the 300-plus pounds I carried before surgery.

I'll share my personal experiences of restoring my health and changing my lifestyle, and I'll offer spiritual encouragement, social and emotional tools, nutritious recipes, health information, and more. I've had a few challenges along the way, but through all the struggles I've grown stronger and regained my health and my life. I had my surgery on Easter Monday, 2006, which I call my personal resurrection day. Because of my transformation, I now look forward to many more "miles to go", and I invite you to travel with me on the road to a happier, healthier lifestyle...yes you can...I just did!

New tips for the Christmas holiday outings from Premier Designs Accessory Stylist, Cammie Hackney. Holiday fashions don't need to be a puzzle or expensive. By adding just a few special touches, items you wear every day can be used to create fabulous looks, casual or dressy.
Start with your favorite. Denim. Adding a cream sweater (maybe with a fur collar), a tartan scarf. Ever-classic pearls kicks a casual look up a notch.
Rock some RED. Again, take your favorite denim (any wash will work, but dark denim is most slimming), and pair it with this most popular holiday color. A bit of sparkle and some shoes that "pop" and you're ready to go!
Green's the thing! Cammie says this is her favorite way to dress up for the holidays. Take a comfortable favorite and pair it with something fancy. Add a touch of BLING with your accessories, and you're set for any occasion the holidays bring.
....have fun! Yes, you can. You have many more miles to go!
You can find these and other holiday style in the "Confident Style" section along with many other sections that offer help with meal ideas, recipes and much more at www.milestogoblog.com. Miles to Go blog. There is even a special "holiday helps" section especially for the holidays.
Have a very merry Christmas!
See you next year with more exciting post, inspiration and encouragement!
Posted
on Tuesday, December 16, 2014 at 07:00AM
by
Julia Holloman
in Dress for Success, Holiday Helps
| Comments Off
Introducing my latest holiday creation—Date Roll Ups. Dates wrapped snuggly around freshly harvested North Carolina pecans, and then rolled in a cream cheese pastry, dusted with snowy white powdered sugar. I wouldn't particularly describe them as "bariatric friendly" but they are one of my childhood favorite Christmas food memories.
Normally, I prefer cooking over baking, and I rarely go to the trouble to bake holiday sweets. But this year, I want to bake. But not just because I want to eat all the cakes, cookies, and other goodies that go with the Christmas holidays, I just want to remember the smells of my childhood Christmas. I want to relive those special moments in the kitchen with my sister and my mother.
Did you ever hear someone say that after they had cooked a meal, they didn't necessarily care to eat it. Before weight loss surgery, I wasn't one of those those people. Although it may seem strange coming from from a recovering food addict, this year I count myself among them. It's been a while coming, but after 8 years, I've found comfort in the satisfaction that comes from the preparation, cooking or baking—or rather the memories more so than actually eating the food. I have learned over the years to have peace with food and to relax and enjoy the holidays around food which no longer controls me–celebrating food with pleasure and without the guilt.
This year my fulfilment is more in the remembering—recalling the special memories of my childhood and the joys of family unity and time spent together.
Most of all, this year, I am remembering the holdiays celebrated in my mother's kitchen. My mother catered wedding, so along with being an excellent cook, her recipe box was filled with sweet southern goodies, perfect for celebrating these special occassions. She especially enjoyed baking up lots of special goodies during the holidays. The smells of cakes and candies filled our home and among them were some of my favorites: Date Roll Ups, Applesauce Cupcakes with Coconut and Lemon Glaze, Orange Slice Cake with real jellied orange slices, Roasted Pecans, Fried Peanuts, Cheese Straws, Chocolate Fudge, creamy white Divinity Fudge, Old-fashioned sticky Popcorn Balls, sweet and tangy Pull Candy and her irrisistible Citrus Wedding Punch.
Growing up there were always plenty of these edible goodies at our extended family gathering as well. I remember my Grandmother's sister, Aunt Frances and her visits with us. When the weather was right, we might get the pleasure of watching her create her fabulous Peanut or Pecan Brittle which was most certaintly worth the wait. In the mix, there were also my grandmother's light and airy shortbread, Lady Fingers.
I remember my Aunt Marie's incredibly delicious Caramel Cake. Living on a dairly farm, it was always made with fresh milk and cream, straight from the barn. I remember her letting us help churn the butter and mold it. Then there was her unforgettable homemade Ambrosia, made with fresh shredded coconut, citrus, and sweet cherries. I remember vividly when I "came of age" being allowed to taste my Uncle William homemade sweet Scuppernong wine and the sting of his homemade Eggnog, the real stuff.
Although, I don't have plans to make all these sweet Christmas memories of my childhood, I rejoice in passing along of these treasured memories, as well as the recipes, to the next generation.
Yes, even after weight loss surgery, we can celebrate and enjoy, within the bounds of control and moderation, without guilt, these special times, foods, smells and even the taste of the Christmas kitchen.
Posted
on Friday, December 12, 2014 at 07:00AM
by
Julia Holloman
in After Surgery Transitions, Holiday Meals, Long-term Maintenance , Merry Christmas, Mindset Changes, Reflections, Sharing My Story, The Bariatric Kitchen , Tips for Life
| Comments Off
Special Christmas discount
thru December.
Don't forget to gift yourself with encouragement and motivation with my new book,
Out of Obesity and into the Promised Land.
Get your christmas order in here —
with just a click.
Posted
on Monday, December 8, 2014 at 07:00AM
by
Julia Holloman
| Comments Off
Come on...you remember the hokey pokey!
I am blessed with four grandchildren, and we have another one on the way. I keep two of them several days a week—two toddlers. I may be babysitting, but that doesn't mean I "sit". Just the opposite. I hardly ever sit. My step meter is off the charts! Sometimes we can be found running around the park, playing in the sand, sliding down a side or swinging on the swings.
But our very favorite thing to do is listen to music. Even though music is sometimes relaxing and settling—listening to music isn't just a passive activity.
This "meme" does the hokey pokey. I don't have much time during the last few months to get in the gym, but I try to make good use of what I do have time for—and that's my grandkids. I believe wholeheartedly in having bucket loads of childlike fun. So, here's your opportunity to get a little crazy with me. Put on some lively music, put your right foot in and let's get dance'in.
You don't just have to do the hokey pokey—(although you don't know what fun you're missing) you can dance to grown-up music too. The important thing is to get moving and to have fun. Not only does it get your blood moving it also lifts your spirit. For similar movements such as Line dancing, you can burn 100 to 150 calories in about 10 to 15 minutes.
Having weight loss surgery has given me the new-found ability to be more active. So to take advantage of my new agility, flexibility and energy I remind myself that I wasn't able to do that before surgery. I am thankful that I have the option to chase them around the house or run in the park. Not only am I building relationships with my grandkids, I'm getting some exercise at the same time. So go ahead, "put your whole self in" and do the hokey-pokey, why don't ya!
Posted
on Monday, December 1, 2014 at 07:00AM
by
Julia Holloman
in Back To Basics, Exercise, Greater Impact
|
Post a Comment
This year I'm thankful for being reminded of this recipe I made a few years ago. This bariatric friendly dessert will be gracing our thanksgiving table this year, for sure.
24 Wonton wrappers
1 Tablespoons butter melted
1 Tablespoons granulated sugar
1 small container Greek Vanilla Yogurt
1 1/2 cups frozen whipped topping divided in half / thawed
1 1/2 cup mixed berries (raspberries, blackberries, strawberries, or blueberries)
2 teaspoons powdered sugar for sifting
Preheat oven to 350. Brush one side of the wontons with melted butter and sprinkle with granulated sugar. Place the wontons, sugar side up, in a mini-muffin pan. (This works best when pressed down inside the muffin tin with the pampered chef wooden press tool.)
Bake wontons for 6 to 8 minutes until slightly brown. Remove from the tin and let cool.
Mix yogurt and one half whipped cream together and when wontons are cool, scoop a small amount inside each wonton. Place a few berries on top, spoon (or pipe) on a small amount of whip topping and sprinkle with powdered sugar.
Oh, yes we can...we have many more miles to go! Have a wonderful Thanksgiving!
Posted
on Tuesday, November 25, 2014 at 07:00AM
by
Julia Holloman
in Holiday Helps, Holiday Meals, Successful Eating, Thanksgiving, The Bariatric Kitchen
| Comments Off