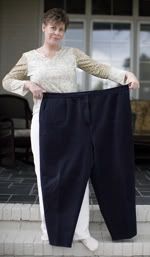 Physically, I'm half the woman I used to be, but as a result of my journey with gastric bypass surgery I've gained a lot. I'm Julia, and this blog is about the miles I've traveled in transforming my body, soul, and spirit while shedding more than 160 of the 300-plus pounds I carried before surgery.

I'll share my personal experiences of restoring my health and changing my lifestyle, and I'll offer spiritual encouragement, social and emotional tools, nutritious recipes, health information, and more. I've had a few challenges along the way, but through all the struggles I've grown stronger and regained my health and my life. I had my surgery on Easter Monday, 2006, which I call my personal resurrection day. Because of my transformation, I now look forward to many more "miles to go", and I invite you to travel with me on the road to a happier, healthier lifestyle...yes you can...I just did!

Recently, I was browsing through some of my old cookbooks and cooking magazines when I came upon a 2003 issue of Cook's Illustrated. On the front cover I noticed an article entitled Mayonnaise Taste Test. Now, I'm all about doing taste tests—so I turned to discover who made it to the top.
Seven nationally available brands, including Miracle Whip, were selected. Results concluded that Hellmann's (full-fat) Mayonnaise was the best—taking first place. My sentiments exactly—Hellmann's is the best.
Five brands were also put to the test to find the best low-fat mayo. Included in the running was also the full-fat winner, Hellman's full fat mayonnaise—just to further test the tasters! Once again, Hellmann's Light Mayo came in first, earning the caption, "It's almost as good as it's full-fat cousin."
I haven't done a one-on-one taste test on low-fat mayonnaise on my own, but I may just have to give it a try. Most of the time I'd rather use less of the "real stuff" than to get more of the low-fat item.
Why not do your own "taste test" comparisons. But remember, no matter which brand you choose, or whether you prefer to use full-fat mayo or it's low fat cousin, with the proper bariatric portion*, the only things you're giving up are calories and fat grams. Just because you've had weight loss surgery doesn't mean you have to give up taste!
Yes, we can, we have many more miles to go!
*keeping fat grams to around 5 grams per meal is suggested to prevent dumping, encourage weight loss or maintain weight.
Posted
on Monday, July 25, 2016 at 08:00AM
by
Julia Holloman
in After Surgery Transitions, Food Facts , Food Forks, Food for Thought, Health & Wellness, Making Choices, Successful Eating, The Bariatric Kitchen
| Comments Off
One of the pros of weight loss surgery is that for a few months after surgery it takes very little food to fill you up and keep you satisfied. But you should be aware of two important facts:
1. As time goes on, it will take more food to make you feel full. (Which is a normal part of the process.)
2. Just because you are eating, doesn't mean you're eating healthy.
During the first two years after surgery, the capacity for the amount of food you can eat will go up from a few teaspoons to 1 cup to 1 1/2 cups of food. But, whether you eat a little or a lot, eating healthy is the most important element.
Everyday Health reports, "If you're trying to lose weight or maintain a healthy weight, finding the right kind of foods—healthy foods that will fill you up for the longest amount of time — is essential.
"Clients who are trying to lose weight tell me they get hungry every three to four hours," says nutritionist Beth Kitchin, RD, an assistant professor at the University of Alabama in Birmingham. "You're supposed to feel hungry that often, so eating low-energy density foods, meaning those high in nutrients, can really help." High-protein foods, high-fiber foods, and healthy fats are all on the top 10 list of most filling foods."
Especially after weight loss surgery, I have found that eating every 3 to 4 hours is necessary to keep blood sugars levels balanced. Eating healthy foods high in fiber such as fruit, veggies, beans, and nuts, are the key to feeling fuller longer and being satisfied with what we eat.
Foods such as prunes are sweet, satisfying, high in fiber and antioxidants. Fruits is a handy snack, high in fiber. Grapes, berries and apples are not only sweet but also have a high water content. Fruits pair well with a small handful of nuts: pistachios, almonds, pecans, nuts, and seeds—all offer healthy fats as well as protein.
Vegetables are filling. They are not only low-calorie, but also high in fiber. Foods such as carrots and hummus, (made from chick peas) boast fiber, flavor and fat to keep you feeling full longer. They also help us absorb nutrients like beta-carotene. And don't forget that potatoes are healthy vegetables, too. With healthy toppings, a baked potato, eaten with the skin, is a great source of potassium and fiber.
For a boost of energy, try high fiber oatmeal or a small serving of black beans.
Proteins can be a healthy snack choice as well as a meal option. Foods high in protein, such as lean chicken, ham or turkey will help satisfy hunger.
One of my favorite mid-afternoon snacks is a 1/4 of an avocado. Avocado is a healthy fat. It's also high in fiber, which is a combination that makes it filling and satisfying without making you feel too full. I eat avocado with 1 ounce of Lundberg Wheat-free, Gluten-free Organic Brown Rice Chips.
Eating healthy, feeling pleasantly full and being satified is a essential in element in being healthy, losing or maintaining weight and establishing healthy eating habits.
Yes, we can. We have many more miles to go!
Posted
on Monday, July 18, 2016 at 08:00AM
by
Julia Holloman
in After Surgery Transitions, Back To Basics, Health & Wellness, Healthy Fats, Nutrition, Satiety, Snack Attacks , Successful Eating, The Bariatric Kitchen
| Comments Off
Most likely, sometime during the year, our calendars will include a reunion or two. Family reunions. Class reunions. Reunions with close friends and family.
When we undergo weight loss surgery, it gives us a brand-new start in life. A change to lose weight, change our way of eating and live a healthier lifestyle, so we can face those reunions with excitement and confidence. Even so, there are times when we may not be as ready for these "close encounters" as we might think.
Often when we receive our invitation, we are not where we want to be in order to look our best. It presents an immediate challenge and very little time to change.
Recently, I had one of these challenges myself. Last fall, I found that my high school graduating class was having a 40th reunion. I found out about it at the last minute and it caught me wearing a few pounds more than I wanted. Over the years it's easy to let things slip—here a little, there a little, and before we know it, we've gained weight along with a lot of old eating habits. I had to face the facts—over the last few years, I had strayed from my routine.
I needed to get back on track. But not just for those occasional reunions—but permanently. I made up my mind to have another kind of reunion—to reunite with my goals.
The first key to getting back on track was to find my motivation and determination. But all the motivation and determination in the world is at risk without the third essential ingredient—a plan.
We can't expect to make better choices in the "heat of the moment". Standing in front of buffet of our favorite foods. Good decisions go right our the window along with our best judgment and our good intentions. Like any other temptation, having a plan before the "point of no return" moments present themselves is the key to success.
Just because I've had weight loss surgery, doesn't mean I'm done with the weight battle. It's a ongoing battle. It means I have to be vigilent—making a conscience effort everyday to keep focused on my ultimate goal—making healthier choices and living a healthy lifestyle. It means planning and tracking my day from start to finish. From the first bites of food in the morning until I go to bed at night. Keeping a food journal and being active and mindful. That may sound like a lot of work and it does take work. But the "work" has to be a lifestyle, until it's second nature. It doesnt' allow for long-term derailment. The effort I put in everyday, saves me from guessing if my day will be a success or a huge regret at the end of the day, the week, the month or the end of the year. A reunion with success means going back to the basics—creating a plan and sticking to it—no matter what the circumstances.
A few weeks ago, I attended another reunion, our family's 61'st family reunion. This time, I was 20 pounds lighter. I had to prepare myself both emotionally and physically with a plan. I knew I would have to face the fried chicken, chicken pastry, homemade biscuits, and as you would expect—a huge display of time-honored family desserts. I went armed with foods I could eat and prepared to put my focus on fellowship and family connection.
I made sure I had choices. My offering to the buffet table was a tossed salad with lots of vegetables, low calorie dressing, a healthy protein and a bowl of fruit. And yes, I did taste of few of my favorite things—a tablespoon of squash casserole and a spoon-full of butterbeans. And yes, even a few bites of dessert—one bite each of my top three favorites. But at the end of the day I was pleased with my choices and the following morning's number on the scale. I enjoyed the fellowship of family without focusing on the food. I planned ahead for my success and I was rewarded. I began with a plan and ended with success.
There will always be temptations and struggles, and there will always be few occasional splurges. But long-term success is based on the choices we make day-in and day-out—all year long, not for just for a day. I encourage you to examine your everyday choices and get back to the life you want to live. So whether your future includes a family reunion, a class reunion, or just a casual lunch with a friend, each day can begin and end with a plan, and a reunion with success.
Yes, we can. We have many more miles to go!
Posted
on Wednesday, July 6, 2016 at 10:00AM
by
Julia Holloman
in After Surgery Transitions, Back To Basics, Back on Track, Inspiration, Lifestyle Changes, Making Choices, Success Stories
| Comments Off
Posted
on Monday, June 20, 2016 at 07:00AM
by
Julia Holloman
in After Surgery Transitions, Basic Information, Health & Wellness, Hope and Help, Know Your Protein, Lactose, Nutrition, Protein , Protein Shakes , Successful Eating, The Bariatric Kitchen , Tips for Life
| Comments Off
There are a lot of misconceptions about bariatric surgery and what happens after surgery. Let's take a look at the truth.
This article was printed from the American Society of Metobolics and Bariatric Surgery Website (ASMBS)
Misconception:
The chance of dying from metabolic and bariatric surgery is more than the chance of dying from obesity.
Truth: "

The benefits of bariatric surgery, with regard to mortality, far outweigh the risks

—

the chance of dying from the operation is exceptionally low."
"As your body size increases, longevity decreases. Individuals with severe obesity have a number of life-threatening conditions that greatly increase their risk of dying, such as type 2 diabetes, hypertension and more. Data involving nearly 60,000 bariatric patients from ASMBS Bariatric Centers of Excellence database show that the risk of death within the 30 days following bariatric surgery averages 0.13 percent, or approximately one out of 1,000 patients. This rate is considerably less than most other operations, including gallbladder and hip replacement surgery. Therefore, in spite of the poor health status of bariatric patients prior to surgery, the chance of dying from the operation is exceptionally low.
Large studies find that the risk of death from any cause is considerably less for bariatric patients throughout time than for individuals affected by severe obesity who have never had the surgery. In fact, the data show up to an 89 percent reduction in mortality, as well as highly significant decreases in mortality rates due to specific diseases. Cancer mortality, for instance, is reduced by 60 percent for bariatric patients. Death in association with diabetes is reduced by more than 90 percent and that from heart disease by more than 50 percent. Also, there are numerous studies that have found improvement or resolution of life-threatening obesity-related diseases following bariatric surgery.
The benefits of bariatric surgery, with regard to mortality, far outweigh the risks. It is important to note that as with any serious surgical operation, the decision to have bariatric surgery should be discussed with your surgeon, family members and loved ones."
Posted
on Wednesday, June 8, 2016 at 08:00AM
by
Julia Holloman
in Bariatric Basics, Bariatric Surgery, Basic Information, Health & Wellness, Information on Bariatric Surgery , Insider Information , Making Decisions About Surgery, Preparing for surgery
| Comments Off