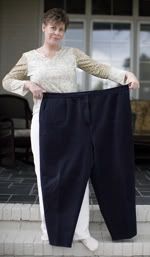 Physically, I'm half the woman I used to be, but as a result of my journey with gastric bypass surgery I've gained a lot. I'm Julia, and this blog is about the miles I've traveled in transforming my body, soul, and spirit while shedding more than 160 of the 300-plus pounds I carried before surgery.

I'll share my personal experiences of restoring my health and changing my lifestyle, and I'll offer spiritual encouragement, social and emotional tools, nutritious recipes, health information, and more. I've had a few challenges along the way, but through all the struggles I've grown stronger and regained my health and my life. I had my surgery on Easter Monday, 2006, which I call my personal resurrection day. Because of my transformation, I now look forward to many more "miles to go", and I invite you to travel with me on the road to a happier, healthier lifestyle...yes you can...I just did!

Spiced Coffee Protein Drink
½

cup skim milk, or 2 %, soy milk or water

1 to 2 scoops vanilla or mocha protein powder
Add amount as desired
Sugar substitute
coffee
cinnamon
nutmeg
whip topping or a little cream if desired
Serve warm (not hot) or iced
Care must be taken when adding protein to hot water (not too hot! Add protein powder to warm or room temperature water, then add hot water a little at a time, or heat slightly and slowly after protein is added, not before) If protein resembles ground-up cardboard, it's overheated!
Posted
on Monday, February 1, 2016 at 07:00AM
by
Julia Holloman
in Protein , Protein Shakes , The Bariatric Kitchen
| Comments Off
Did you know:
Goats milk
is a good source of protein
is closest to human milk
contains less sugar (lactose)
rarely causes lactose intolerance
is a good alternative for those who have dairy sensitivities
has less fat
contains 13% more calcium
25% more vitamin B6
47% more vitamin A
134% more potassium

ten times as much folic acid

is naturally homogenized
is easier to digest
is less likely to contain growth hormones
accounts for 65% of milk consumption worldwide
and is less allergenic
than regular cow's milk.
Drink up .... Yes, you can! We have many more miles to go!
Posted
on Monday, January 25, 2016 at 07:00AM
by
Julia Holloman
in Calcium, Food Facts , Health & Wellness, Lactose, Nutrition, Protein , Successful Eating
| Comments Off
Suppose you went to the grocery store and asked for ground beef. The butcher gives you a package and says it's a great buy at their new special pricing. Great deal right?
Only when you get home you find that the ground beef is only 25% meat and the rest is fat. Not much of bargain, right?
So how do you know when you purchase protein powder what you're getting?
Let's take a look at Whey Protein.
Not all Whey Protein is created equal. When you purchase whey protein you are either getting one of three forms. Whey is broken down into three main catagoies—whey protein concentrate (WPC), whey protein isolate (WPI), or whey protein hydrolysate (WPH).
Whey Protein Isolate contains almost all protein – usually at least 90% protein. Containing the highest percentage of pure protein it is pure enough to be virtually lactose free, carbohydrate free, fat free, and cholesterol free.
Whey Protein Concentrate is protein, lactose, and minerals. These ingredients can vary from 25% to 90%. The FDA only requires that Whey Protein Concentrate be a minimum of 25% protein. So, when it's 25% protein, what's the rest? It could be 60% lactose. When you get less protein, you get more lactose. So, what is lactose? We'll talk about that in a moment.
Whey protein hydrolysate is the "predigested" form of whey protein—which has already undergone partial hydrolysis - a process necessary for the body to absorb protein. This form doesn't require as much digestion as the other two forms of whey protein. In addition, it is commonly used in medical protein supplements and infant formulas because of it's improved digestibility and reduced allergen potential.
So what is lactose? Lactose is milk sugar. Lactose sugars can cause problems for weight loss surgery patients. Lactose sugars can cause "dumping" and rob you of much needed protein we need for healing, overall health, weight loss and satiety. Not getting enough protein robs us of our health and undermines our hard-earned weight loss efforts.
Even though concentrate may be less money, they may not be our best option in the long run! You're in charge of your health—which is the best option for you? Choose wisely. You have many more miles to go!
Posted
on Monday, January 18, 2016 at 07:00AM
by
Julia Holloman
in Back To Basics, Bariatric Basics, Basic Information, Food Facts , Insider Information , Know Your Protein, Lactose, Making Choices, Nutrition, Protein , Successful Eating
| Comments Off
Are you finding that some of those old eating habits crept back in during the holidays? I have!
No worries. It's a new year—each new day offers a new opportunity to get back to the basics.
It's time to take inventory of some simple but important basic guidelines that work well for getting us back on track.
1. Limit foods that are high in fat, sugar and carbs. Limit means that you don't have to eliminate entire food groups, which leads to feeling of deprivation. Just limit these foods just smaller portions. Fill up on healthier foods such as lean protein and vegetables. Remember to eat protein first.
2. Review your initial food guidelines and portion sizes and measure your food portions. A food scale, measuring cups and measuring spoons are our best friends for weight loss and maintenance. Measuring will ensure you don't overeat and helps you establish a good sense of when your satisfied. When measuring and eating sensibly you don't have to worry so much about overeating or dumping.
3. Food journaling is an important element in keeping a count of the foods that you eat. Those little nibbles and extra bites can add up by the end of the day or week. I have found that when I do a food journal, I tend to stay within the boundaries.
4. Remember to slow down at mealtime, stay mindful and chew well.
5. No drinking before, during or after meals for at least 30 minutes, (90 is best). The further out from surgery you are, the longer you can wait to add fluids. Remember to get in at least 64 ounces a day.
6. Get moving. Although making healthier eating choices is an important first step, activity follows close behind. Dont' be overwhelmed by time. Just focus on being more active or adding a few more steps to your day. Whether you have 15 minutes or 30, the important thing is to just get moving.
7. Be aware of negative thought patterns that might try to pull you back into emotional eating. It's important to spend some time pursuing some of the root causes of the emotions that send you to the fridge or pantry and focus on uprooting them.
Whether you are a gastric bypass, lap-band, or sleeve patient—weight loss surgeries are not about deprivation, bur rather about making strategic lifestyle changes—intentionally focusing on healthier choices.
Let's get back to basics, little by little until we have reached and maintained our goal.
Yes, we can, we have many more miles to go!
Posted
on Monday, January 11, 2016 at 07:00AM
by
Julia Holloman
in After Surgery Transitions, Back To Basics, Back on Track, Bariatric Basics, Basic Information, Hope and Help, Long-term Maintenance , Making Choices, Successful Eating, Tips for Life
| Comments Off
Welcome to 2016. If you attended a New Year's party, you most likely heard the song, Auld Lang Syne. Auld Land Syne is a term that invites us to bid farewell to the past.
In our attempt to start fresh, we then approach the new year with a long list of New Year's resolutions. But the problem with these two ideas is that not only do we neglect to let go of the old, we just keep adding new obligations to our already overwhelming list of things that we never seem to conquer.
Some years ago, I made a change. Instead of a long list of resolutions, which too soon, became burdensome, overwhelming and forgotten, I prayerfully consider "one" word to focus on for the year. For example, in the beginning of 2015, I chose the word—release. My one word was inspired by verses in Psalm 103:2-5.
Praise the Lord, my soul,
and forget not all his benefits—
who forgives all your sins
and heals all your diseases,
who redeems your life from the pit
and crowns you with love and compassion,
who satisfies your desires with good things
so that your youth is renewed like the eagle's.
This verse spoke to me of an important reality—if God has forgiven me of my past, why do I keep trying to lug it around. Why do I spend so much energy rehashing old offences? Holding on to heavy emotional weight holds us back and pulls us down. It is not only tiring but non-productive.
So maybe, like me, you strayed a little off track during the last few weeks or months. Maybe we missed the mark over the holidays, abandoned our food plans and took on loads of regret later when stepping on the bathroom scale. In an attemp to change, we stare hopelessly into a list of New Year's resolutions that are just a meaningless carbon copy of the past.
But, if God so graciously forgives all our sins when we ask, then why should we spend so much energy holding on to them? With God's help we can turn things around, redeem the past and renew our lives.
When we release the old—it allows us to receive forgiveness, heal past failures and receive new life. Each year, each day, each moment—offers us a new opportunity to let go of the past and embrace the new. We can renew our strength—an energy that can propel us forward into a productive and satisfying future.
So, we made a few mistakes. But in the end, you, like I, can choose to end the year free from failures and regrets. Join me in releasing the old and fully embracing God's goodness and benefits. Unburdened, we are free to leave the past behind and welcome in the new year with open arms. By God's grace we can transform our failures into victories—one at a time.
Auld land syne—leaving the old behind and welcoming in the new—redeemed!
Yes, we can. We have many more miles to go!
Posted
on Monday, January 4, 2016 at 11:22AM
by
Julia Holloman
in Back To Basics, Dealing with emotions , Emotional Health, Emotional support, Food for Thought, Hope and Help, Inspiration, Letting Go of the Past, Making Choices, Mindset Changes, Overcoming Difficult Challenges, Spiritual Encouragement, Tips for Life , Try Something New, Words and Wisdom
| Comments Off