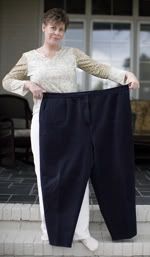 Physically, I'm half the woman I used to be, but as a result of my journey with gastric bypass surgery I've gained a lot. I'm Julia, and this blog is about the miles I've traveled in transforming my body, soul, and spirit while shedding more than 160 of the 300-plus pounds I carried before surgery.

I'll share my personal experiences of restoring my health and changing my lifestyle, and I'll offer spiritual encouragement, social and emotional tools, nutritious recipes, health information, and more. I've had a few challenges along the way, but through all the struggles I've grown stronger and regained my health and my life. I had my surgery on Easter Monday, 2006, which I call my personal resurrection day. Because of my transformation, I now look forward to many more "miles to go", and I invite you to travel with me on the road to a happier, healthier lifestyle...yes you can...I just did!

Thoughts are like seeds, which grow until they bear fruit and reap a harvest.
What seeds are you planting? Are they seeds of failure or seeds of success?
What we think, can change our lives. Our thoughts influence how we act and determine our outcome.
What are we thinking? What things are we believing about ourselves and our ability to succeed?
We need to break free from our old thought patterns, habits, and actions.
When we change what we think, we change our destiny. We can begin to re-seed our lives with positive thoughts and positive actions—helping us reach long-term weight loss success?
Find out how in my book, "Out of Obesity and into the Promised Land". Click here to order.
Yes you can. You have many more miles to go!
Posted
on Monday, June 29, 2015 at 08:00AM
by
Julia Holloman
| Comments Off
"Because there's nothing
more beautiful
than the way the ocean refuses to stop kissing the shoreline,
no matter how many times
it's sent away."
Sarah Kay
Posted
on Monday, June 22, 2015 at 07:00AM
by
Julia Holloman
| Comments Off
It's time we know 'd truth. 'D truth.......that is, we need to understand the truth—about Vitamin D.
A few months ago, I began experiencing a recurrence of migraine headaches. These headaches came on without any apparent reason, they reoccured for days and went on for weeks. I have had migraines since I was 12, but in recent years, I've on experienced a few a year or so. So this recent occurance of 12 in a month, was not only painful and debilitating, but confounding!
In the process of trying to understand why I was having so many migraines, I realized that I had decreaded my dosage of vitamin D during the few months prior. Upon further study, I discovered a there was a definant connection between Vitamin D and migraine headaches. I also learned that Vitamin D effects more than just headaches, if effects our entire life.
It's important to understand the importance of Vitamin D and to know how it effects our overall health—especially if you are a weight loss surgery patient. It has been discovered that most people are deficient in Vitamin D. As weight loss surgery patients, it is critically important for us to have our Vitamin D levels checked on a yearly basic.
But whether you are a weight loss surgery patient, a migraine sufferer, or battling health issues, you really need to know about Vitamin D.
Most of us know that our body makes Vitamin D from the sun, but did you know that Vitamin D isn't acutally a vitamin at all? It's a hormone.
Neurologiest, Dr. Stasha Gominak says: "We've been taught that Vit­a­min D is the "bone vit­a­min", but it is really more of a sun hor­mone. The word "vit­a­min" means "some­thing my body needs that I can't make, so I must get it from the food". D hor­mone is instead, a chem­i­cal that we make on our skin from sun expo­sure. It is a hor­mone like thy­roid, estro­gen or testos­terone. Using the proper word "hor­mone" reminds us that it affects mul­ti­ple parts of the body and that it is not "extra". It is essen­tial to every cell in the body and it is not in the food. It is sup­ple­mented in milk but as a cup of milk has only 100 IU of vit­a­min D you would have to drink 100 cups of milk a day to keep from being D deficient."
Sunlight helps our body make vitamin D. But the problem is most, of us don't get enough. For most of us our daily routine doesn't take us outside in the sun for a significant time length or often enough. And if you take cholesterol medication, it hinders your body from making vitamin D. If you use sunscreens, it also keeps your body from producing vitamin D.
Being that most of us are deficient in D, we need to take a supplement. But how much do we need?
That question can be answered by getting your blood work done and knowing your Vitamin D blood counts.
Dr. Gominak says that our Vitamin D should be somewhere between 60-80. Remember, during the winter months our vitamin D numbers drop. So it's important to know where you stand and to consistenly take your supplements.
Vitamin D is tremendously important for many health reasons, but it dramaticly effects our sleep. Even though we may be sleeping, if our Vitamin D levels aren't high enough we may not being getting sufficient REM sleep—which allows our body to heal.
Posted
on Monday, June 15, 2015 at 07:00AM
by
Julia Holloman
| Comments Off
Posted
on Monday, June 8, 2015 at 07:00AM
by
Julia Holloman
| Comments Off
Every time I close the door on reality it comes in through the windows. Jennifer Yane
Believe it or not, after weight loss surgery, we suffer from more than just loss of weight, we also face feelings of loss over food, security, and the familiar. There are five stages of loss—
denial,
anger,
bargaining,
depression,
and acceptance.
The first four follow no prescribed order or length of duration and can be experienced over and over again as we adjust to our new reality.
Then there is the fifth. Acceptance. Reality may not always be easy to accept but it is the only key that unlocks the cycle —accepting what is true, present, and real.
Don't be afraid to grieve. Allow yourself time to move through these stages of loss. It is important to take time to grieve, to feel. to experience, to process. But it's also just as important to move forward. Accepting reality. Putting the past behind and embrace the new.
Yes, you can. You have many more miles to go!
Posted
on Monday, June 1, 2015 at 07:00AM
by
Julia Holloman
| Comments Off