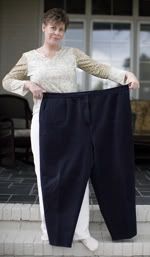 Physically, I'm half the woman I used to be, but as a result of my journey with gastric bypass surgery I've gained a lot. I'm Julia, and this blog is about the miles I've traveled in transforming my body, soul, and spirit while shedding more than 160 of the 300-plus pounds I carried before surgery.

I'll share my personal experiences of restoring my health and changing my lifestyle, and I'll offer spiritual encouragement, social and emotional tools, nutritious recipes, health information, and more. I've had a few challenges along the way, but through all the struggles I've grown stronger and regained my health and my life. I had my surgery on Easter Monday, 2006, which I call my personal resurrection day. Because of my transformation, I now look forward to many more "miles to go", and I invite you to travel with me on the road to a happier, healthier lifestyle...yes you can...I just did!

Coffee Frappuccino Protein Shake
1 packet of Starbucks Via instant coffee
1 scoop of vanilla or chocolate protein powder
8oz vanilla almond milk
8-9 ice cubes
Blend
Posted
on Monday, January 26, 2015 at 07:00AM
by
Julia Holloman
| Comments Off
Keeping our hands busy and our mind off of eating is necessary and important. It's hard to eat when you are engaged in a project that requires your full attention and keeps your hands busy.
A few years ago I began a section on Miles to Go that featured my reading stack. Even though I'm getting ready to start a new bible study book, sometimes the reading stack has a companion—a "project stack", and similar to my reading stack, I usually have several ongoing projects.
Just after Christmas, I made seven stockings which I didn't have time to make before Christmas. I think of it as getting a head start on next year's holiday.
After moving several times last year, I recovered our Christmas stocking that had gone missing. The stocking were made from old quilts, but I only had 5 of them—our family has grown over the years. I had an old family quilt that was falling apart, so I decided to complete the my set by making each member of our family a stocking from our old family heirloom.
The Christmas stocking project inspired me to sign up for a quilting class which begins next month.
Now that the stocking project is finished, I am finishing a crochet project that has been in my "unfinished pile" for years now—and I'm making good progress and my goal is to complete it before mid-February. I 'm also teaching a few of my friends how to begin a crochet project of their own and from there I hope to meet together with them every week so that we may inspire each other with projects as well as grow our friendships.
In our neighborhood there are several groups that get together for handwork projects such as quilting, crocheting, knitting and other pastimes such as: cards, gardening, reading, pickleball, tennis, golf, and countless other activities. Working on projects together can be inspiring as well as offer opportunities to meet new people and make new friends.
Some of my other hobbies include growing African Violets. Violets take a little more attention that most other house plants. I have always loved violets. I received several violets the year we got married and they did well when I had plenty of floor to ceiling windows, but after several moves, I never seemed to supply enough light to make them grow or bloom. So one day I just decided that if other people could grow them, I could too. So I did my homework and taught myself how to grow the most beautiful violets. Now I have a house full of violets, all of which bloom profusely right on schedule. I have even shared my experience and love for violets by speaking at several Garden Clubs around the area.
I encourage you to find a hobby that you enjoy. Maybe it's something you have always wanted to do, but haven't made it a priority. You can start with one and when you conquer that one—you can add a new one. Hobbies and projects are not only fun, along with keeping our hands busy and out of the pantry, it's a good way to make friends and grow relationships.
Posted
on Monday, January 19, 2015 at 07:00AM
by
Julia Holloman
| Comments Off
When it comes to dinner, not only do I strive to cook "bariatric" friendly, I have to cook "husband" friendly—he's a picky eater. With all our stipulations it's hard to find something that satisfies everyone's tastes as well as fills our eating criteria. But recently I have found a winner. I tweaked the recipe a little and voila—Sausage and Bean Soup...on yum!
The original recipe calls for chicken sausage, but I used Italian Sweet sausage. I also substituted the Northern beans for field peas (only because I had some in the freezer).
The soup was a big hit, perfect for these cold winter days.
Julia's Sausage and Bean Soup
1 package Italian sweet or chicken sausage, sliced and drained
3 - 4 carrots, chopped
1 medium onion
1/2 tsp salt
1/4 black pepper
2 (14 1/2 oz) cans fire-roasted diced tomatoes
2 cans field peas or white beans, drained
2 cups kale
4 bacon slices, diced, cooked, drained and (optional)
Cook sausage in skillet about 4 minutes until browned.
Place carrots and onions in a 4-5 Qt slow cooker, sprinkle with salt and pepper. Layer tomatoes and beans over carrot mixture. Top with sausage. Cover and cook on low for 8 hours or until vegetable are tender. Just before serving I placed a layer of kale on top until it wilted. Serve with a few crumbles of crispy bacon.
Posted
on Monday, January 12, 2015 at 07:01AM
by
Julia Holloman
in Maintenance Phase Foods, Recipes, The Bariatric Kitchen
| Comments Off
When you look in the mirror, what image do you see?
Is the image you see reflecting the new you, or the old one? I know exactly what that feels like.
Several years after loosing 164 pounds, my mind and my body were still not on the same page. The mirror told me I was thin, but I didn't "feel" that way. Even after plastic surgery, I still felt fat. I knew I had to lose the fat feeling or I would end up in the same place my mind told me I was. I had to find a way to change my old image. I had to learn how to see the thinner me—not the 300 pound person I was before.
My transformation took more than just looking in the mirror or trying to convince myself I was thinner. It took more than repeatedly trying on clothes every time I took them out of the dryer. It took more than plastic surgery. I needed answers to why my mind still continued to live in the past.
I had to find out why my mind wanted to believe I was still overweight and start believing that the image I saw in the mirror was the real and present me.
I did some research and discovered that we can change the way we feel and the way we see ourselves by changing our mind. The way we "feel" is rooted in the way we "think" or what we "believe". It results in the way we see ourselves. I felt "fat" because I believed I would always be that way and that my circumstances would never change. I was fat because that's the way I thought about myself so that is the way I saw myself. I needed more than stomach surgery, I needed "brain surgery"!
It's as simple as changing your mind—it involves a change in thinking. I discovered that it is possible to hold two conflicting beliefs at the time. My mind had a conflicting report about the new me. I believed that I had lost weight but I also held to a belief that I would never change and that I was always going to be overweight and unhealthy. One of those beliefs was not true—I was believing a lie. The fact that I was once obese was true, but it wasn't the new and present truth. The old belief was ruling my thoughts, clouding my thinking, and choking out the new truth. My two beliefs had to come into agreement.
Once I identified the conflicting belief, I had to uproot it. I had to renounce the old by telling myself I was believing a lie. I had to begin to agree fully with my present truth. Immediately I was free. Free to see the new me. Free of the "fat" feeling.
As you start a new year, I encourage you to find the new you. But you won't find it in the mirror or in a clothing store. You must first find the new you inside your mind. In order to take the next step in your recovery from the old you to the new you, you must first take a good look at how you see yourself. Do you see yourself as you really are? If not, you may be believing two opposing thoughts. Your real image of yourself is a lot different than what you are believing about yourself. I encourage you to seek the truth about what you believe—identify the lie you are believing—dispel the lie and begin to agree with your present truth.
2015 promises to be a new beginning and Miles to Go will be here to walk you through the journey of a lifetime—helping you discover your new truth—and the new you, as you walk out of the old and into the new!
If you would like to read the whole story of how I changed my life as well as other life-changing thinking patterns that helped me walk out of obesity into a new place, read my book Out of Obesity and into the Promised Land (order here).
Here's to a Happy New Year and a Healthier and Happier New You!
Posted
on Wednesday, January 7, 2015 at 03:03PM
by
Julia Holloman
in Acceptance, After Surgery Transitions, Body Image, Dealing with emotions , Emotional Health, Emotional support, Hope and Help, Insider Information , Mind Body Connection, Mindset Changes, Our Mind and Body Image, Overcoming Difficult Challenges, Reflections, Stink'n Think'n
| Comments Off
January Support Group
Tuesday, January 6, 2014
6:30 p.m.
NHRMC Cape Fear Site
3rd Floor Education Room
Topic: Testimonies
Focused Goals for 2015: How and Why?
Facilitator: Kim Joyner, RN
Come join us and start the New Year with a greater FOCUS!
Posted
on Monday, January 5, 2015 at 08:00AM
by
Julia Holloman
| Comments Off