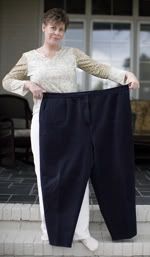 Physically, I'm half the woman I used to be, but as a result of my journey with gastric bypass surgery I've gained a lot. I'm Julia, and this blog is about the miles I've traveled in transforming my body, soul, and spirit while shedding more than 160 of the 300-plus pounds I carried before surgery.

I'll share my personal experiences of restoring my health and changing my lifestyle, and I'll offer spiritual encouragement, social and emotional tools, nutritious recipes, health information, and more. I've had a few challenges along the way, but through all the struggles I've grown stronger and regained my health and my life. I had my surgery on Easter Monday, 2006, which I call my personal resurrection day. Because of my transformation, I now look forward to many more "miles to go", and I invite you to travel with me on the road to a happier, healthier lifestyle...yes you can...I just did!

NHRMC SUPPORT GROUP MEETING
TUESDAY, MARCH 3, 2015 — 6:30 p.m.
CAPE FEAR CAMPUS — 3rd FLOOR CLASSROOM
GUEST SPEAKER: ADAM HALL, STRATIVA REPRESENTATIVE
TOPIC: VITAMIN/MINERAL THERAPY IN THE BARIATRIC PATIENT with special focus on nasal Vitamin B12
Strativa has an impressive product line that actually can be purchased via your health insurance with a small deductible each month! VERY EXCITING! You don't want to miss this opportunity!
Posted
on Monday, March 2, 2015 at 07:00AM
by
Julia Holloman
in Local Event, Local Support Group Information
| Comments Off
I am an apple connoisseur. I eat lots of apples—at least one, and sometimes two a day. I'm always looking to try a new variety.
I have found that not only do apples offer a healthy snack but offer a great balance—low in natural sugar and the right amount of fiber. This winning combination seems to stabilize my blood sugar very well.
Each year there seems to be a different variety that tempts me to stock my fridge with this rosy treat.
Last year, I traded my love for Honeycrisp for the new Sweetango variety. But this year, the Envy has captured my attention—I think it's my favorite, by far. It has just what I love in a apple—sweetness and crunch— so satisfying.
Apple Envy....oh yeah!
Posted
on Monday, February 23, 2015 at 07:00AM
by
Julia Holloman
in Crazy Cravings, Food Facts
| Comments Off
Recently, my husband and I enrolled in a local Thai Massage class for couples. Thai Massage is typically done with a licensed professional massage instructor (for deeper therapeutic benefits), but during our session the therapist guided my husband and myself through some simple relaxation techniques that we can do at home.
Thai massage is different from regular massage. Recipients wear loose, comfortable clothes and lie on a mat or firm mattress on the floor. It can be done solo or in a group in the same large room. The receiver may be positioned in a variety of yoga-like positions while the massage partner applies rhythmic pressure. This gentle compression helps to stretch and relax muscles and mobilize joints. Following therapy treatments, clients report improvements in flexibility and ease of movement.
During the session, we not only experienced relaxation, but it also helped sharpen our communication skills. I also recalled how touch and body massage helps me connect with my body size. Even after almost 9 years, "feeling" my body size helps reinforce the "mind-body" connection—something that is important after losing weight.
I remembered the first time I had a massage after losing weight, I was really surprised when I actually "felt" how small my body was as the therapists hands followed my back down my spine to my waist. What a WOW moment. Since then I often ask my husband to put his hands on the lower part of my back—against my skin. Needless to say, he doesn't require a lot of encouragement!
"Experiencing" this realization of how my new body "feels" helps build that muscle-memory and strenghten the mind/body connection of the reality of my weight loss. An important part of my recovery, it has been instrumental in helping me realize and accept my new body image.
Relaxation is an important part of a balanced lifesyle. So, go ahead, treat yourself to a therapeutic massage...relax and reconnect with your body, your partner, and the new thinner you! Yes you can...you have many more miles to go.
Local Wilmington, NC classes available through Jessica Cooper Therapeutic Services. We are very fortunate to have Jessica's expertise here in Wilmington. She holds a Bachelor's of Science degree in human development and family studies specializing in child and adolescent development and a Master's of Arts degree in clinical psychology specializing in prenatal psychology. Trained at Duke University, Jessica is also an integrative health coach. As a licensed massage and bodywork therapist with a certification in prenatal and infant massage, as well as a certified birth doula, Jessica enjoys working with individuals and couples—from pregnacy, birth, post-partum, and early childhood.
Posted
on Monday, February 16, 2015 at 07:00AM
by
Julia Holloman
in Acceptance, Balance, Body Image, Emotional Health, Health & Wellness, Mind Body Connection, Reflections
| Comments Off
No longer a guilty pleasure, chocolate has now been scientifically proven to offer health benefits.
But before you make a mad dash for chocolate, there are a few things you should know in order to make the right chocolate choice.
Most commercial chocolate, such as milk chocolate, has added fat, sugar and calories. Too much can contribute to weight gain, a risk factor for high blood pressure, heart disease and diabetes.
In order to reap all the healthy benefits of this sweet affair, you need to choose good quality, organic, dark chocolate with 70% or higher cocoa content. Cocoa is low in sugar and fat.
Dark chocolates often contains sugar, but the amounts are usually small. The darker the chocolate, the less sugar it will contain. Even so, even dark chocolate should be eaten in moderation.
Chocolate and it's main ingredient, cocoa, have been found to reduce risk factors for heart disease, reduce cell damage, help lower blood pressure, improve vascular function, reduce risks of stroke, heart attack, and diabetes. It helps restore flexibility to arteries while also preventing white blood cells from sticking to the walls of blood vessels.
Quality dark chocolate with a high cocoa content is actually quite nutritious. It contains soluble fiber and minerals. Loaded with organic compounds that are biologically active, as well as antioxidants, dark chocolate with 70-85% cocoa contains potassium, phosphorus, zinc and selenium.
So what does all this mean for us as weight loss surgery patients? It means low sugar 70-85% dark chocolate can be safely introduced into your eating plan. My caution is to make sure that you can eat chocolate and still be in control of your portions without having the chocolate rule you—I call this being emotionally ready. In other words, if you have had weight loss surgery, use caution when adding dark chocolate back into your diet. Choose your chocolate and your portions wisely. In addition, being careful to weigh your emotional readiness will ensure that you enjoy the quilt-free experience of eating smooth, rich, dark chocolate within moderation. I would also recommend that occasional desserts, such as dark chocolate, are more wisely added into your diet after you have lost all of your desired weight and have mastered the art of maintaining. Yes, you can! You have many more miles to go!
Posted
on Tuesday, February 10, 2015 at 07:00AM
by
Julia Holloman
| Comments Off
February Support Group
Monday, February 9, 2015
6:00 p.m.
Auditorium ( see below for directions)
Topic: What's On Your Mind?
Let's Have honest discussion and get all questions answered!
Facilitator: Kim Joyner, RN
Directions: Pull into the main driveway at NHRMC and turn left into the Betty Cameron Women's and Children's Hospital. Park in lot and enter via the main entrance. Take elevators (they are at the left) to the FIRST floor. Exit, walk through waiting area and take hallway until you reach the Auditorium, located on the left. If you go to the SEAHEC library, you have gone too far.
New meeting room. It is brand new and aesthetically pleasing. PLUS....no food smells!
Posted
on Sunday, February 8, 2015 at 07:00AM
by
Julia Holloman
in Local Support Group Information
| Comments Off