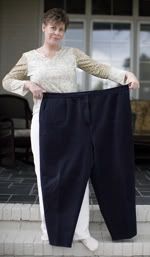 Physically, I'm half the woman I used to be, but as a result of my journey with gastric bypass surgery I've gained a lot. I'm Julia, and this blog is about the miles I've traveled in transforming my body, soul, and spirit while shedding more than 160 of the 300-plus pounds I carried before surgery.

I'll share my personal experiences of restoring my health and changing my lifestyle, and I'll offer spiritual encouragement, social and emotional tools, nutritious recipes, health information, and more. I've had a few challenges along the way, but through all the struggles I've grown stronger and regained my health and my life. I had my surgery on Easter Monday, 2006, which I call my personal resurrection day. Because of my transformation, I now look forward to many more "miles to go", and I invite you to travel with me on the road to a happier, healthier lifestyle...yes you can...I just did!

Welcome to Miles to Go Blog, where you'll find everything bariatric.
Here at Miles to Go Blog, I share my weight loss surgery journey during the last nine years. Helping you find information that will help you walk into your new lifestyle and find the new you. But you'll find more than just information, you'll find help, encouragement, inspiration and much more.
There are bariatric-friendly recipes, including protein shakes, restaurant tips, menu planning, grocery items, and even a food-phase section.
If you are looking for emotional help, spiritual encouragement, or activities to get you moving, support or local events—you'll find it here. Miles to Go has a reading room where I share my latest interest and a style section to help you feel confident and look your best with the new sized you.
You can find everything you need to be succesful—before, during, and after weight loss surgery. Just click on the topics of interest at the left side bar. If you can't find it there—you can also search topics or key words in the search bar.
Each week there's something new—including a main blog post as well as extra articles of interest under additional topic sections. See ya there! Yes, you can. You have many more miles to go!
Posted
on Tuesday, March 24, 2015 at 07:00AM
by
Julia Holloman
in All About the Blog, Basic Information, General Support Information , Hope and Help
| Comments Off
January 2015, marked a year since my husband and I began downsizing our living space. During the process, we lived in three different locations. We moved from our former, 5000 sq foot home in north Wilmington, NC, of 17 years, into a rental for six months while we built a house. We moved into our new, smaller residence last July, across the river, in Leland, that's half the size of the former one.
We have been planning this move for years, but when it finally happened it was hard to believe it had actually come to pass. It has been an emotionally bittersweet transition.
Saying goodbye to the old was sad. At the same time, the transition into the new has been exciting. With the anticipation of beginning a new chapter in our lives, we unpacked our former belongings. Did away the oversized furniture and purchased a few small items. We cleaned out and threw out 40 years of clutter. But even though we have moved into a new place and unpacked our things, I found that it took a little more than unpacking and decorating for this new house to feel like "home".
The same thing happened almost 9 years ago when I down sized my self. My husband loves to say that I'm half the wife I used to be. It was the same bittersweet process. Saying goodbye to the old is not always easy. Likewise, moving from a larger body and calling the new smaller body "home" didn't come easy either. I transitioned through 15 different clothes sizes and found I had to discard a ton of emotional clutter.
Both downsizing my resident and my new body was much more difficult than I imaged it would be. Sometimes I am glad that I got rid of a lot of things that made my life oversized and unhealthy, and then again, I find myself missing the comfort and familiarity of my former life. I had much more of an emotional attachment to my "stuff" than I thought.
It took a while for our new place to feel like our home, not just a nice new house. Getting used to a new body image was the same. After the weight loss process, I often felt like the new place was temporary and that any moment I would awaken from the dream.
If you're experiencing some of these feelings, your not alone. Emotional experiences like these are common after massive weight loss. You have finally accomplished your dream, but moving in and living in a new place can be overwhelming. We often need help to move from one way of life to another. In my new book, Out of Obesity and into the Promised Land, I'll help you transition into the new. This book holds the keys you need to take ownership of your new life—discarding the old and embracing the new—physically, mentally and emotionally.
Yes. You can. You have many more miles to go!
Posted
on Tuesday, March 17, 2015 at 09:45AM
by
Julia Holloman
in After Surgery Transitions, Emotional Health, Hope and Help, Lifestyle Changes, Mind Body Connection, Out of Obesity and into the Promised Land, Reflections
|
Post a Comment
Three years after gastric bypass surgery, things were going well. I was maintaining my weight and training for a half marathon. But then it all came to a screeching halt when my blood sugar started plummeting without warning.
The next several years were a nightmare. Trying to find a solution sent me to four doctors and several nutritionist seeking answers to an seemingly incurable problem. I was told that my blood work was normal, but I knew I was not well. Finally, I was referred to an endocrinology who diagnosed me with a severe case of Reactive Hypoglycemia (also known as Post-surgical or Postprandial Hypoglycemia).
For six years I have fought the battle of hypoglycemia with little, if any, control over my blood sugar levels. After taking a prescription medication, (Arcobose, to help with carbohydrate absorption) and adding a thyroid medication I found some relief, but I was still very sick. My life was ruled by unpredictable drops in blood sugar levels. I was unable to exercise or control my weight.
In June of 2014, I made an appointment to see Dr. Walter Pories. Dr. Pories is a re-nowned surgeon in the field of bariatrics and is currently doing research and trials on the cause and cure of post-surgical hypoglycemia. After listening to my story, he explained the "medical and scientific" reasons behind my problem and offered a solution.
He suggested that I replace my vitamin routine with 2 Silver Centrum for Women. That's all. I was shocked that this solution could be that simple. He suggested that it might take up to a year to see any results. However, I began to see result in just a few weeks. Nine months later, my blood sugars have stabilized. I may not be 100 percent "cured" but as long as I eat a healthy, low carb, low sugar diet, my hypoglycemia can be controled. I have discontinued the Acarbose. (I did have leg cramps for a few weeks, but they have dissipated.) I also added additional Vitamin D several months later for joint pain.
If you are suffering from post surgical hypoglycemia, don't give up....there is a solution. I recommend that you see your doctor (or look for one that will work with in to find a solution that works.) I have discovered that my thyroid medication plays a huge part in regulating my hypoglycemia and I am currently monitoring my blood work and awaiting my nine-year checkup. I highly recommended that you get regular follow-ups including blood work, as well as consult with your doctor or surgeon before changing your vitamin routine, or discontinuing any prescription medication, as well as continued monitoring of your overall health including labs and a bone density scan.
Take charge of your health. If your not well, get help or keep searching until you find the answers you need. Again, it is important to follow the advice of a medical professional, if it's working for you. If not, find a physician who can help you. Don't give up—you may not can see it right now, but there is a silver lining for you, too.
Posted
on Tuesday, March 10, 2015 at 07:00AM
by
Julia Holloman
in Health & Wellness, Hope and Help, Making Choices, Multi-vitamins, Tips for Life , Vitamins
| Comments Off
I would venture to say that almost every week I receive an email from someone who has made the decision to have weight loss surgery. As the day of surgery nears, those who just a few weeks ago approached their surgery date with excited anticipation, now question their decision about undergoing such a life-changing surgery.
And rightly so. Weight loss surgery does carry risk. Surgery is a major, life-changing decision. But if you have made the decision to have surgery based on the right reasons and placed your faith in a qualified medical team, there is no reason to be overly concerned.
Facing the unknown is always daunting. Nine years ago, I was in the same position. I can remember the questions, fears and uncertainty of making major lifestyle changes. There were challenges I knew I would face along with so many I didn't even know were just over the horizon.
Yes, surgery carries risks and life after surgery does change, but we can calm our fears by preparing ourselves with knowledge and information. Do your homework. Research. Discuss your concerns with your surgeon and the team of professionals who are there to see you succeed. Talk to successful weight loss surgery patients who can relay the truth about life after surgery.
Knowing the facts about what lies ahead will help lessen your fears. Make sure you know the truth about the procedure you are having as well as the risk you are taking. But it doesn't stop there.
Weigh the pros and cons and make your decision based on facts. There will always be things in life that are out of our control, but the key is to make wise decisions about the things we can control. Instead of focusing on the all the things that can go wrong, lean on the expertise, skill and reputation of the qualified medical team you chose to perform your surgery and the postive aspects of life after surgery. Pray and find peace about the decision you make.
I discovered that it's more productive to continually review the reasons you chose to have surgery in the first place. Make a list and focus on the positive aspects that you expect the surgery to offer—health, the opportunity of a experience a better quality of life and a life-long tool to make our weight loss efforts come to fruition and results that last a life-time. Imagine your life with more flexibility and a return to health and "normalcy". Whatever goals are on your list, write them down and focus on the positive.
There are so many misconceptions about what life will be like after surgery. Most people find that their fears are unfounded and based on misconceptions about what we expect surgery to deliver. So make sure your list contains realistic expectation of life after surgery and focus on the positive health benefits weight loss surgery will bring. Armed with accurate knowledge about the truth, placing your confidence in the right place and refocus on the positive—you can once again look forward to your surgery date with less second guessing and more anticipation.
Posted
on Wednesday, March 4, 2015 at 07:00AM
by
Julia Holloman
in After Surgery Transitions, Dealing with emotions , Emotional support, Lifestyle Changes, Making Choices, Mindset Changes, Tips for Life , What you need to know
| Comments Off
NHRMC SUPPORT GROUP MEETING
TUESDAY, MARCH 3, 2015 — 6:30 p.m.
CAPE FEAR CAMPUS — 3rd FLOOR CLASSROOM
GUEST SPEAKER: ADAM HALL, STRATIVA REPRESENTATIVE
TOPIC: VITAMIN/MINERAL THERAPY IN THE BARIATRIC PATIENT with special focus on nasal Vitamin B12
Strativa has an impressive product line that actually can be purchased via your health insurance with a small deductible each month! VERY EXCITING! You don't want to miss this opportunity!
Posted
on Monday, March 2, 2015 at 07:00AM
by
Julia Holloman
in Local Event, Local Support Group Information
| Comments Off