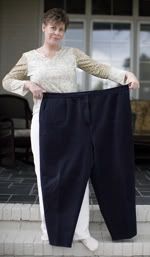 Physically, I'm half the woman I used to be, but as a result of my journey with gastric bypass surgery I've gained a lot. I'm Julia, and this blog is about the miles I've traveled in transforming my body, soul, and spirit while shedding more than 160 of the 300-plus pounds I carried before surgery.

I'll share my personal experiences of restoring my health and changing my lifestyle, and I'll offer spiritual encouragement, social and emotional tools, nutritious recipes, health information, and more. I've had a few challenges along the way, but through all the struggles I've grown stronger and regained my health and my life. I had my surgery on Easter Monday, 2006, which I call my personal resurrection day. Because of my transformation, I now look forward to many more "miles to go", and I invite you to travel with me on the road to a happier, healthier lifestyle...yes you can...I just did!

SAVE THE DATE
JUNE SUPPORT MEETING - Dr. Miles
TUESDAY, JUNE 6, 2017
6:30 PM
Special Guest Speaker: Kelly Broadwater
with a Panel of Weight Loss Surgery Patients
Topic: AFTER CARE
Posted
on Wednesday, May 31, 2017 at 11:00AM
by
Julia Holloman
in Local Support Group Information, Support Group Meeting Info
| Comments Off
The second part of this harmonic symphony is recognized by changes in mindset, thought patterns and attitudes. This is where brain surgery would help if it were that simple, but I'm afraid it requires a bit more than that.
What we think orchestrates many of our bodily functions and has a profound effort on our wholeness as a person.
I am convinced that our bodies can work with us or against us in this effort. The first gateway to change is through our thoughts.
Seeking to gain a positive attitude and learning how to lose the "loser" mentality to adopt a "can-do" and "will-do" attitude is our second order of business. No simple task...but very doable!
But it's not just about a positive confession, its about our whole mindset in general. It's just as important to feed our minds healthy thoughts as it is to feed our body healthy food.We must be willing to change our thoughts and attitudes, uncover new self-esteem, and discover our unique purpose.
These processes take determination, commitment and a pursuit to realize our true worth and value. As we learn how to take care of our physical self, we must learn to take care of our soul, mind, and emotions. Finding the truth about who we really are, tearing down the destructive lies we have believed about ourselves and replacing them with new, positive and true beliefs.
In her book, Who Switched Off My Brain, researcher Dr. Caroline Leaf, has scientifically determined that toxic thoughts and emotions undermine and destroy our immune system preventing its ability to do what it was designed to do. She also relates that research shows that around 87 percent of illnesses can be attributed to our thought life, and approximately 13 percent to diet, genetics and environment. Studies conclusively link more chronic diseases to an epidemic of toxic emotions in our culture. There is no longer any doubt that what you think affects your emotional and physical state.
As with music and song, the most important element is to establish the correct key. Music moves through many stages from soft and loud, fast and slow. Any given selection contains flat notes as well as sharp, but always remaining 'in key'. Finding truth will put us in the correct key, allowing us to step into renewed health with a sound mind.
There is truth as we see it and then there is God's truth. Does the view you have of yourself match the one that God has about you? Which will you choose? Are you ready to allow your innermost thoughts to follow the rhythm of God's truth?
He has created a song and his hand is extended as he waits for you to enter the dance that was created just for you. Are you beginning to hear the music?
More about getting back in tune on our next post.
Your new reality is just a thought away.
Posted
on Monday, May 29, 2017 at 11:00AM
by
Julia Holloman
in Avoiding Sabotage, Emotional Health, Emotional support, Four Part Harmony, Health & Wellness, Hope and Help, Insider Information , Inspiration, Letting Go of the Past, Mind Body Connection, Reflections, Spiritual Encouragement
| Comments Off
In this first section of discovering the keys to success we will take a look at the first component of change: the body. In the world of music, each part of the whole must work in harmony. In our physical arena, coming into harmony means compliance with the principles that offer us better health.
First, comes the physical guidelines of diet and exercise. There are many tips and suggestions that will allow us to make the right choices for a healthier lifestyle. Things such as food selections, commitment to staying active and making wiser choices that ensure physical health, addressing solutions to physical hunger, getting enough rest and learning to bring our bodies into balance again.
Just after surgery, we start with a liquid phase and progress until we are eating a regular diet, still allowing us to lose the weight we need to lose.
We are beginning to feed our body and our brain the nourishment it needs to flourish. Staying active and sufficient water intake aid in sweeping away fat and toxins as we begin to build a healthier body. As we focus on taking care ourselves, harmonizing work, play, rest and worship, every muscle, organ, cell and fiber in our body will find its proper balance. Relaxation and sleep also play vital roles in this restoration process.
Once we reach our goal, and new eating habits have been established we can begin to make simple manageable changes, which will give us success for a lifetime. Like the melody of a song, these lifestyle changes will remain simple, constant and steady. Soon, with practice and as other harmonic parts begin to enter into play; the melody becomes a strong foundation on which the entire symphonic structure will be built.
Congratulations, you are beginning to hear the faint and subtle heartbeat of a masterpiece.
Posted
on Monday, May 22, 2017 at 11:00AM
by
Julia Holloman
in After Surgery Transitions, Bariatric Basics, Four Part Harmony, Health & Wellness, Insider Information , Making Choices
| Comments Off
In the world of music the highs and lows are described in four parts; soprano, alto, tenor and bass. The coming together of these four parts produce the harmony, agreement and balance needed to make the whole, and so it is with us.
We aren't just physical beings, we are made up of several intricate parts, fashioned together to work as one.
Likewise, weight loss surgery is only one part of a whole. There are other parts to be considered in addition to the physical.
Weight loss surgery deals with the physical aspects, but in order to have complete wellness, we must fine-tune other aspects of this well designed instrument we call ourselves.
In this series entitled Four Part Harmony, we will learn how each part comes together to play a key role in healing us as a whole.
You have probably heard many say that weight loss surgery isn't brain surgery, but that's exactly what we need. Not only brain surgery but also heart surgery, but not the kind we can get from a hospital or a physical operating room with carbon steel scalpels, stainless steel staples and silicone bands. Neither does it require professional surgeons or leaders in the field of bariatrics, cardiology or neurology.
These procedures require only the personal desire to go on an inward journey to explore matters of the heart and soul. Together with a new mindset and a new physical tool of weight loss surgery, we will discover the secrets of weight loss surgery success.
There is a song waiting to be sung and a symphony within us about to begin. So join me as we uncover the keys to success.
Posted
on Monday, May 15, 2017 at 11:00AM
by
Julia Holloman
in After Surgery Transitions, Bariatric Basics, Emotional support, Four Part Harmony, Health & Wellness, Insider Information , Inspiration, Spiritual Encouragement
| Comments Off
Not long ago, I read an article from a veteran weight loss surgery patient that not only works, but it's just good ole common sense advise.
The bottom line: After weight loss surgery, we have built-in tools…a smaller pouch and a chooser–our brain. These tools along with a strong foundation are the pillars of success.
Remember before weight loss surgery, how excited we were to get our surgery date? Finally, we would be given an answer that would help overcome the years of struggling with our weight. A tool that would be life-changing for a life-time. Along with making healthier lifestyle choices we would be equipped with everything we needed to succeed.
No matter how far out from surgery we are, we still have the tools we need to get the job done.
Sure, we all get off-track once in a while. I'm at the top of the list for getting de-railed. And even though I can eat more than I did just after weight loss surgery, this advise was a good reminder that in order to stand firm, I needed to keep my foundation strong and my tool belt filled, ready, and accessible.
In my experience, motivation is the foundation that gives all my other choices a place to stand firm. When my motivation wanes, all else seems to crumble. I have to make a conscience effort to get my mind back on track.
Finding my motivation to move forward and not backwards, to stand firm in my commitment, no matter how compelling the temptation to fall my seem. I have to take some time to ponder the reasons I need to make wiser choices. Reminding myself that I am equipped with the tools I need to build a successful lifestyle. Maintaining a proper mindset, choosing better health, building positive habits, and using my pouch with awareness and mindfulness.
Tools don't do the work for you...but they do make it easier to get the job done.
Yes, we can! We have many more miles to go!
You can read other articles like this on Miles to Go Blog, see tool works, or search the left side tool bar.
Posted
on Monday, May 8, 2017 at 11:00AM
by
Julia Holloman
in After Surgery Transitions, Back To Basics, Bariatric Basics, Basic Information, Making Choices, Tools for Success
| Comments Off