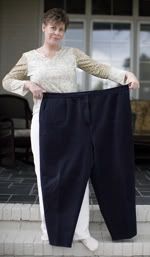 Physically, I'm half the woman I used to be, but as a result of my journey with gastric bypass surgery I've gained a lot. I'm Julia, and this blog is about the miles I've traveled in transforming my body, soul, and spirit while shedding more than 160 of the 300-plus pounds I carried before surgery.

I'll share my personal experiences of restoring my health and changing my lifestyle, and I'll offer spiritual encouragement, social and emotional tools, nutritious recipes, health information, and more. I've had a few challenges along the way, but through all the struggles I've grown stronger and regained my health and my life. I had my surgery on Easter Monday, 2006, which I call my personal resurrection day. Because of my transformation, I now look forward to many more "miles to go", and I invite you to travel with me on the road to a happier, healthier lifestyle...yes you can...I just did!

Because of the Lord's great love we are not consumed,
for his compassions never fail.
They are new every morning;
great is your faithfulness.
Lamentations 3:22 (NIV)
No matter what circumstances we find ourselves, God's Word promises us that each new day He gives us a fresh supply of grace for today.
No need to worry about tomorrow or yesterday or whether we can get through next week or next month. Each day He supplies us with the grace we need for that day. His grace is sufficient for today's needs. Great is His faithfulness.
Posted
on Monday, January 9, 2017 at 09:44AM
by
Julia Holloman
in Spiritual Encouragement
| Comments Off
Miles Support Group Meeting
Tuesday, January 3, 2016
6:30 pm
Orthopedic Hospital
(formerly Cape Fear Campus)
3rd Floor Classroom North
Topic: What Are We Taking with Us into 2017 and
What Are We Leaving Behind?
Facilitator: Kim F. Joyner, RN, CNOR
Come and share your journey with other bariatric patients. It makes a difference!
Posted
on Sunday, January 1, 2017 at 11:31AM
by
Julia Holloman
in Local Support Group Information
| Comments Off
It's Christmas...the season for tasty treats and familiar holiday flavors. Confections of chocolate and peppermint goodness just seem to dance their way through our heads—or is that sugar plums that dance in our heads?
What are sugar plums, anyway?
Interestingly enough, the original Sugar plums contained no plums at all, or any other fruit, for that matter. Sugar plums are hard candies made of spices and hardened sugar—shaped into round or oval shapes, like a plum.
Spices such as ginger, cinnamon, and anise were combined with seeds such as caraway, celery, fennel, coriander, and cardamom then mixed with nuts, such as almonds and walnuts. Sugar-coated with cinnamon bark or citrus peel, sugar plum came in an assortment of colors and flavors. One might even find a caraway seed in the centre, and they taste something like licorice.
The word plum, in the Victorian era, traditionally referred to raisins, and dried currants. These, and others small fruits, were readily available at local markets and referred to as "plums" and added to list of sugar plum ingredients.
We can do the same. We don't just have to dream about sugarplum confections—even after weight loss surgery, we can still enjoy the flavors of the holiday season. Taking our que from the list of sugar plum ingredients, we can spice up any of our favorite recipes by adding traditional flavors and spices to create new and exciting flavor combinations—including our protein shakes.
Sugarplum Good Protein Shake
Here's your chance to be creative. Start with the basic formula. Then you can play around with many different spice combination and flavors until you create the perfect taste of the Christmas holidays.
Basic recipe:
Hood 2% Milk (sweetened with Splenda, has less carbs and sugar)
plain Protein powder
ice
Pick a few of your favorite flavors and give them a whirl
almond, peppermint, butterrum or coconut extracts
spices such as cinnamon, nutmeg, cloves, or allspice
savory flavors such as dill, carroway, or cardamom
lemon zest or orange peel
almond or vanilla milk - even eggnog
a little spoonful of preserves such as apricot, fig, or berry
Remember to keep your total sugar to around 10 grams, and you're good to go!
It's "sugar-plum" delicious.
The Basic Protein Shake Formula can be found in the "protein shake recipes" section under "basic information" on the left side bar.
Posted
on Monday, December 5, 2016 at 07:00AM
by
Julia Holloman
in Bariatric Basics, Full Liquid Phase Recipe, Health & Wellness, Holiday Helps, Merry Christmas, Recipes, Successful Eating, Try Something New
| Comments Off
Success after weight loss surgery includes getting rid of the diet mentality and creating a balanced life. Remember weight-loss surgery is not a diet, it's a lifestyle.
Understanding how to successfully maneuver through holiday meals is important. The key is to have a plan, create a motivator, and refocus your mindset from feelings of deprivation thankfulness. Here are my basic tips for the day.
1. Have a plan. Decide ahead what items you will eat and what items you will avoid. If you decide ahead to take a bite or two of something you might not ordinarily have, don't condemn yourself—if you plan to have a bite or two (and no more) then you will have accomplished your goal of sticking to the plan and not feel deprived. Use wisdom when making your selections.
Food is not "bad", but don't choose something that you know that you will not be able to control. Planning a treat for yourself that is within your boundaries is wise, such as finding a holiday centered protein shake using pumpkin, coconut or your favorite flavorings. Plan a fun activity or time of fun with the people you enjoy. The key is to plan ahead.
2. Create a motivator . A motivator will help instill your goal and help you follow your plan. Try on an article of clothing that you wore at your heaviest weight or focus on an article of clothing that you want to be able to wear. Remember how it feels to be healthier. Focus on your health or on other benefits that losing weight affords. Refocus your mind on the rewards for sticking to your plan. The key is to find something that motivates you to stick to your plan and not leave you feeling cheated or deprived.
3. Be balanced. Don't skip meals in an effort to save calories. Deprivation and over-indulgence do not create a healthy balanced life. Eating a balanced breakfast will allow you to better control your appetite during the rest of the day. Remember lifestyle not a diet. It's not about limitations or over-indulgence, it's about balance and remaining in control. You can eat several times during the day—don't just focus on one meal. Focus on what you can have and enjoy it.
4. Be thankful. Replace self-entitlement for gratitude and the "I can't" self-talk to "I can". "I can eat a few bites of one of my favorite foods. I can enjoy the fellowship and remain on target. I can wear a smaller size than I could wear a month ago or a year ago. I can be proud of my accomplishments. I can enjoy better health and emotional freedom. I can enjoy the day and the fellowship. I can succeed."
Plan activities that offers you satisfaction that you can do. The holidays don't have to be centered around food. Reward yourself with a home spa, a family game night, or a movie at the end of the day, reconnect with an old friend, or make a new one. It's ok to pamper yourself - you're worth it.
Check in next week for more holiday tips!
Posted
on Tuesday, November 15, 2016 at 08:00AM
by
Julia Holloman
in Avoiding Sabotage, Avoiding Temptation, Holiday Helps, Holiday Meals, Hope and Help, Lifestyle Changes, Overcoming Difficult Challenges, Successful Eating, Thanksgiving
| Comments Off
T
hanksgiving is on the way and so is the over-abundance of everything food.
I think that over-abundance is more a positive than a negative. For example, in the natural world, everything God does is done in abundance. There is always more than enough.
Isn't that what the Thanksgiving season is all about, anyway? Being grateful for the blessing. We have so many abundant blessing, sometimes we forget to be thankful. The sad thing is for many of us, when it comes to food, our thoughts tell us there will never be enough. So how do we approach the holidays with the mindset of thankfulness for the abundance God provides, the pletheria of choices that we aren't often presented at one time, and the mindset that we dont' have to gobble it all down in one meal or one day?
I'll share my tips on Thanksgiving dining which include a few tips from an article from "Medical Daily" written by Sabrina Bachai on how to manage thanksgiving day without feeling like an over-stuffedturkey yourself!
Don't skip meals or let yourself get too hungry. Plan a small snack or healthy appetiser, if you feel you will get too hungry before mealtime. Don't forget to get in all your water for the day, which will keep you hydrated and feeling satisfied with less food. Shift the focus from the food to your hunger level. Managing our hunger helps to manage our portions.
Survey all your food options and decide what you want to eat. Only take what you plan to eat. Don't forget the protein. And yes, feel free to include dessert. When my children were young, I would let them eat seasonal dessert such as pumpkin or sweet potato pie along with their meal. These pies are usually low in sugar and a fun treat that passed my nutritional requirement and satisfied their sweet tooth. Plan to have a small portion of something sweet, but dont' serve yourself the guilt that may come with it. Portion control is key. Enjoy a little bit of everything, but don't over-eat. On special occasions, I give myself permission to include dessert along with my meal. Often our eyes really are bigger than our stomachs.
The article from "Medical Daily" quotes Cornell University food psychologist, Dr. Brian Wansink—"When it comes to portion control, you can count on your brain not being very interested and your body not being very well calibrated," We often overeat in 100-or 200-calorie increments, which over time adds up to a weight gain that seems like a mystery to the eater." I suggest starting by only taking a small spoon-sized portion of each item. It has been my experience that when I save the dessert till the end, I find I eat none to very little anyway.
Slow down, chew more, and enjoy the taste and texture of each dish, assessing your hunger level after each bite. Remember to eat your protein first, which helps level the blood sugar and calm hunger. Chewing your food more has been found to lower the level of hunger hormone produced by the stomach.
Bringing your own dish to the Thanksgiving table is a perfect suggestion for a bariatric patient. Talk it over with your host and take a bariatric friendly dish that you will enjoy.
Remember to fill up on protein and non-starchy veggies and go "lean and green". Want to enjoy the thanksgiving abundance that fits the season—ask a take-along plate and fill up your emotional "tank" with good conversation, and the fellowship of the abundance love and fellowship of family and friends. At the end of the day, you'll be overflowing with gratitude of the season and the new you.
Last, but not least, the abundance of everything food also means, lots of leftovers. So instead of thinking how much you can't eat - remember there will plenty of turkey and fixings for days to come. Happy Thanksgiving!
Look for more tips on holiday eating in the "holiday helps", "recipes", and "protein shake recipes" under the basic information section here on Miles to Go or do a search in the "search bar" to the left.
Happy Thanksgiving—yes, we can...we have many more miles to go!
Posted
on Monday, November 7, 2016 at 08:01AM
by
Julia Holloman
in Avoiding Temptation, Holiday Helps, Holiday Meals, Let's do lunch, Lifestyle Changes, Mindset Changes, Overcoming Difficult Challenges, Successful Eating, Thanksgiving
| Comments Off