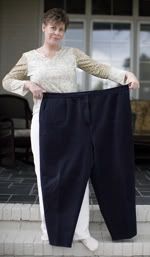 Physically, I'm half the woman I used to be, but as a result of my journey with gastric bypass surgery I've gained a lot. I'm Julia, and this blog is about the miles I've traveled in transforming my body, soul, and spirit while shedding more than 160 of the 300-plus pounds I carried before surgery.

I'll share my personal experiences of restoring my health and changing my lifestyle, and I'll offer spiritual encouragement, social and emotional tools, nutritious recipes, health information, and more. I've had a few challenges along the way, but through all the struggles I've grown stronger and regained my health and my life. I had my surgery on Easter Monday, 2006, which I call my personal resurrection day. Because of my transformation, I now look forward to many more "miles to go", and I invite you to travel with me on the road to a happier, healthier lifestyle...yes you can...I just did!

I've gone coco—nuts! But not in the way you think.
I'm just experiencing the many benefits of an old reliable product in new and exciting ways!
Did you know that the words: metabolism, thyroid function, insulin-resistant, blood sugar, and oral health have something in common? Have you heard the term "oil pulling"?
If you don't know the answer to these questions, let me introduce you to the world of coconut oil and the benefits that coconut oil provides.
I've been using unrefined coconut oil for cooking for a long time, but I was recently introduced to Skinny and Co—a line of pure, 100% raw, coconut oils, which I've discovered offer more than just a better way to cook, they offer a better way to improve your overall health—inside and out.
After receiving several sample products from Skinny & Co in the mail I was anxious to try them. I was hooked. In a few days I was back on their website placing an order for additional products. I'm so excited to share them with you.
Coconut oil can be used as a one-for-one replacement for butter when baking, grilling, or cooking—although best when used raw and unheated, it can also be added to coffee, tea, or smoothies. Skinny & Co.'s coconut oil is such a high grade that it can be used as a supplement. Coconut oil has been used for health benefits for centuries—for boosting metabolism, supporting thyroid function, suppling energy to insulin-resistant cells, and helping maintain healthy blood sugar levels. It can also help with detoxification and oral health.
This pure, high grade of coconut oil can also be used for oil "pulling". Oil pulling is an ancient tradition receiving a lot of modern interest because of its natural ability to reduce stains, bacteria, and plaque on teeth. The "stickiness" of the oil helps "pull" away bacteria and plaque— simply by swishing a tablespoon of oil around in your mouth. (then discard)
Coconut oil can also be used on the skin as a moisturizer or in the hair as a conditioner. I've also love Skinny & Co. Lip Balm, Soaps and Shampoo Bars, and Body Scrub.
Yes, I've gone "coconuts" for Skinny and Co's line of coconut oil products. Whether simply pure or lightly scented with essential oils, Skinny & Co is helping me to fulfill my commitment for optimal health—not only in my diet or weight, but taking care of my overall health, skin and oral hygiene, as well.
Posted
on Monday, September 26, 2016 at 07:00AM
by
Julia Holloman
in Health & Wellness, Skin Health, Successful Eating, Tips for Life
| Comments Off
Protein ideas are stacking up here at Miles to Go Blog. Especially during the weight loss phase after surgery, it is important to get in at least 60 to 75 grams of protein each day for healing, retaining muscle mass, and healthy weight loss.
So what does protein have to do with this mouth-watering stack of banana nut pancakes? Ummmmm....count me in!
Although drinking liquid protein is the most efficient way to get protein into our diet (and FYI, it also counts as a liquid when we are trying to drink 64 oz a day)—you dont' just have to drink your protein in liquid form.
Try mixing protein powder to food items such as pancakes or yogurt. Look for protein puddings, mixes and other items that are now available on the market—such as Unjury which offers several varieties of high quality protein soups.
(My advice is to start with sample packs or small amount to see which flavor or brand of protein suits you best. Or go in with a friend and share an order.)
Vitalicious has a great low calorie, high fiber, pancake mix—just add your own protein powder and you're on your way to awesome. For additional ideas: See the "Great Food Finds" section on the left sidebar.
For Vitalicious: www.vitalicious.com. Click here to see their blueberry pancake and muffin mix. Vitalicious is one of my favorite food finds.
You can also find more ideas on adding protein into your diet right here on Miles to Go Blog, click here, or click on the category title "more than shakes" on the left side bar. You can also search for recipes and new grocery food finds—yes, right here on Miles to Go Blog. And, don't forget there's an entire section on protein and protein shakes. Enjoy!
Yes, you can. You have many more miles to go!
Posted
on Thursday, September 22, 2016 at 08:59AM
by
Julia Holloman
in Back To Basics, Bariatric Basics, Food Facts , Food Forks, Hope and Help, Know Your Protein, Making Choices, Nutrition, Protein , Successful Eating, The Bariatric Kitchen , Tips for Life
| Comments Off
If you haven't tried fennel - it's time!
Fennel is easy to prepare. Flavorful, healthy, and delicious, it can be eaten raw on a salad or roasted as a side. Contrary to popular belief, it's mild flavor does not taste like licorice. Here's a simple recipe:
Roasted Fennel with Thyme
Cut the bulb into slices. Brush with a little olive oil and sprinkle with of salt, pepper, and ground thyme.
Bake at around 400 until caramelized and tender.
You can roast it alone or with other winter or root vegetables such as beets, butternut squash, summer squash, zucchini, white potatoes, sweet potatoes, beets, and turnips.
(You can use the top of the greens for garnishing baked fish.)
Give it a try—you just might be surprised.
You might also be surprised that fennel can help relieve medical conditions such as iron deficiencies, diarrhea, gas and bloating and many other health challenges. Click here: Fennel Facts
Yes, you can. You have many more miles to go!
Posted
on Monday, September 19, 2016 at 08:00AM
by
Julia Holloman
in Iron, Nutrition, Recipes, Successful Eating, The Bariatric Kitchen
| Comments Off
I recently purchased muffins—freshly prepared in the bakery of my local grocery store. I usually examine labels before purchasing items, but in my enthusiasm for the freshly baked muffins, I didn't read the label until I opened the box and was ready to sink my teeth into these seasonal pumpkin treats.
But then I couldn't believe my eyes when I read the label—the serving per box and the calories per serving stopped me in my tracks.
The box I purchased contained two large muffins. But the serving size per box was 6—not 2. Not even 4. That means that each muffin was meant to provide 3 servings—each containing over 200 calories.
That means that each serving size is 1/3 of a muffin. Each 1/3 of a muffin contains 210 calories—10 grams of fat, 26 carbs, and 15 grams of sugar. (If you are familiar with the point system on Weight Watchers, that means that each 1/3 muffin serving is 9 points.) WOW. What a mind-blower. So much so that I called the local bakery to make sure the information printed on the box was correct. It was.
It's not a matter of whether we should or shouldn't enjoy these delicious treats, but the point is, that we need to be aware of—not only serving sizes, but other nutritional information per serving. If one were to assume that each muffin was a single serving, you could easily consume over 630 calories, 30 grams of fat, over 75 carbs, and 45 grams of sugar with each serving. Even half that amount is a lot of calories, fat and sugar. That's trouble for any weight management program and especially for a weight loss surgery recipient.
A good guideline for bariatric portions is to limit fats to around 5 grams, no more than 10 grams of sugar grams and approximately 15 to 20 carbohydrates / per serving (that's per meal). In my case, I divide my muffin into 3 portions, and freeze them to help with the temptation to eat too much at once. That means with my morning coffee, I allow myself the enjoyment of a bariatric portion, (1/2 a regular serving)—which provides me with 105 calories, 5 grams of fat, 7 to 8 grams of sugar, and 14 carbohydrates. (That's 4 Weight Watcher points.) I know that 1/6 of a muffin doesnt' sound like much, but it is enough to satisfy my sweet tooth and my occasional need to splurge—and still remain within my bariatric limits.
So before treating yourself to any tasty edibles:
make it a habit to read labels,
be aware of serving sizes,
and know your bariatric portions and guidelines for health, wellness, and weight control.
Yes, we can...we have many more miles to go!
Posted
on Wednesday, September 14, 2016 at 07:00AM
by
Julia Holloman
in Basic Information, Health & Wellness, Lifestyle Changes, Making Choices, Mapping Out Success, Mindset Changes, Nutrition, Successful Eating
| Comments Off
I get asked a lot about how to get motivated to lose weight when we gain, or even to keep going during slow weight loss intervals. I have experienced both over the years…and especially recently.
Over the 10 years since surgery, I accepted the normal 10% weight gain, but during the last 3 years, I had put on a few pounds I was no longer willing to live with. So, I set my mind to weight loss. Now, I must say, I am easily motivated, but I also…can just as easily become uninspired.
On April 8, I set out on my most recent weight loss experience, which I call my "get back to basics reunion". The first 12 weeks went well, I lost 25 pounds. But then came July, the dreaded standoff—I reached a marathon stand still—for the last 8 week, I've moved up and down the same four pounds. Officially known as a weight loss surgery patient plateau. Now that's discouraging! I still have more to lose.
So here's what I'm doing.
I am a firm believer in first "setting your mind" towards what you want. First, I begin the motivating process by making a list of reasons why I want to lose weight. The reasons that inspire us in the first place, can often encourage us during the process. I make a list of why I want to lose, where I want to be in the end and my plans for getting there. Although weight loss was included in my list of desires, my goal was to get back to healthier choices.
On days when I need additional inspiration, I find it helpful to try on clothes in my closet that I want to get back into. Even going to the department store to try on clothes or look through clothing catalogs, or new trends online. I especially enjoy being surprised when my clothes have a little more wiggle room than the week before!
One week led me to the outlet stores and the clearance racks to find a new and exciting summer deals. I selected a few things that I was excited to add to my wardrobe. Last week, I went to a in-home clothing event. That was inspiring. There were lots of girls trying on clothing and I wasn't too terribly embarrassed to try on some promising outfits. It was fun!
Before weight loss surgery there were particular kinds of clothing I dreamed of wearing such as a khaki pencil skirt or a sleek sweater dress. I helps me to imagine myself wearing those clothes with specific details and how it would feel to be able to wear it well. I encourage you to choose an outfit that is within reach and set your mind toward wearing it. Be specific about color, style, and every detail, and image yourself sporting it.
Among my list of reasons to lose weight are huge health motivators, reduction in knee pain, more energy, more flexibility and better blood sugar levels.
I also seek out support group friends and fellow weight loss companions. I weigh-in with someone each week - to hold myself accountable. It's harder to face someone else on weigh-in day if you haven't done your best. I have a support group of several people that share the same desire to get back on track - they don't have to be weight loss surgery patients - anyone who is struggling with weight and earnestly trying to lose. Encouraging others is a reward all it's own!
This summer, I texted with a group of friends - including my friend, Hannah. She has great ideas on recipes and is very creative in finding fresh food ideas. My sister, Ginger, wanted to lose a few pounds. It was exciting to share and connect and to see her reach her goal. One of my neighbors offers encouragement, too. She and I get together about once a week (informally) and share our ups and downs.
Another motivator for me is finding new recipes that are healthy. Even trying a new food that I haven't tasted before—something new and simple that I can add to my "go to menu". I also try a "special dinner" or "special breakfast" recipe that I would like to try. Making a list of foods that I CAN eat and a list of healthy snacks. Summers are especially hard for me as ice cold popsicles tend to call my name. I purchased a few popsicle forms and made my own flavors—inventing new recipes, challenging myself to make them as tasty and low calorie as possible.
On a food note, I find making things as simple and convenient as possible helps - I try to keep things on hand in the fridge and freezer. This summer I made a fresh storage container purchase for the fridge (FreshWorks by Rubbermaid). They work! These containers keep fruits and vegetable fresher longer so that I don't have to worry about spoilage quiet so soon. I keep food ingredients prepped, and on-hand and in sight so that it's ready when I'm hungry.
Activity wise, I recommend finding activities that are enjoyable. Exercise doesn't just have to be in the gym. Discover an activity that is rewarding and productive that you enjoy—wash the car, go for a walk up the street, down the beach, or through the mall, buy a jump rope, get a hula hoop or put together some friends for outdoor games, activities, or throw a pool party - something simple, easy and fun.
During my recent stand-still, I've had to review my goals and my progress. My goal was to get back to health and making healthier choices, not a number on the scale. I did want to get into some smaller clothes in my closet, but that was only a by-product of my effort. I must remind myself that the main thing is that this is not a diet. This is a lifestyle, a way of living I needed to get back to. I was also reminded, that in all my efforts to make plans and do my best, I must surrender my plans as well as the result to the Lord. Through it all I'm growing stronger inside and out. I've been diligent, I have had success in my endeavors and I will continue to move forward, in the right direction—and so can you. Yes, you can. You have many more miles to go!
Posted
on Monday, August 22, 2016 at 10:00AM
by
Julia Holloman
in Back To Basics, Hope and Help, Making Choices, Plateaus, Regain
| Comments Off