Protein supplements are a vital part of the weight loss experience and this section has just what you need, it's all about protein powders, drinks, bars, and other protein supplements.
Check in often for new arrivals.
You may find protein drinks, protein recipes, and additional protein information in other sections.
Muscle Milk now comes in light, and how wrong can you go with chocolate?
I found it at Costco...great deal and great flavor. The one really good thing about Muscle Milk, beside it taste good and it meets the criteria or a good protein choice, the small size you can keep in your purse for those afternoon snack times or for keeping those blood sugar levels on target!
Muscle Milk comes in different size ready to drink or powder options.
Posted
on Tuesday, January 26, 2010 at 09:36PM
by
Julia Holloman
|
Post a Comment
|
4 References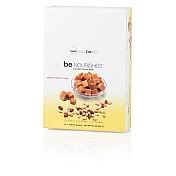 GNC has a new nutritional bar. They have a fair amount of protein but not a lot of calories, and best of all they don't taste like a protein bar.
These bars are a great item to carry in your purse or pocket. They come in four flavors. Peanut Caramel Crisp, Chocolate Soy, Strawberry Peanut Crunch, and Cinnamon Almond Crunch. I have found they make a great addition to my breakfast with a little almond butter or banana just to top it off ! Packed with fiber and lots of taste!
My favorite flavor , believe it or not is not the chocolate, but the cinnamon.
So here is the nutritional info: 140 calories, 4 g fat, 17 carbs, 10 sugars, and 10 to 12 proteins.
Not only do they taste good but they are easy for travel. I keep a few in my purse for those low blood sugar moments, for a quick bite on a track around "the Loop" or just out and about.
Posted
on Thursday, July 30, 2009 at 08:52AM
by
Julia Holloman
|
Post a Comment
Twisted Bars by Premier
I've tried these, they are really good.
15 grams of protein
190 calories
6 fats
14 sugars
Although this bar is a little high in calorie, sugar and fat, it's very satisfing and I only ate them during the days that my exercise was at a maximum.
4 layers of pretzels, peanuts and caramel and nougat covered in chocolate, peanut butter or vanilla
available at Sam's Club
or order online at : http://www.premiernutrition.com/products/twisted.html
Posted
on Thursday, March 19, 2009 at 04:57PM
by
Julia Holloman
|
Post a Comment
Premier Nutrition has a Protein Shake available locally at Costco
160 calories
3 grams of fat
1 sugar
30 grams of protein
in 11 oz.
Other products including bars also available online at: http://www.premiernutrition.com/products/protein_shake.html
submitted by Linda Popkin
Thanks Linda
Posted
on Thursday, March 19, 2009 at 04:46PM
by
Julia Holloman
|
Post a Comment
Nectar Protein Powder seems to be a favorite by all who have tried it, and gets great reviews. I haven't tried it personally, but you might give it a try. Nectar is a high quality protein and comes in lots of exciting flavors. It has0 fat, 0 sugar, and 0 carbs with 90 calories per serving and 23 grams of protein.
Here is one of the online places to order Nectar. You can find many others by searching for Nectar Protein on the web!!! enjoy...
Nectar Protein Resources:
http://www.bestpricenutrition.com
http://www.allstarhealth.com/f/syntrax-nectar_whey_protein_isolate.htm
Posted
on Monday, February 2, 2009 at 10:56AM
by
Julia Holloman
|
2 Comments